Published August 2020
While everyone loves a good "weekend getaway," there are definite advantages to visiting during the week. Fewer crowds and better prices are just a few of the reasons you might want to rethink those Friday-Sunday vacations. Vacationing is good for your health and stress-free vacations are best. Visiting during the week might just provide the stress relief you're looking for.
Social Distance
As with any popular vacation destination, Lake Erie Shores & Islands does tend to attract more visitors on the weekend. Visiting during the week allows you to enjoy all the same attractions, museums, parks, and restaurants you love, but with fewer crowds. There's just more room to move around while walking city streets, at the beach, and within attractions when there are less guests. It's easier to get a table at a popular restaurant, there are more water sport and golf cart rentals available, and there is little to no wait to get into places like African Safari Wildlife Park, Lagoon Deer Park, Ghostly Manor, and more. Plus, as long as you avoid typical commuting times, road traffic will be less as well. Visiting a park during the week might make you the only ones on a hiking or biking trail.
Great Deals
Lodging prices tend to increase for weekend visits, allowing for savings just by being flexible with your time. For example, Put-in-Bay Condos is currently offering 50% off an extra night with mid-week visits, while Island Club Rentals is offering a complimentary golf cart rental for stays booked outside of Friday and Saturday.
Even attractions are getting in on the mid-week savings! Miller Ferry to Put-in-Bay and E's Golf Carts have teamed up to offer a great combo deal, available Monday-Friday through September 4. Prices vary based on the number of passengers and cart-size and include round-trip ferry tickets and all-day cart rental. Families with young children under 40 pounds can also request a child seat for your cart!
The Watering Hole Safari and Water Park offers a daily Mega Ticket which includes water park admission, three go-kart rides, bumper boats, 18-hole mini golf, and admission to the drive-thru and walk-thru safari zoo. The Mega Ticket is regularly $60, but is only $48 Monday-Wednesday.
The Original Margaritaville offers 15% off your dine-in order with the Shore Savings Card Monday-Thursday.
You just never know where you might save by being a mid-week visitor!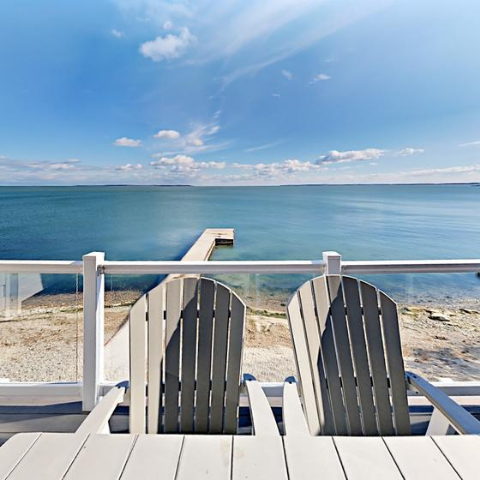 Bragging Rights
Working that 9 to 5 grind? Nope! You get to post your vacation pics while everyone else is working. You can also tell everyone how you had "the whole place to yourself" and brag on all the money you saved by visiting mid-week. Plus, your vacation can truly be a relaxing getaway with a little strategic planning.
Plan your mid-week getaway today! Get started by viewing, ordering, or downloading an official travel guide with included Shore Savings Card.