Shores & Islands Ohio Cheers Trail
Raise A Glass To Shores & Islands' Cheers Trail
Looking for your next favorite craft beverage? The Cheers Trail makes it easy to find suds, ciders and other sippers made with local ingredients while visiting Ohio's fun coast, which also has agricultural roots that run deep. That means you can take a peach to the beach, but also wash it down with a cold beer at the pier or a wine among the vines.
Thrill-inducing roller coasters, island hopping, waterparks, beach escapes and agritourism destinations are just a few of the highlights of a visit to Shores & Islands Ohio. No matter what a perfect getaway to the region looks like, you're bound to get a thirst for the local flavor. Luckily, there is a growing number of craft breweries, cider houses and distilleries joining the already well-established wineries in the region. It's easy to find them all, with the new Cheers Trail, a guide to more than 20 palate-pleasing craft experiences delivering a taste of the local culture and, often, the region's agricultural history. While there is a prize for making qualifying purchases at five or more locations, you'll be doubly rewarded if you slow down and savor your free time at the places where new ideas flow daily.
Almost a century after the National Prohibition Act, known informally as the Volstead Act, wiped out Sandusky's robust beer industry, the craft-beer movement is once again hitting its stride in the city and beyond. Local entrepreneurs have poured their passion into creating distinctive brews that satisfy not only casual drinkers, but also beer enthusiasts, who make it their mission to seek out new and unique flavor profiles wherever they go.
Along the Cheers Trail, you will also find beers made with ingredients that have historical ties to the region. Bait House Brewery in Sandusky, for example, uses Ohio-grown hops to create its Bicentenni-Ale, which toasts the city's recent milestone. Meanwhile, Twin Oast Brewery is a true farm-to-glass operation that uses produce grown at its 60-acre heritage fruit farm on Catawba Island, including the apricots used in the seasonal ApriCatawba, a summery fruit-forward beer. Ice Shove, a Belgian-style white IPA, incorporates home-grown apples and rosemary.

 
The proximity to apple orchards is one of the key factors that inspired Josh Raboin and Joe Burnham IV to establish Redhead Ciderhouse at Burnham Orchards in Berlin Heights.
With Burnham's apples and Raboin's knowledge of making hard cider, the two friends were able to take advantage of the fastest growing segment of the beer and malt beverage industry. Now when visitors stop into the orchard's market, they can also get a taste of what Redhead Ciderhouse is all about.
Besides Redhead Original Hard Cider, Raboin has had success experimenting with different ingredients. Jalapenos add a kick to Hot Chick; cascade hops are used in Smooth Hoperator; but the favorite flavor by far, though, is the cinnamon-infused Apple Pie, which tastes just like the dessert.

Wine producers along Lake Erie's grape belt have been in the business of making customers feel good for nearly two centuries. Well before tourism was the Bass Islands' main source of income, wine was a major industry. Concord and Catawba grapes grown on the Bass Islands — nicknamed the Wine Islands — were particularly sought out because of the island's unique ecosystem that lengthens the growing season and insulates vines from spreading diseases. Founded in 1888, Heineman's Winery, Ohio's oldest family-run winery, keeps the wine-growing tradition alive to this day on South Bass Island, better known as Put-in-Bay. While you're there, step inside Crystal Cave. The discovery of the world's largest geode on the Heineman property helped the business survive the Prohibition years.
Back on the mainland, some vintners are making wines from heritage grapes, while others have established new plantings of cool-climate varietals, such as Rieslings and Chardonnays. With all the possible choices, you're bound to find the perfect varietal to enjoy in a unique setting, whether it's a heritage barn at Sandy Ridge Vineyards and Mercantile, by the koi pond at Chateau Tebeau or surrounded by Quarry Hill Winery's orchards and vineyards with a distant view of Lake Erie.
Let's toast to that!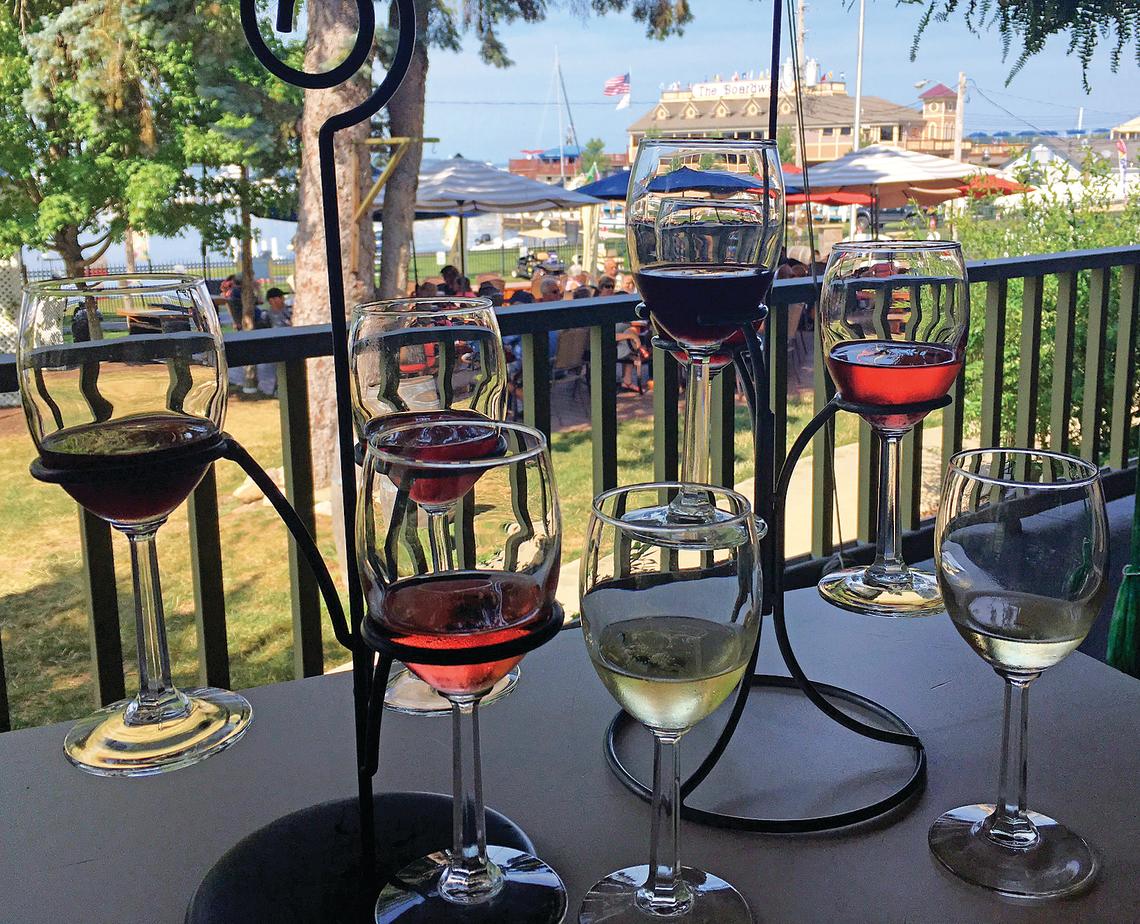 Cheers Trail:
Avon Lake
33050 Webber Rd.
440.933.6666, klingshirnwine.com
Klingshirn has grown and produced some of Ohio's finest grapes and wines since 1935. Twenty acres of vineyards, manufacturing, bottling, sampling, and a retail store are all on site. Open year-round; closed Sundays and major holidays.
Berlin Heights
2. Quarry Hill Winery & Orchard
8403 Mason Rd.
419.588.3179, quarryhillwinery.com
Enjoyable wine tastings, light menu, retail wine sales, wine bar, outdoor patio, and on-site orchard and farm market. Live entertainment on weekends. Open year-round.
3. Redhead Ciderhouse
8019 SR 113 E
419.396.5995, 
Producers of unique hard ciders in northern Ohio. Redhead Ciderhouse is an estate cidery who grows, presses, and ferments on site. Hard ciders can be sampled in the tasting room or purchased to-go inside Burnam Orchards. Tasting room open year-round, Mon-Sat. Carryout only on Sundays; closed major holidays.
Catawba
3845 E. Wine Cellar Rd. (Port Clinton)
419.797.4445, gideonowenwine.com
Gideon Owen Wine Company is a 150-year-old winery on Catawba Island. A perfect blend of historic charm
and modern flair with an 1872 European-inspired wine cellar. Relax around the fire, enjoy patio seating, or sample wine in
the Tirage Wine Bar. Open year-round.
5. Twin Oast Brewing
3630 N.E. Catawba Rd. (SR 53)
419.573.6126, 
Experience great beer crafted by people obsessed with making unique flavors derived from the 60-acre farm on which it resides. Open year-round.
Helena
525 SR 635
419.638.5411, 419.680.0386
chateautebeauwinery.com
Experience the French Chateau featuring a wide selection of wines and cider. Walk the vineyards, sit by the koi pond, or have a glass of wine by the fireplace in the tasting room. You're sure to enjoy the relaxed atmosphere. Food menu, craft beer, live entertainment, and tours available. Open year-round.
Kelleys Island
715 E. Lakeshore Dr.
419.746.2200, crookedtreevineyard.com
A three-acre working vineyard on Kelleys Island with a small tasting room serving wines made on site. Come in for a quiet and relaxing retreat from the sun while enjoying a glass of island-made wine. Open late-May through Labor Day with limited fall and winter hours.
8. Kelleys Island Wine Co.
418 Woodford Rd.
419.746.2678, 
A family-friendly establishment specializing in hand-crafted island wines. A boutique winery featuring up to seven wines at a time. Restaurant offers house-made, fresh options like small plates, sliders, and pizzas. Family-owned for over 35 years. Two acres of family fun including corn hole, bocce, and horseshoes. Private groups by reservation. Catering available. Open daily, Memorial Day-Labor Day with limited hours spring, fall, and winter.
604 Division St.
419.746.2899, monarchki.com
A small, family-owned operation specializing in fruit wines and wine slushies. Offering an array of wine-related gifts, souvenirs, and snacks. Come shop, sip wine, and enjoy the wine garden! Call for hours.
Marblehead
10. Rocky Point Winery
111 W. Main St.
419.515.1494, 
Named for the rocky point at nearby Marblehead Lighthouse, providing visitors with a small-town touch, local wines, and unique gifts. Open year-round.
Norwalk
401 W. Main St.
419.577.0242, ddsmithwinery.com
Relax in this 1870 house-turned-winery or outside with wine, wine slushies, beer, or mixed beverages while trying the new homemade pizza crust and sauce baked in brick ovens. With 37 different wines and after 12 years in business, you'll find something you like! Open year-round.
12. Sandy Ridge Vineyards and Mercantile
180 SR 61 E
419.504.8884, sandyridgevineyards.com
A community viticultural destination set in a historic 1890s barn. Highlights include chef-inspired dining offerings, a beautiful terrace, antiques, unique shopping and gifts, and award-winning wines. Craft beer and organic sodas are also available. Private events by reservation. Open Apr through mid-Dec.
Put-in-Bay/South Bass Island
13. Heineman's Winery and Crystal Cave
978 Catawba Ave.
419.285.2811, heinemanswinery.com
Founded in 1888, Heineman's Winery is a fifth-generation winery and the oldest family-owned and operated winery in Ohio. Visit the tasting room and wine garden, sample award-winning wines, and tour the world's largest celestite geode at Crystal Cave. Open mid-Apr through Oct.
14. Put-in-Bay Winery
392 Bayview Ave.
419.285.3343,
Enjoy a guided wine-tasting tour of the Valentine Doller Mansion and experience island life as it was in the 1800s. Enjoy breathtaking views of Put-in-Bay's waterfront while enjoying a world-class glass of  wine or a hand-crafted ice-cold beer. Accessible. Open Apr-Oct.
Sandusky
223 Meigs St.
419.502.HOPS (4677), baithousebrewery.com
Although there's "nothin' fishy about it," when you stop by the Bait House Brewery you'll soon be "hooked." Sandusky's hometown brewery not only offers their own specialty in-house brews, but also a full bar menu and delicious walleye platters, Bait House burgers, pizza, and other fantastic bites. Pet-friendly patio. Open year-round.
17. CLAG Brewing Company
216 Columbus Ave.
419.202.8199, 
Located in the heart of downtown Sandusky, adjacent to Small City Taphouse. Brewing small batches of a variety of beer from IPAs to stouts right on site. Open Feb-Dec.
18. Everwild Spirits
212 Hancock St.
419.408.6069, everwildspirits.com
A craft bourbon distillery, located in downtown Sandusky, crafting unique, hand-made and distinctive bourbon whiskeys that represent the local land, oak, and grains of Ohio. Full bar and lounge seating area, both indoors and out. Check website for information on tours, tastings, bottle releases, classes, events, and live entertainment.
19. Firelands Winery
917 Bardshar Rd.
419.625.5474, 800.548.9463
firelandswinery.com
Producing fine Ohio wine since 1880. Retail shop, tastings, light fare, home wine-making supplies, and gifts. Outdoor covered patio. Restaurant available; call for information. Open year-round; closed major holidays.
20. Saucy Brew Works
215 E. Water St.
567.290.2700, saucybrewworks.com
Enjoy your favorite Saucy brews, coffee, and a new elevated menu in downtown Sandusky with 16 fresh beers on tap. The Saucy coffeehouse has a full selection of craft coffee offerings, including a  single-origin house roast, pour overs, espresso, and a newly launched line of 12 oz. whole-bean coffee bags.
Vermilion
21. Paper Moon Vineyards
2008 SR 60
440.967.2500, 
Tastings and sales of quality regional and viniferous wines, covered outdoor patio area with seating for 60 people, grassy courtyard with fire ring, and lawn games. Food menu available. Open year-round; closed major holidays.
Wellington
22. Heron Creek Wine and Brady Vineyards of Ohio
52158 Griggs Rd. W
419.506.7022, heroncreekwine.com
The grapes that used to produce the award-winning Heron Creek Wine are grown, processed, fermented, and bottled at Brady Vineyards' 140-acre farm; including seven different varietals.
Explore our wineries and sip never-ending varieties of wine, from award-winning merlots to small batch fruit wines. Cheers!
Planning your Lake Erie vacation has never been easier. With hotels, motels, bed & breakfasts, campgrounds, rentals and more, you'll find the…