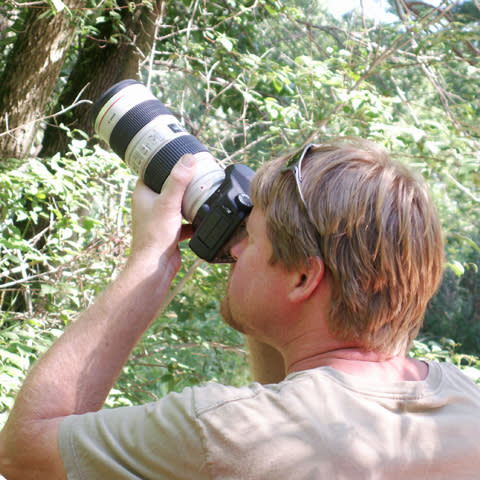 Jeff Herzog resides in Huron, Ohio with his wife and three children. He is an accomplished freelance photographer who enjoys kayaking, beach volleyball, hiking, and of course birding. Jeff plans to visit his 50th state of North Dakota this summer and enjoy the birds every step of the way.
The Lake Erie Shores & Islands region is great for so many activities and has been my home for more than forty years. One of the reasons I enjoy living here is because of the birding opportunities. Yes, I am a birder and not just during the spring and fall migration, but as a part of my lifestyle every day in this area of Ohio. Birding has been an interest of mine since I was a young boy growing up on a farm. Being active outdoors, challenged by unique markings, and learning a plethora of sounds, it has kept my interest ever since. Here are few insider tips and suggestions to successfully enjoy the birds in my proverbial backyard. To break it down simply it's all about location, timing, weather, listening, looking, and asking.
In the business of birding, location is important. Your chances of seeing and enjoying birds increase tremendously if you go where the habitat supports the livelihood and seasonal needs of our feathered friends. For example, during the spring migration warblers are passing through from the south. Their mission is to cross the lake and continue on their journey. Exhaustion, hunger, and weather conditions can stop them from making the 40+ mile flight over the water causing them to rest and refuel in wooded areas along the lake shore. Magee Marsh, Sheldon Marsh, and Pipe Creek, to name just a few, are tried-and-true habitats for locating warblers. Once the warblers arrive, a great time to check these locations is in the early morning hours, especially after a night of south winds and before leaves grow in thick. Birds are most active during twilight, early morning, and late afternoon. During mid afternoon they tend to quiet down and are more difficult to observe. Try this; 30 minutes before sunrise step outside and listen. These conditions, a lot of chipping, and movement would indicate a fallout day. A fallout day is when a mass of birds have come into the area and is an excellent day to go birding, even if it's chilly and raining. Waiting for comfortable weather conditions can make birding more difficult. When the leaves begin to grow thicker it provides cover for the birds and then even the slightest breeze wiggles the branches and creates movement which attracts your eyes unnecessarily.
When you visit a place like Sheldon Marsh and begin your walk towards the lake shore, the first thing you want to do is listen. The birds pack together and they talk to each other. So listen for a pack of birds. I tend to listen first and then look for movement. I have my binoculars ready and lift them quickly to identify bird movement when spotted. When you are birding with a friend make sure you are both looking in different directions to cover more ground. Also, be ready to describe the general area of movement. This will help get more eyes on the subject and help with identification. A field guide will assist new birders with identification or a quick photo will allow you to ID the bird later when off trail.
Even experienced birders ask questions. Birding can be challenging and fast paced. When you start at your location of choice there is no need to be shy. Folks out this time of year, particularly if carrying binoculars, are looking for birds. Politely and quietly ask them what they are seeing or what they have seen that day. Chances are they are happy and eager to tell you what can be found and its general location on the trail. Birders are a very helpful community and love to share what they know. Remember, although birding is not a competition, you can challenge yourself to find different species and keep a running list. If you spend enough time in the Lake Erie Shores & Islands region that list can be quite large. But, at the end of the birding day I hope you found adventure, saw something new or unexpected, and enjoyed begin active outdoors.
Until next time best wishes from your resident backyard birder, Jeff Herzog!