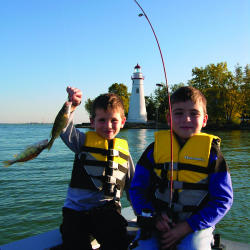 Shores & Islands Ohio – better known to fishing diehards as the Walleye Capital of the World – is among the premier fishing destinations on the Great Lakes, and the region has plenty to offer for those craving the challenge of competitive fishing. In addition to the sixteen boat launches across the region, fishing charters are ready to jet you away to their best spots for hauling in walleye, perch, and bass. Looking to wet a line from dry land? Don't worry, there are public fishing locations with lake access all across Erie and Ottawa Counties! Channel catfish, walleye, and yellow perch are bountiful throughout the region, providing ample opportunity to land a personal best.
Access to Lake Erie with a boat is available at a handful of public locations. The Huron River Boat Access features a four-lane launch facility providing access to both the Huron River and Lake Erie. Shelby Street Boat Launch offers a place to launch your vessel along with an often-overlooked shoreline fishing location, public restrooms, and a full service bait shop. Taking off from Port Clinton is a breeze, with launches at Tibbels, East Harbor State Park, and several others along the North Shores. Shoreline fishing is plentiful, just grab an Ohio Fishing License from your nearest bait shop, or online at the Ohio DNR website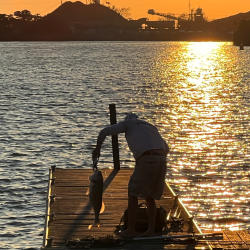 Shores & Islands Ohio is also a top-competitive destination for fishing tournaments on Lake Erie. The Master Walleye Circuit held their largest event in over ten years this past spring, and the region won 2021 awards for economic impact and as host of a Major League Fishing tournament. Over the next several weeks, the National Professional Fishing League, Buckeye Elite Anglers Trail, and Major League Fishing's College and High School divisions come to the area to compete for the top catch. The community support for these local events is unmatched, as we see different industries and community businesses unite to support the anglers traveling into the region by offering lodging, restaurant space, and bait to the rise in demand for services.
Fishing in Shores & Islands just keeps getting better and better. Hatches keep happening with amazing regularity. And the fish keep coming. Casting for Lake Erie fish is at its all-time high with huge success rates. Ready to head to the water and test your patience? Head to the Boating and Fishing info page to prepare yourself with the information needed to land your next big catch. We will see you here!