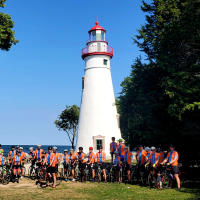 There are many reasons why group travelers are inclined to visit destinations at the same time each year. Beaches are more enjoyable in the summer. The mountains are perfect for skiing in the winter. As a result, most destinations have what is referred to as a "peak season," usually in the summer.
Many planners dismiss the idea of traveling in the spring and fall because of the weather or they worry there is not enough to do. Think again, though! Here are five benefits of shoulder-season group travel to Shores & Islands Ohio.
Lower Cost
If you have ever traveled with a group in the summer, you know prices can be slightly higher due to accommodations being in high demand. Many Shores & Islands Ohio lodging partners are open all year and want to increase shoulder season bookings. For example, Cedar Point's newly-renovated Sawmill Creek Resort is open year-round, and encourages travel for groups and conventions during non-peak times. Crystal Rock Campground, also offering great rates for group travel during off peak times, wants groups to come and experience a quiet night around the campfire after a day at Cedar Point in the spring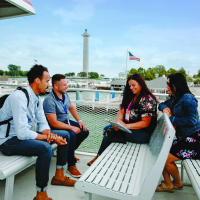 or fall. 
Smaller Crowds
There's nothing worse than spending half of your vacation waiting in lines, when there are so many other exciting things you could be doing! Smaller crowds also mean more flexibility in your travels. If you discover something you want to do spur of the moment, you probably won't have trouble getting a reservation. If you travel in the off-peak season, you will be more inclined to get that last-minute reservation or enjoy a group outing at Ghostly Manor Thrill Center without any wait times for the haunted house, 3-D theater, and escape room.
Small crowds can also mean an enhanced experience at African Safari Wildlife Park. Your group can enjoy up-close-and-personal interaction with all the animals during the drive-thru Safari. With less traffic, it allows for more time to interact and feed the animals from the windows of your bus or car.
Cooler Temperatures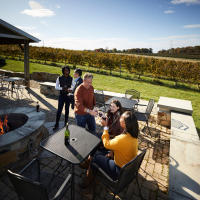 Extreme heat can often put a damper on your trip. No one enjoys spending their day sweating and squinting into the sun. Come to Shores & Islands Ohio in May, September, and October to enjoy the thrills of Cedar Point without the sun burn or end of the day racoon eyes. Take advantage of the more comfortable weather that the spring and fall seasons have to offer our area.
In the fall, great walleye and perch catches move slightly east to the Central Basin of Lake Erie, but charters out of Huron and Vermilion are plentiful for groups wanting to fish. The season is also a wonderful time to visit the tranquil beaches of Lake Erie without the summer crowds. Sit along the shore and listen to the waves lap in, or walk along the shore with your feet in the still-warm waters.
Surprising Experiences
By traveling at times of year that are not as popular, you are much more likely to experience things that many other tourists often miss. Put-in-Bay, for example, is beautiful in the summertime, but it's an even more unique experience in the fall when the leaves are changing. A beautiful ride on the Jet Express, Miller Ferry, or Goodtime I in the fall allows you to catch the changing colors and amazing fall sunsets. While on the island be sure to take advantage of the services offered by Island Transportation Company and take a ride around the island to see the beautiful landscape on their open-air tram.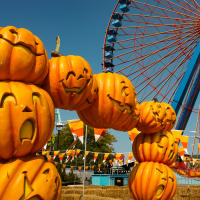 Another beautiful experience in the fall and spring is Schedel Arboretum & Gardens. While stunning in the summer, visiting these gardens creates a whole new experience in the spring with buds blooming and new life starting to form. Lakeside Chautauqua offers visitors in the spring an experience you cannot get any other time of year when one of Ohio's most spectacular wildflowers, the endangered Lakeside Daisy, is in bloom from April to May and the fall season brings the annual Lakeside Marblehead Lighthouse Festival.
Great Seasonal Events
Shores & Islands Ohio offers a variety of events year-round, including some incredibly unique opportunities in the spring and fall. Spring brings another one-of-a-kind event with the Biggest Week in American Birding, a 10-day festival in northwest Ohio, "The Warbler Capital of the World!" Immerse yourself in spring songbird migration and experience some of the best birding North America has to offer.
As mentioned above, Put-in-Bay in a great place to visit in the fall with the spectacular fall colors, pair that with the Island Wine Festival or Oktoberfest and your group will have an experience they are sure not to forget. Events continue on the islands well into October with some of the most popular festivals such as the Feathers & Foliage Festival and Wine & Art Faire on Kelleys Island.
While we hope you enjoy visiting our beautiful destination anytime, we hope you'll consider the shoulder season to take advantage of all the great experiences that are available to groups. Businesses mentioned in this post are all partners in our Group Tour Co-op. Each of these businesses specializes in amazing group experiences.
For more information on group travel to Shores & Islands Ohio contact tiffany@shoresandislands.com or visit shoresandislands.com/groups.