Are you ready to be scared out of your gourd? Do you find frights…fun? Then Lake EERIE Fearfest at Ghostly Manor Thrill Center in Sandusky is the place to be in October!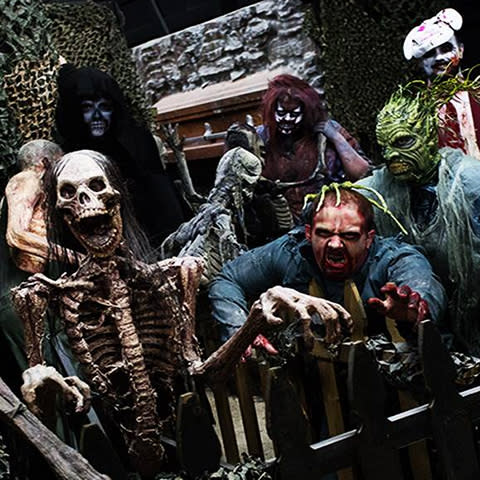 Three haunted attractions combined, this Halloween spectacular takes place every Friday and Saturday night through the end of the month. All attractions are indoors, featuring outdoor, covered waiting areas. Plus, additional activities available at Ghostly Manor Thrill Center make for bonus fun. The haunted attractions are recommended for fright fans aged 10 and older.
Find out why Haunted Attraction Magazine ranked this the #1 Haunted House in Ohio, Forbes Magazine lists it in its Top 10 Haunted Attractions in the country, and The Scare Factor rated it #3 Must See Haunts!
Ghostly Manor, the year-round attraction that started it all, is known for its high-startle scares and special effects. A "haunted mansion" theme, guests walk through this mansion room-to-room with different terrifying scenes in each room of the house, such as the parlor, the kitchen, the hall, and more. There are many different themes and characters to surprise and frighten you!
Also included as part of the Lake EERIE Fearfest are two additional seasonal haunts, Darkmare and Dead in the Water.
Darkmare is a dark maze of terrifying hallways, filled with laser lights and haze, to keep you constantly guessing. Don't get lost in the maze!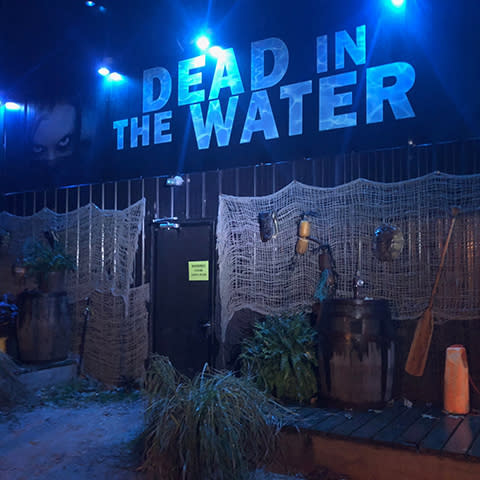 Dead in the Water is the attraction's newest haunt, debuting in 2018. This attraction comes with a warning…you may get wet! Complimentary ponchos are provided to guests to prevent wet hair and clothing. The scenario in this haunt is a cursed ship and includes the deck, the galley, the sleeping quarters, and more. Guests will be startled by mermaids, sirens, and sea monsters like a kraken.
Lake Eerie Fearfest promises to keep guests constantly on their toes with scares from all directions!
Additional Halloween activities available within the Ghostly Manor Thrill Center complex include a "Haunted Mine Ride" movie available at the XD-4D Theater and the "Zombyte" attraction at the Hologate Virtual Reality System. At Ghostly Manor you can also enjoy an amazing arcade, indoor blacklight 3D mini golf, a laser maze, escape room, bounce houses, play area, and roller-skating rink.
For 2021, face masks are recommended but not required and all staff are following Covid-19 protocols. The cost of Lake Eerie Fearfest is $25 for three haunted attractions; the additional attractions of Ghostly Manor are priced separately. Ghostly Manor Thrill Center opens at Noon daily and the Lake EERIE Fearfest haunted attractions are available from 8-11 pm on Fridays and Saturdays in October.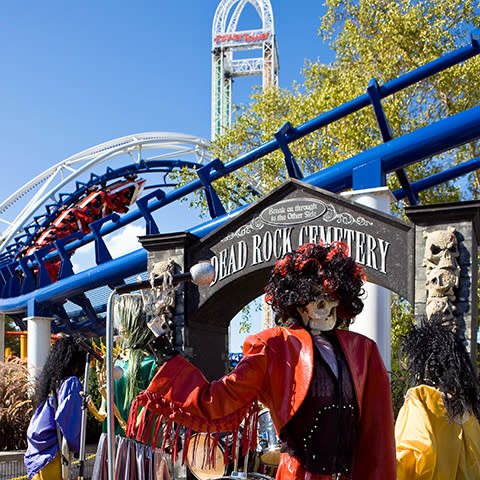 Want more of that rush you feel when you're terrified? You'll also want to check out the Haunt at Cedar Point's HalloWeekends, available Thursday-Sunday nights and featuring six scare zones plus five haunted mazes. In nearby Fremont, fright fans can also check out The Haunted Hydro.