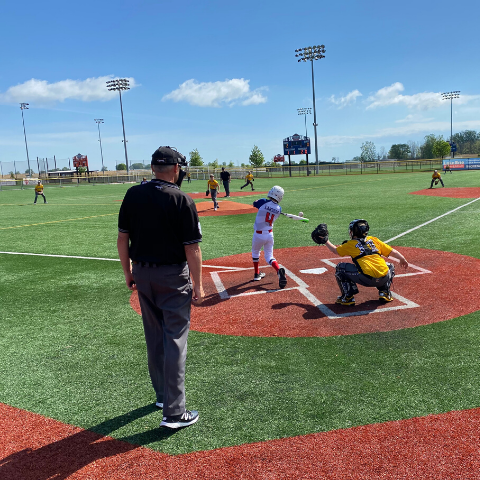 Published July 2020

Sports have returned to Ohio's Lake Erie Shores & Islands, but coronavirus has continued to affect which activities can resume and the need to implement safety measures. Throughout this summer, the State of Ohio has issued multiple Responsible RestartOhio operating requirements that have allowed our destination to welcome back low-contact and non-contact sports, such as baseball and volleyball. We have experienced during this pandemic that the plans can be modified or changed quickly. However, partnerships with local sport facilities, organizations, local government, and event right holders have kept the process of hosting sporting events as safe as possible in America's Sports & Family Fun Capital®.
The Lake Erie Shores & Islands Sports Advisory Council will meet later this month to discuss the updated local & state protocols and how we will continue to provide a safe environment to host sporting events in the upcoming months. The group, which was formed last year, is comprised of Erie and Ottawa County representatives including city/county officials, local businesses, high school athletic directors, sports venue operators, and sport event organizers. During each meeting sport opportunities are shared with the group and how our community could benefit directly from sports tourism. We identify and attract new sporting events while enhancing and retaining existing events to generate a positive impact in our communities.
Sports Force Parks was one of the first venues in Ohio to welcome back sports earlier this summer. Since then, their team has been hosting tournaments each week and has plans to host 26 more tournaments through October. Sports Force Parks has also become home for the Sandusky Bay Youth League and the Sandusky Bay Summer College Developmental League. Sports Force Parks went through a thoughtful and methodical process before moving forward with opening their gates. Guests are encouraged to practice safe distancing and proper hygiene at all times. The 6-foot social distancing zone for athletes, coaches, officials, and spectators is one of the mandatory rules laid out by the Ohio Department of Health. Some other mandatory rules include no team water coolers, no handshake lines, no spitting sunflower seeds, and sanitizing dugouts between each game.
Cedar Point Sports Center is open and continuously working to ensure that the indoor facility is operating as safely as possible. The Cedar Point Sports Center team continues to monitor the directives from the CDC, state, and local governments to implement the health and safety protocols needed to responsibly keep it a safe place for the public to enjoy the indoor walking track, the family entertainment center, and their summer youth sport camps. Recently, volleyball was officially ruled a non-contact sport, rather than a contact sport. This opened the doors for the center to successfully host 40 teams in the Battle of Lake Erie Volleyball Tournament. The facility implemented vast safety measures such as creating social distancing parameters for guests and teams and rigorous sanitizing of all surfaces, equipment, and volleyballs.
In June, Fabens Park in the City of Huron hosted four baseball tournaments that collectively attracted over 260 teams from various parts of Ohio, Michigan, and Pennsylvania. Plans and protocols with event organizers, the City of Huron, and Erie County Health Department assured that tournaments were following as closely as possible with the Responsible RestartOhio Baseball Guidelines. Banners and signs were located throughout the facility to encourage social distancing among players, coaches, and spectators. Fabens Park also offered ample room for parents to sit on the outskirts of the field to watch games from a distance, allowing other families the opportunity to sit closer to the baseball diamond in small groups.
The Inter-Lake Yachting Association has made plans for 2020 Bay Week Sail Regatta, taking place July 30-August 2 at Put-in-Bay, to be a safe and social distant event. Event organizers plan to diligently maintain COVID-19 cleaning standards and institute protocols to comply with all state guidelines. Sailors will be asked to have masks available while attending any activities ashore.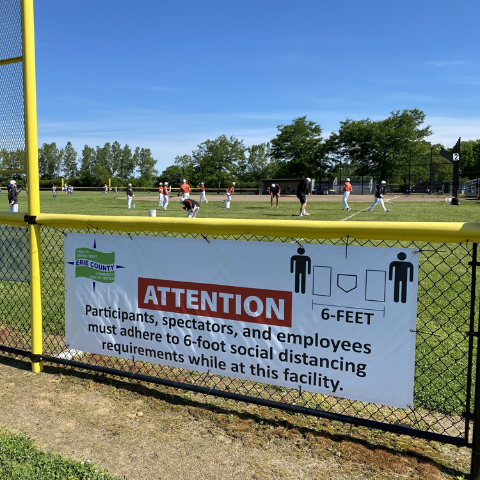 Lake Erie Shores & Islands has also gained national attention from event organizers as an alternative destination to host sporting events. Earlier this month, the Fishing League Worldwide (FLW) was faced with a difficult decision to cancel or relocate the Toyota Series Northern Division Tournament due to travel restrictions implemented in New York. However, the City of Sandusky was excited to welcome the relocated fishing tournament to the Shelby Street Boat Launch facility and to provide access to Lake Erie for the professional anglers. FLW's commitment to safety and the guidelines set during tournament were encouraging and has set in motion further discussions to attract more major fishing tournaments in the destination this year.
The pandemic will continue put limits and changes on the return of sports. The health and safety of all who visit, live, and work here is a top priority. Lake Erie Shores & Islands' goal is to ensure all guests not only have a fun and memorable sports visit, but a safe one. For more information follow/like @ChrisLESISports on Facebook, Twitter, and Instagram.