Published June 2022
Meet Katrina Reed, Put-in-Bay resident and the voice of Miller Ferries! Shores & Islands Ohio wanted to get to know Katrina, Like a Local. Learn what it's like to live on an island and what's new with the ferry this season!
S&IO: Tell us about yourself!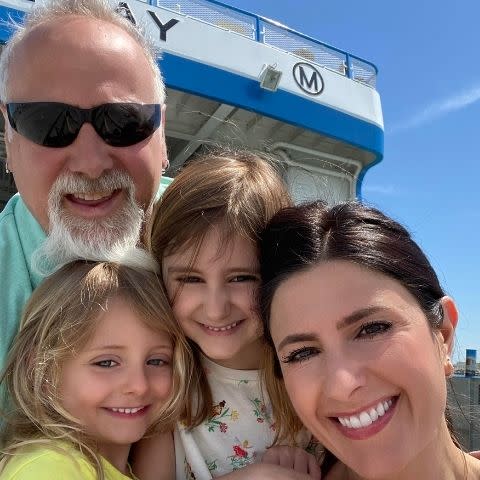 Katrina: I have lived at Put-in-Bay for more than 11 years. My husband lived here when I met him. I moved here without even visiting first. I didn't even know Ohio had islands! 
We also own Duff's Workshop on the island. My husband repairs anything from cars, boats and golf carts, to lawnmowers and appliances, and does welding too. 
We have two daughters. Our oldest is one of eight kids in her first-grade class and the youngest is one of two kids in her pre-school class at Put-in-Bay School. 
S&IO: Tell us about the Miller Ferry business. What is your job and how long have you been there? What is your favorite part of your job?
Katrina: I am proud to say I have worked for Miller Ferry since I have lived at Put-in-Bay, so about 11 years. Miller Ferry is a family-owned business founded in 1905. It started as a fishing and water taxi business in the summer, ice harvesting business in the winter, and has grown to be the biggest ferry service on Lake Erie. 
I am the voice behind most of our social media, help with the website, do PR and anything else that comes up along the way.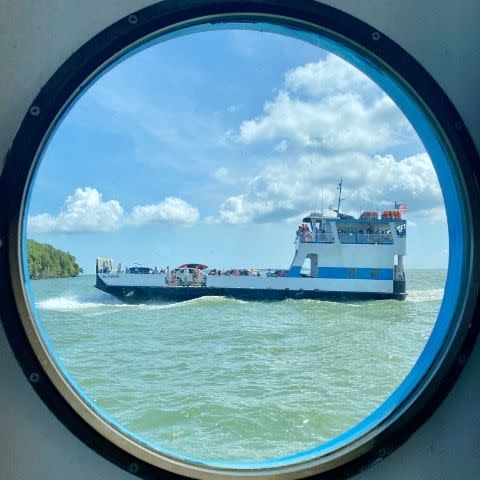 My favorite part of the job is getting to ride the ferry. I get to tag along and capture fun, memorable, or scenic moments to share with everyone on our social media and website. 
S&IO: Anything exciting or new for Miller Ferry or planned for the 2022 season? Any special events you are especially excited about?
Katrina: Oh do we! Miller Ferry has a new ferry boat coming this summer. The M/V Mary Ann Market will travel from Fincantieri Bay Shipbuilding, Sturgeon Bay, WI to her home port of Put-in-Bay, Ohio in Lake Erie. The ferry is named in honor of company owner, matriarch, and lifelong island resident Mary Ann Market (1935-2010). It's a drive on/drive off passenger and vehicle ferry that is 140 feet long. It will be the fifth and largest vessel in the Miller Ferry fleet, with a capacity up to 600 passengers/about 28 vehicles. Stay tuned for details on her arrival!

S&IO: What is your favorite thing about living and working in the Shores & Islands region?
Katrina: The whole area makes life one big photo opp. Whether it is sunrise, sunset or interesting weather, Lake Erie makes the perfect background.
Also, there are no highways here and the island is three and a half miles long, so my commute anywhere is only five minutes.
As wonderful as these things are, the sense of community in our area is unbeatable. There are about 400 year-round residents on the island. We know most everyone and everyone chips in to support and help their neighbors. 
S&IO: Tell us something unique about living on an island.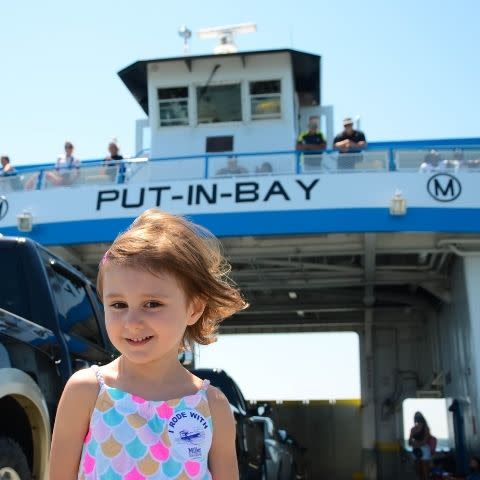 Katrina: We have to take a ferry or plane (in the winter) wherever we go. If we have a doctor appointment, need groceries, or want to visit family, we always have to hop on the ferry to get there. It makes the logistics of life a little more difficult, but it is worth it. 
S&IO: If you had friends visiting from out of town, where would you take them?
Katrina: Sometimes we will go to the mainland to ride Miller Ferry over with them. My kids love the ferry ride. Then we take them on a golf cart tour of the island. We try to stop at places that are unique to Put-in-Bay. A trip to the observation deck of Perry's Monument, spelunking in the Crystal Cave and Perry's Cave, a hike and beach glass hunting at Scheeff Nature Preserve, ice cream from the Candy Bar, usually topped off by a watermelon wheat at Put-in-Bay Brewing Company. It also depends on who is visiting, but we have gone parasailing, jet-skiing, take the kids to ride the carousel or gemstone mining, and mini golf is always fun. 
If you're looking for a full day of family fun. I recommend bringing your bikes aboard Miller Ferry and visiting all of the nature preserves and parks on the island. It's one of our favorite things to do. It is a full day of exercise, nature, sunshine, and learning. 
S&IO: Perch or pizza? Where is your favorite place to get your choice?
Katrina: Why has no one made perch pizza?! Ha! We love going ice fishing in the winter. The whole process is fun for my family. The girls love venturing out on the ice, catching fish, bringing them home to clean and cook. However, they don't really eat it. Kids. 
S&IO: Lake or land? Would you prefer spending time on the water or by the shore?
dKatrina: Land, by the shore. I love living by the water. One of my favorite things to do is watch the sunset at South Bass Island State Park. There are times that it feels like the whole world is glowing red and gold around me. Also, my daughters are expert rock skippers, lake swimmers, and beach glass collectors from growing up here.
S&IO: Anything else to add regarding how to enjoy the region "like a local?"
Katrina: Cedar Point! We visit for a weekend every fall. We also love African Safari Wildlife Park. My daughters love getting up close and personal with the animals. These two places are so unique to the Shores & Islands region and we are so lucky to live so close.