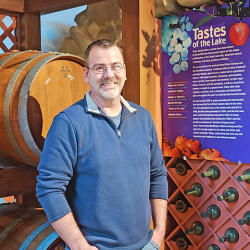 Meet Travis Nash, who recently joined the Shores & Islands Ohio team as CMS (Content Management System) Manager. Travis will help S&IO continually monitor and adjust our website as well as create content, update, and optimize tasks association with our online presence. Here, we get to know him a bit better!
S&IO: Tell us about you, your family, your education, etc.
Travis: I was born in Pennsylvania, and moved quite a bit growing up. I've lived all over the country, by the time I graduated High School I had lived in 7 different states. I joined The Coast Guard shortly after High School, and spent the next 20 years operating in various missions sets including Search and Rescue, Law Enforcement, Presidential and Diplomatic Security, Counter-Drug operations, Alien Migrant Interdiction, and as a High-Risk Instructor for boat tactics and small arms weapon engagement. During my career, I started classes online at SNHU for a degree in Information Technology with a concentration in Cyber Security. After retiring from the military, I have worked for a startup company building their website and IT infrastructure remotely. I have also been contracted with several other companies building websites, improving SEO (Search Engine Optimization), creating CRM integrations and automating tasks, and automating business processes. After so much traveling, my wife of 18 years and our 2 teenagers decided to finally settle down!
S&IO: What makes the Shores & Islands region an attractive location to work?
Travis: This area has so much potential for growth! Looking long-term, I see nothing but continual improvement and increased opportunities.
S&IO: What about your CMS position attracted you to working for Shores & Islands?
Travis: This position gives me the opportunity to continue to do what I enjoy, and it has a direct relationship to the area's overall well-being and improvement. Drawing in more visitors and increasing revenue for the area, puts a little bit more money into everyone's pockets! Being in a position to take everything I know, and applying it to directly or indirectly affect my friends and neighbors, is very satisfying.
S&IO: What are you looking forward to about living and working in the Shores & Islands region? What specifically, job-wise are you looking to accomplish in the position?
Travis: My immediate goals for this position is to improve site performance, improve the user experience, and increase the site's SEO. Long term, I also want to automate some internal business processes, freeing up some time for other members to focus on other efforts and new ideas. I also would like to start reaching out to local business partners to provide training on some website related topics such as SEO, site analytics, and other services for them to improve their own sites.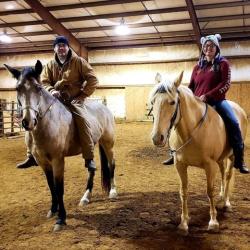 S&IO: What are you looking forward to experiencing or learning more about within the region?
Travis: I am always looking for new places to go and new restaurants. I am a foodie at heart, and will go out of my way for some good dishes! My family and I enjoy finding the "local gems" everywhere we go, and have made a lot of great friends along the way! Couple this with my skills and knowledge, I hope to bring attention to each place we all put our hard work and time into.
S&IO: What are your hobbies and/or what do you do when you're NOT working?
Travis: I enjoy a variety of activities from automotive mechanics, horse-back riding, going to the gun range, and taking trips with the family to see something new (Grand Canyon, Yosemite, and the Northern Lights are on the list).
S&IO: If you had friends visiting from out of town, where do you think you would you take them?
Travis: Depending on who it is and the season, it could be anything from going to Cedar Point and finishing up downtown Sandusky, or going on a fishing charter out of Port Clinton or Catawba, and swinging by one of the islands. There is something here for everyone to enjoy, it's simply a matter of choosing the right place or event!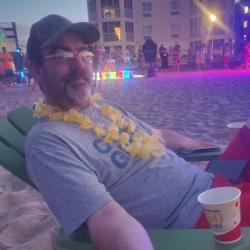 S&IO: Perch or pizza?
Travis: I'm partial to pizza, but a good perch sandwich is hard to beat! Danny Boys Pizza in Sandusky is my go-to.
S&IO: Lake or land? Would you prefer spending time on the water or by the shore?
Travis: I enjoy the land now! The water is beautiful, and there is a romance about it, but I would rather look at it than be on it.
S&IO: Anything else to add regarding becoming "like a local?"
Travis: Every community has its popular and common attractions, but it's the not-so-common places that you find some of the best food, stories, and that "spark!" This area has so many of them!