Spring has gone to the birds! And also, to the fish, the dogs, the pirates, and the bikers! All these events combined will usher in another amazing summer in Shores & Islands Ohio. Get ready for a season full of excitement, as festival time is underway, seasonal attractions are opening their doors, and island-hopping is back on the agenda! Here are 20 of the top area events for May and June, as you start planning out your "can't miss the fun" calendar.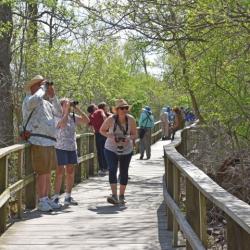 Biggest Week in American Birding
May 5-14, 2023
Various locations, Toledo to Huron
A 10-day festival, hosted by Black Swamp Bird Observatory, featuring some of the best spring birding North America has to offer. The festival features birding, photography, and art workshops, guided birding activities, field trips, keynote speakers, spotlight presentations, evening socials, and activities.
Derby Day
May 6, 2023
Kelleys Island
"..and down the stretch they go!" It's that time of year again! Cure that cabin fever and get a head start on summer fun by attending Kelleys Island-wide Derby Day festivities. Wear your finest derby garb and hats to cheer on your picks for the 148th Kentucky Derby! All bars and restaurants will be participating in the celebrations surrounding this historic horse race, dubbed "the most exciting two minutes in sports!"
Official Opening Day at Cedar Point
May 6, 2023
Cedar Point Amusement Park, Sandusky
See all that's new at Cedar Point this season, including The Boardwalk, where you can take a ride on the new Wild Mouse spinning roller coaster or enjoy breathtaking views from Cedar Point's Grand Pavilion! Plus, don't miss the Frontier Festival May 25-June 18 taking place in the park's Frontier Town and featuring rousing live bands, character entertainment, a hubbub of activities, games, crafters and more. Plus, taste your way around town and sip on craft brews, spiked seltzers and signature cocktails, or enjoy hearty portions of specialty food items.
42nd Annual Walleye Festival
May 25-29, 2023
Waterworks Park, Port Clinton
An array of free live concerts, Kids Fishing Derby, Grande Parade, educational programs and activities, carnival rides, and many vendors from around the nation, help make this event one of Ohio's premier outdoor weekend celebrations. Never in short supply, delicious food and beverages will be enjoyed by all. This is the perfect summer kick-off!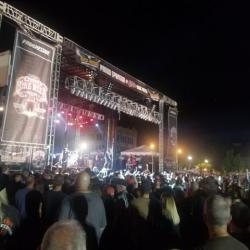 Ohio Bike Week Block Party
May 26-June 4, 2023
Mad River Harley Davidson, Jackson Street Pier, Barrel House Saloon, Sandusky
10 days of ridin' and rockin' along the shores of Lake Erie! Ohio Bike Week held in Sandusky with live bands, food trucks, and plenty of merchants. Includes organized rides, the world-famous downtown Sandusky block party, and free concerts with Jackyl, Saliva, Everclear, Sponge, Warrant, Quiet Riot, and more. VIP passes available.
Colossalcon 2023
May 31-June 4, 2023
Kalahari Resorts & Conventions, Sandusky
Colossalcon is a five-day event in the region that features a variety of anime-related entertainment in a diverse, multi-function environment from live acts and performers to industry and media guests, DJs, artists, vendors, and attendees from all over the world. Cosplay welcomed!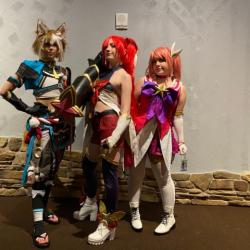 Lake Front Market
Jun 9-10, 2023
Lake Front Park, Huron
An open-air market place featuring Ohio-based vendors at one of Huron's most scenic beaches. Featuring food trucks, live music, kids' activities, and numerous vendors of authentic goods.
49th Founder's Day!
Jun 10, 2023
DeRivera Park, Put-in-Bay
Celebrate the 49th anniversary of the founding of Put-in-Bay by Hispanic merchant Jose DeRivera in DeRivera Park with many vendors and lots of fun for everyone!
Corvettes at the Liberty Aviation Museum
Jun 10, 2023
Liberty Aviation Museum, Port Clinton
Returning for a 9th year on June 10th, 2023! Lake Shore Corvettes, Inc, Liberty Aviation Museum & the Tin Goose Diner invite you to: Corvettes at the Museum! Admission to view the car show is free. If you are wishing to visit the museum galleries or second hangar, regular rates apply. Open to all Corvettes! You do not need be a club member to show!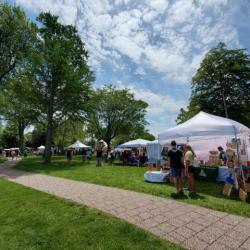 Arts & Crafts Festival
Jun 10, 2023
Waterworks Park, Port Clinton
Happening just steps away from beautiful Lake Erie, the Greater Port Clinton Area Arts Council Arts & Crafts Festival is one of the area's biggest arts and crafts shows of the year.
Toast of Ohio Wine Festival
Jun 10, 2023
Jackson Street Pier, Sandusky
Benefitting the Merry-Go-Round Museum, this wine festival features Ohio wineries, food trucks, and live entertainment. Located right on the water with great views!
Put-in-Bay Pooch Parade
Jun 11, 2023
DeRivera Park, Put-in-Bay
The pooch parade is open to the public with registration taking place in the park gazebo at 10 am. The parade of pooches, led by the children, will begin at 10:30 am with the judging to commence immediately thereafter. Bring Fido along for his own little Put-in-Bay adventure! There is a nominal $10 entry fee which includes a doggie goodie bag and a chance to win prizes! Is your dog the cutest? Fastest? Smallest? Largest? Perhaps your dog looks like you or is the best dressed! The judges will be awarding prizes in these categories and more! Bay Lodging Resort, Bird's Nest Resort, Commodore Resort, and Island Club Home Rentals are all dog-friendly! There are also plenty of outdoor dining options for your dog!
Put-in-Bay Pride
Jun 12, 2023
Put-in-Bay
Put-in-Bay invites everyone to join them as they celebrate Pride to honor the 1969 Stonewall riots and work to achieve equal justice and equal opportunity for LGBTQ+ people! It's going to be an amazing event for any and all to come and celebrate! Events include a family color run, pool party at The Sand Bar, comedy show, parade, and Drag show at The Round House with special guest Sushi from Key West!
Festival of the Fish
Jun 16-18, 2023
Vermilion
The Vermilion Chamber of Commerce and the Festival of the Fish committee present the 2023 festival theme, as they step back in time to the year 1969 Woodstock era with, "Fishstock…3 days of peace, music & perch!" Events include festival parade, crazy craft race, lighted boat parade, fireworks, sandcastle-building contest, food, fun, live entertainment, and more!
Ohio's Island Wine Festival
Jun 17, 2023
Heineman's Winery, Put-in-Bay
Come and check out the Ohio Wine Festival as Ohio wineries showcase their wines just for you at Heineman's Winery!
Summer Solstice Sunset Tour
Jun 21, 2023
Perry's Victory and International Peace Memorial, Put-in-Bay
Watch the sun set over Lake Erie at the "monumental" observation deck! They'll be celebrating the longest day of the year with a sunset tour to the top of the Monument. Make sure to stop by the Visitor Center first to purchase a ticket to take the elevator to the observation deck during golden hour!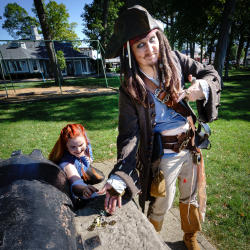 Pyrate Fest XV
Jun 23-25, 2023
DeRivera Park, Put-in-Bay
Avast, mateys! Set sail to Pyrate Fest XV in Put-in-Bay! Put-in-Bay's Annual Pyrate Fest sees the return of the Pyrate King for 3 days to find his stolen treasure.  Friday night the pyrates invade the downtown harbor and hoist the Pyrate Flags!  The Annual Pyrate Pub Crawl will start at 5pm for the adult pyrates only! Saturday will feature fun activities for the entire family. Sunday is the annual Kid's Fest. Dress as a pyrate and join in the fun!
Sandusky Pride Festival 2023
Jun 23-25, 2023
Downtown, Sandusky
Sandusky Pride is coming back for their 6th year! Live music, performances, the downtown block dance party, the parade, the battle royale, and even more! Bigger every year!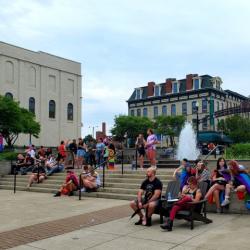 Huron Rotary Art & Food Truck Festival
Jun 24, 2023
Huron Boat Basin & Amphitheater, Huron
This festival takes place along Huron's beautiful waterfront. Artists are encouraged to bring their unique goods to the festival and allow thousands of visitors to shop.
Kelleys Island Motorcycle Tour
Jun 24-25, 2023
Kelleys Island
Ohio Motorcycle Group is hosting a Bike Tour on Kelleys Island. Registration includes your tour scorecard and a ferry access wristband. After registering, take a self-led ride to the Kelleys Island Ferry Boat Line in Marblehead, Ohio. Show your wristband at the ferry ticket booth to receive the special discounted round-trip price per bike - a great savings! Once you arrive on the island, you have two days to visit all ten stops and get your card stamped. The grand prize is a fabulous Kelleys Island vacation package worth over $1,500! To be eligible for this prize, completed scorecards must be returned to either Mad River Harley Davidson or Rock-n-Roll City Harley Davidson by 4 pm on Tues, June 27. The grand prize winner will be drawn on Wed, June 28, 2023. The tour proceeds benefit the Kelleys Island Chamber of Commerce.
As always, you can find entertaining events, live concerts, local festivals, and more at SHORESandISLANDS.com/events.