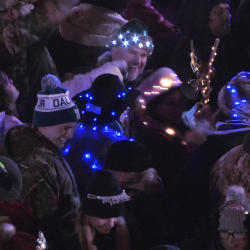 In Shores & Islands Ohio you can welcome the New Year with unbelievable STYLE. You'll #LakeErieLove our holiday celebrations! Not only do we have one, but TWO quirky-and-silly midnight "drop" parties – think New York's famous big apple, but with kitschy, small-town friendly vibes. There are also a couple of amazing fireworks displays, kids-only parties, and swanky soirées.
The iconic Shores & Islands Ohio New Year party is the Port Clinton Walleye Drop. For more than two decades, the "Walleye Capital of the World" has dropped a 20-ft. 600-lb. fiberglass walleye to usher in the new year. The Walleye Madness at Midnight is a downtown street fair, complete with live entertainment, a bar "swim" (our version of a bar crawl) with free shuttle, and lots of food and fun. After "Wylie Walleye" descends from high above the crowd at Midnight, a gorgeous fireworks show displays over the Portage River.  There's also a "Minnow Drop" beginning at 6 pm, just for kids!
More than 300 people attended the inaugural New Year's Eve Donut Drop at Lakeside Chautauqua last year – a much bigger crowd than anticipated for an event that started out as a joke. A group of friends who regularly attended the Walleye Drop in Port Clinton joked that they should drop one of The Patio's famous donuts off the dock and into Lake Erie to save themselves the late-night drive. So, the friends got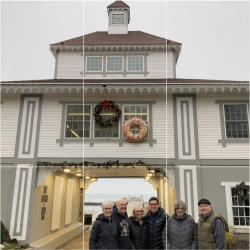 together that year with a fishing pole and "dropped" some donuts. Word of their clever idea spread around the community and soon an actual donut drop was being planned as a holiday event that would fill the streets of the primarily summer community.  People flocked down to the Lakeside dock, where a giant, inflatable donut dropped off the pavilion at Midnight – hundreds of people took photos with the donut, music was played, and donuts were served. The event is repeating this year. Lakeside's Fountain Inn is even offering a "Donut Drop" hotel package this year for guests of the family-friendly event.
Downtown Sandusky offers two NYE Fireworks Celebrations, hosted by Hotel Kilbourne at the Jackson Street Pier. The first show is at 6 pm for those with kids who can't stay up late enough to count down to Midnight (or those without kids who just prefer an earlier festivity!) Another amazing pyrotechnic display will blast off as the clock strikes twelve and guests are encouraged to enjoy the show from anywhere visible in downtown Sandusky, where a number of bars and restaurants will be holding holiday parties.
Looking for a swanky night out to ring in the New Year? Sawmill Creek by Cedar Point Resorts offers its first-ever Sawmill's Toast of The North Coast New Year's Eve bash! Here you can enjoy drinks and local culinary treats and dance the night away to your favorite top 40 playlist with live music from the band,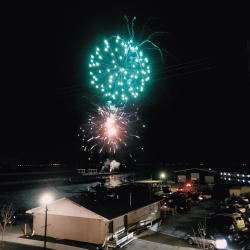 Not Fast Enuff. Tickets include food, entertainment, and a midnight champagne toast! Overnight packages at the resort are available as well.
Another overnight option to celebrate the end of the year and new beginnings is Kalahari Resorts & Conventions, which has two parties planned. First, enjoy a feast like you've never experienced before at the New Year's Eve Celebration ballroom buffet, complete with amazing eats like prime rib and fresh oysters! Be sure to save room for the over-the-top dessert station! Then, beginning at 9 pm and for overnight guests only, experience the New Year's Eve Glow Party, full of magic and memories – a DJ dance party, glow sticks, complimentary hats and horns, plus a balloon drop at midnight!
These are just a few of the ways to celebrate the coming year in Shores & Islands Ohio. Read on below for activities specific for kids and outdoor enthusiasts. Whichever way you choose to greet the New Year, please do it safely and we hope 2023 will bring everyone joy, happy memories, and more Lake Erie Love!
FOR KIDS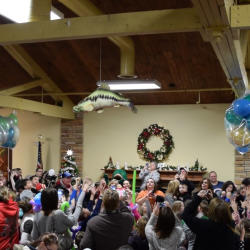 Countdown to 2023-Celebration Kits pickup
Dec 27, 2022-December 30, 2022
Huron Public Library, Huron
Let the Library help you ring in the year with a New Year's Celebration Kit. Glasses, hats, noisemakers, and other party supplies will be included.
New Year's at Noon Party
Saturday, Dec 31, 2022
11:30 am - 12 pm
Sandusky Library, Sandusky
Happy 2023! Count down to the New Year at a kid friendly time.
Noon Year's Eve Party
Dec 31, 2022
10 am-3 pm
Jungle Junction, Bellevue
At Jungle Junction's Noon Year's Eve Party, they will have open play in the jungle, crafts, a photo booth, and a balloon drop with sparkling juice at noon!
FOR OUTDOOR ENTHUSIASTS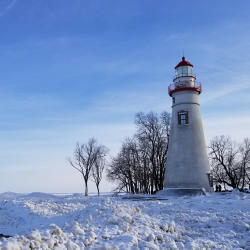 Osborn MetroPark parkrun
Saturday, Dec 31, 2022
9 am
Osborn MetroPark, Huron
It is not a race against other runners, but a free, friendly, enjoyable, timed 5k walk/jog/run. It is fun for all the family! Join Erie Metroparks at this beautiful local park and be physically active.
Meadow Trail Hike
Dec 31, 2022
11 am-12 pm
East Harbor State Park, Marblehead
Enjoy the last day of 2022 with a hike! Let's make the last steps in 2022 full of beautiful memories on the Meadow trail (easy hike about a .75-mile loop)!
New Year's Eve Hike
Dec 31, 2022
2-3 pm
Marblehead Lighthouse State Park, Marblehead
Marblehead Lighthouse State Park invites everyone to come and enjoy the last day of 2022 with a hike (easy hike, about .5-mile loop)!