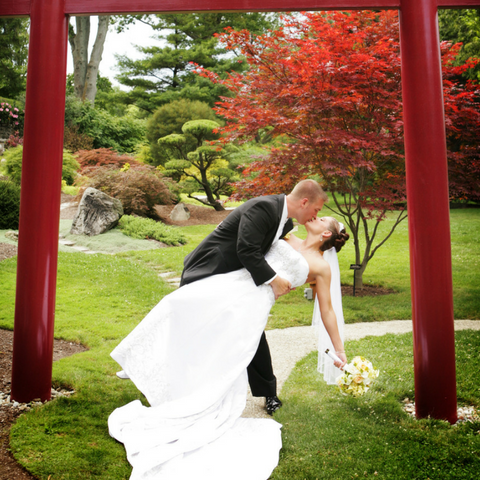 Published August 2018
Congratulations! You're getting married, but where to hold the ceremony and reception? Destination weddings are trendy these days, but perhaps you don't have the budget to fly off to Fiji and you don't want the entire wedding party going broke on travel expenses. Destination weddings can be done close-to-home too, and Ohio's Lake Erie Shores & Islands is within 300 miles of nearly 50 million people including the metropolitan areas of Chicago, Detroit, Columbus, Cleveland, and Pittsburgh. So why not consider a beach wedding or other unique area venues for your nuptials? Here are a few popular and outside-the-box ideas for weddings locations at Lake Erie Shores & Islands.
Popular Venues:
Being the Lake Erie Shores & Islands, waterside weddings are extremely popular! The Catawba Island Club offers both indoor and outdoor reception and ceremony options with stunning views of Lake Erie and its amazing sunsets. The Outdoor Pavilion can host up to 250 guests while smaller ceremonies and receptions can be hosted in the Harbor Room. With its lakeside location, quality food service, 35 onsite hotel rooms, and years of entertaining expertise, Catawba Island Club is one of the most well-liked locations in the area to tie the knot.
Another much-loved wedding and reception venue is Sawmill Creek Resort in Huron. With a lakeside gazebo and space for over 500 guests, Sawmill Creek Resort offers onsite reception space, 236 guest rooms, a golf course, and many other resort amenities. Sawmill Creek has much to offer when hosting a wedding in the region.
Weddings and wine are a perfect combination! Lake Erie Shores & Islands boasts many beautiful wineries that are perfect wedding venues. From the historic wine cellar at Mon Ami Restaurant and Historic Winery, to the island beauty of Put-in-Bay Winery at the Doller Estate or Kelley's Island Wine Company, the area's wineries offer a variety of spaces and styles. For smaller ceremonies and receptions, Quarry Hill Winery and Paper Moon Vineyards offer lovely options for groups up to 100.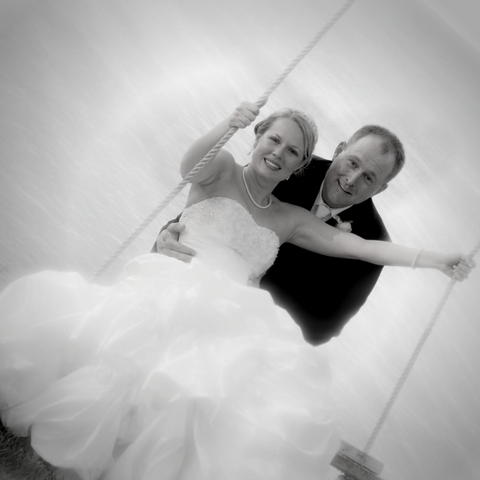 Unique Venues:
Vegetables may not be the first things that come to mind when looking for a ceremony and reception venue, but the Culinary Vegetable Institute in Milan might surprise you! Ceremonies can be held in/around its beautiful garden gazebo with space for up to 200 guests. Or, small, intimate receptions for up to 75 guests can be held inside their Great Room. Perhaps the pièce de résistance is the culinary delights you and your guests will enjoy! Their in-house chefs will work with you to create a wonderful menu with many products being sourced right from the institute's Chef's Garden when possible. Culinary Vegetable Institute even offers the "Chef's Suite" where couples may stay on the wedding night and enjoy a gourmet breakfast the next morning.
If nature's bounty is what you are looking for in your venue, look no further than the area's Schedel Arboretum and Gardens in Elmore. The arboretum offers outdoor ceremony sites in either a traditional wedding area or in a Japanese garden with seating for up to 300. The Veh Conference Center offers indoor ceremony or reception space for up to 90 guests with a beautiful deck overlooking the gardens, or party right in the gardens with a tent set up for the reception for up to 300.
Think merry-go-rounds are just for grabbing the brass ring? Not in Ohio's Lake Erie Shores & Islands. At the Merry-Go-Round Museum in Sandusky you can not only grab the brass ring, but also put a ring on your finger as well (hopefully that one isn't brass though). With the center of the museum as a working carousel, host a ceremony and/or reception for up to 100 surrounded by the horses and other carousel creatures throughout the museum. What a whimsical wedding!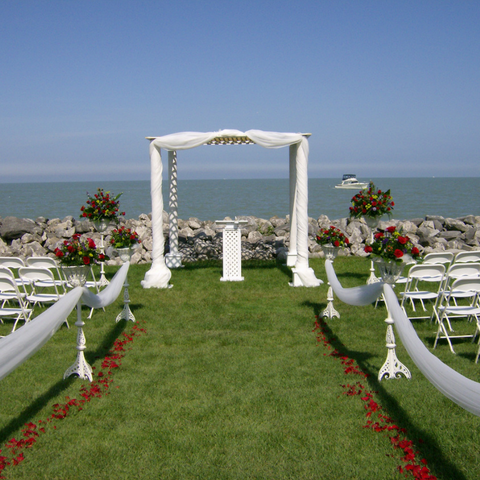 From a wedding shower at a winery, bachelor/bachelorette party on an island, rehearsal dinner aboard a Lake Erie cruise, to a ceremony on the beach, Lake Erie Shores & Islands has everything you need for a fabulous destination wedding. Let us help you plan your wedding in Ohio's Lake Erie Shores and Islands. May your wedding day be the beginning of a lifetime of love and happiness! Visit SHORESandISLANDS.com/groups/weddings for more ideas and to contact us today.