Published May 2022
Spring is in the air and the season is about rebirth and getting out and enjoying all that nature has to offer. Experience nature's renewal with a leisurely stroll through Schedel Arboretum & Gardens or McBride Arboretum. Or, trek a trail at Old Woman Creek, East Harbor State Park, or one of several Erie MetroParks. For a unique nature experience, visit from early- to mid-May when the Lakeside Daisy is in bloom! This endangered plant species grows on a preserve on the Marblehead Peninsula and is the only natural United States population of this spectacular wildflower. The area is also well-known for its phenomenal birdwatching opportunities during the spring migration. Grab your binoculars and check out the Warbler Capital of the World at locations like Magee Marsh Wildlife Area, Sheldon Marsh State Nature Preserve, and Ottawa National Wildlife Refuge. See newborn animals at a number of area animal parks including African Safari Wildlife Park, Lagoon Deer Park, Watering Hole Safari, and Kalahari's Safari Outdoor Adventure Park, with hundreds of new babies born each year. Let a visit to Shores & Islands put a spring in your step!
Here are some event highlights for May and June, 2022:
Biggest Week in American Birding, Oak Harbor
May 6-15, 2022
A 10-day festival, hosted by Black Swamp Bird Observatory, featuring some of the best spring birding North America has to offer. The festival features birding, photography, and art workshops, guided birding activities, field trips, keynote speakers, spotlight presentations, evening socials, and activities.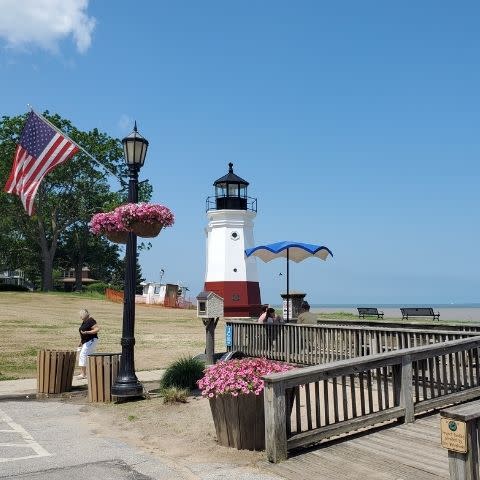 3rd Thursday Music, Flowers and a Sunset, Vermilion
May 19, 2022; June 16, 2022
3rd Thursdays are back! Come and see as downtown Vermilion is turned into a Norman Rockwell setting of a New England town quaintly nestled into the coast of Lake Erie as you stroll the picturesque town listening to music.
Nest with the Birds, Kelleys Island
May 21, 2022
Join in for the spring migration of birds as they head north and stop over to rest and feed on Kelleys Island. Tom and Paula Bartlett will be banding and will educate visitors about the many species of warblers and songbirds that use the Lake Erie islands to gain energy for their migration. Adopt a bird for $5 to personally support the KI Audubon Club. Special Bird Walk and Nature Hike at 10 am with Pat Hayes.
Cedar Point's Frontier Festival, Sandusky
May 26-June 19, 2022
Our annual celebration of hope, health and harvest returns to Cedar Point's Frontier Town. This street festival is a real hootenanny with rousing live bands, character entertainment, a hubbub of activities, games, crafters and more. Plus, sample your way around town and sip on craft brews, spiked seltzers and signature cocktails or taste more than 20 specialty food items at this outdoor event. Provisions range from mild to wild, saucy to savory, including sweet treats, too! 
41st Annual Walleye Festival, Port Clinton
May 26-30, 2022
The 41st Annual Main Street Port Clinton Walleye Festival gets underway Memorial Day weekend 2022 at picturesque Waterworks Park on the shores of beautiful Lake Erie. An array of free live concerts, Kids Fishing Derby, Grande Parade, educational programs and activities, carnival rides, and many vendors from around the nation, help make this event one of Ohio's premier outdoor weekend celebrations. Never in short supply, delicious food and beverages will be enjoyed by all. This is the perfect summer kick-off!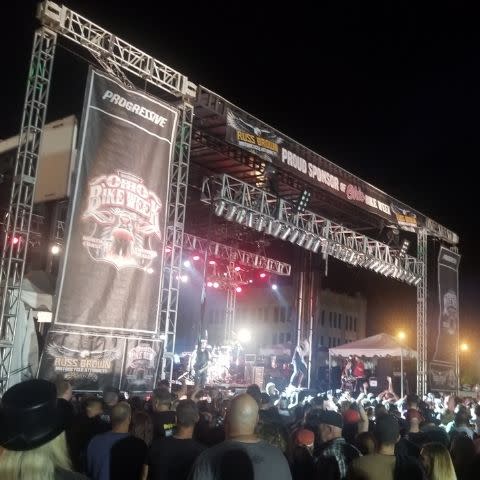 Ohio Bike Week, Sandusky
May 27- June 5, 2022
Ten days of ridin' and rockin'! Live music, organized rides, poker runs, charity rides, bike parade, downtown Sandusky Block Party at Jackson Street Pier, vendors, food trucks, and more! VIP passes available.
Genoa Homecoming, Genoa
June 2-4, 2022
"On Broadway" is the theme for this year's Homecoming, featuring a special performance by Genoa's own Broadway star, Bill Nolte. Performances will be Friday and Saturday at the Genoa Civic Theater. A full schedule of events for Saturday including, garden tractor pull, corn hole, home run derbies, catch-a-pig contest, food, entertainment, live music, and more.
Bacon Fest, Kelleys Island
June 10-12, 2022
Bacon Fest is back with a vengeance! For all you pork lovers, come out to the Kelley's Island Wine Company and let your pork flag fly! This year's festivities will include a full weekend of music, Friday night, Saturday, and Sunday afternoon. The menu will be filled with bacon-themed items and the bar will be serving up bacon-themed cocktails and a craft beer bacon pairing menu. Pig roast served all day Saturday, until it's gone!
Founder's Day, Put-in-Bay
June 11, 2022
Celebrate the founding of Put-in-Bay by Jose DeRivera. Many vendors, hot dogs, strawberry "shore-cake," root beer floats, and lots of fun in DeRivera Park from 11 am-4 pm.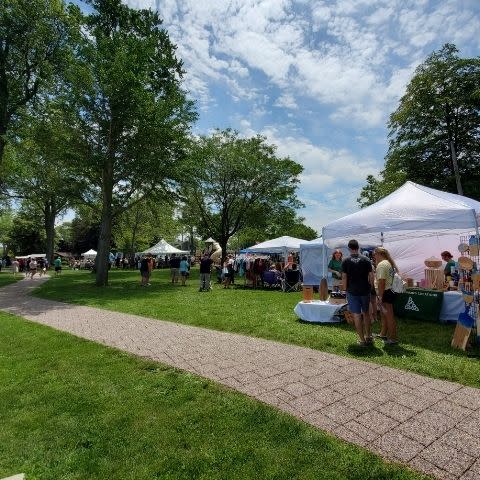 Lakefront Market, Huron
June 11, 2022
Lake Front Market is an open-air marketplace featuring Ohio-based vendors at one of Huron's most scenic beaches. The event will feature food trucks, live music, kids' activities, and numerous vendors of authentic goods, creating a unique shopping experience for everyone.
Toast of Ohio Wine Festival, Sandusky
June 11, 2022
The Toast of Ohio Wine Festival will be held at Jackson Street Pier again this year. Located right on the water with great views! Ohio wineries, food trucks, and outdoor live entertainment. Art Walk Sandusky will also be at the pier, a great way to see local artists and talent.
GPAAC Arts & Crafts Festival, Port Clinton
June 11, 2022
The Greater Port Clinton Area Arts Council invites you to come spend a beautiful day in the park celebrating local arts & crafts! 
Festival of the Fish, Vermilion
June 17-19, 2022
Come to downtown Vermilion for the 56th Annual Festival of the Fish featuring FREE daily entertainment and FREE admission, kids' games, food and marketplace, lighted boat parade, sand castle building contest, crazy craft race, Queens's Pageant, antique wooden boat parade, and firefighters water fights! Enjoy fireworks on Friday and a parade on Sunday.
Official 200th Anniversary Birthday Celebration, Marblehead
June 22, 2022
Marblehead Lighthouse Historical Society invites you to the official 200th birthday celebration of the Marblehead Lighthouse itself! Come and celebrate this special occasion until the cake and ice cream run out!
Pyrate Fest, Put-in-Bay
June 24-26, 2022
Put-in-Bay's Annual Pyrate Fest sees the return of the Pyrate King for 3 days to find his stolen treasure.  Friday night the pyrates invade the downtown harbor and hoist the Pyrate Flags!  The Annual Pyrate Bar Crawl will start at 5pm for the adult pyrates only! Saturday fun activities for the entire family, including a Kid's Costume Contest and an Adult Costume Contest with a grand prize!  Sunday is the annual Kid's Fest and the 4th Annual 5k Pyrate Run and Fun Walk benefiting Stein Hospice. Dress as a pyrate and join in the fun.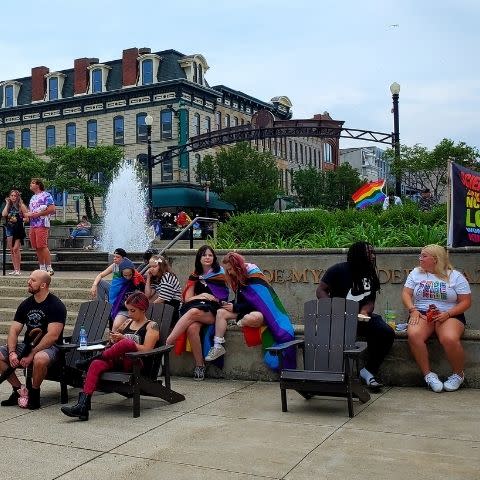 Sandusky Pride Festival, Sandusky
June 24-25, 2022
Celebrating 5th Annual Sandusky Pride Festival in the birthplace of Marriage Equality. Festival will take place on the Waterfront of Downtown Sandusky with live entertainment including DJ Sami Jo, bands, drag queens, stilt walkers, and more. Sandusky's Pride Parade will take place on Saturday. Sunday afternoon features free performances from Grammy Award winner, Paula Cole, as well as Sophie B. Hawkins and Diana Chittester.
GroveFest, Fremont
June 25, 2022
Enjoy free nature activities during GroveFest at Spiegel Grove, an arboretum and the 25-acre grounds of the Hayes Presidential Library & Museums. GroveFest features hands-on activities and crafts at booths with regional nature organizations. South Creek Clydesdales will offer horse-drawn trolley rides on a first-come, first-served basis, and no reservations are taken. Ice cream will be available for a donation.
Portage River Festival, Elmore
June 26, 2022
Antiques, car show, flea market, historical presentations, food trucks, entertainment and more!
Check out our events calendar for details on these events and more! You can search the calendar by date, location, or type of event. A great resource for planning your spring getaway!