This week, sport car enthusiasts are making their annual trip to South Bass Island for the Put-in-Bay Road Race Reunion on September 20-23!  Many visitors may not know the Shores & Islands Ohio region particularly for its motor racing history, but Put-in-Bay is steeped in history of road racing and the need for speed is alive and well on Lake Erie!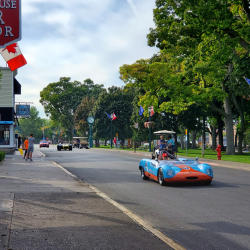 The Put-in-Bay Road Races originally ran from 1952-1959 and one final time in 1963. The public road course started at the village's main street, Delaware Avenue, and included a 3.1-mile course around the island. The event was reborn in 2009, as the Put-in-Bay Road Race Reunion was founded hoping to attract vintage racing participants and enthusiasts who value a low-key event at a historically significant location.
This week the Put-in-Bay Road Race Reunion transforms the Put-in-Bay Airport into a full-scale motorsports facility, and the rest of the island into a beehive of historical sports cars.  Heineman's Winery hosts the car show on September 20th before staging the cars for the parade through the original race course. The conversion of runways to racing specifications begins the morning of the 21st, with practice sessions on the track beginning at 9 am the same day.  The reunion offers both exhibition races- open to vehicles of any racing category with limited overtaking reserved for safe locations on track- as well as full speed ten-lap races in several racing categories capped off with the fifteen-lap, invitation-only Put-in-Bay Cup Race.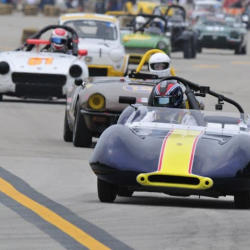 The week isn't just for petrol-powered race cars though.  Following the MG / Triumph Feature Race is the Rocker Cover Races, where competitors fabricate their own gravity-powered race car, with its chassis design required by rule to be based off a rocker cover from any automobile engine. Each heat consists of three runs down an eight-foot-long incline through a twenty-foot runout section until all but one car have been eliminated.
The airport race course will include an improved fan experience, seating, food service and other amenities on-site. Visitors are encouraged to come watch and experience the golden age of racing as vintage MGs, Porches, Triumphs and other rare sports cars return to Put-in-Bay. Admission is free for spectators for the opening events on September 20th, as well as the racing on September 21st and 22nd. For more information on this and upcoming sporting events, follow/like S&IO Sports on Facebook, Twitter, and Instagram.