Published May 2021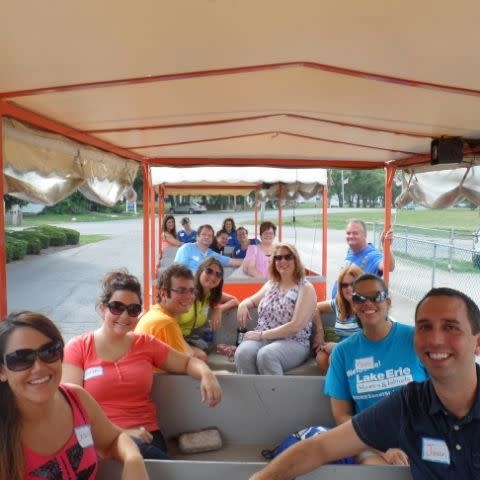 As things slowly get back to normal, Americans are excited for the opportunity to be able to reunite with their extended families again.
Due to the pandemic, many families, close and extended, could not get together, but thanks to increased vaccination rates and lowering COVID-19 spread, many families are finally able to visit together. Not only is Ohio's Lake Erie Shores & Islands an ideal meeting and reunion location, but it provides the ultimate Midwest family road trip! The destination is centrally located and offers many opportunities for family events large and small.
There are numerous reunion locations available, including full-scale resorts like Great Wolf Lodge. Great Wolf offers the Paw Pledge resort-wide to ensure families have a healthy and safe stay while enjoying the fun of an indoor water park.
Larger extended families may want to consider whole-house rentals or staying in adjacent condos. Another fun option is to have each individual family rent their own cottage with common hang-out locations like a pavilion, park, or the beach. Your reunion can be as formal or as laid-back as you choose.
Plan for outdoor activities such as a beach day, fishing charter excursion, nature hike/scavenger hunt, golf outing, or get out on the water with kayak or jet ski rentals. Enjoy and appreciate the beauty of the great outdoors along with interesting art at Schedel Arboretum & Gardens. Incorporate an area tour and be sure to include a visit the islands via the Miller Ferry or Jet Express. The Island Transportation tour train offers an open-air tram tour of Put-in-Bay with stops at some of the island's most popular attractions.
Have the crew meet up at Cedar Point, where families can separate for amusement park fun but then meet up for group meals and meet-ups at an outdoor lakeside pavilion. Be sure to let everyone cool off at the mile-long Cedar Point beach or Cedar Point Shores water park.
The kids in the family will be entertained by visits to Ghostly Manor Thrill Center and African Safari Wildlife Park. Ghostly Manor offers group activities such as an escape room, indoor glow-in-the-dark mini golf, roller skating, and more. African Safari can be enjoyed from the comfort of your car, as it is the Midwest's largest drive-thru safari park. Your families can reunite at the walking portion of the park and enjoy unique animal interactions. Consider planning an area scavenger hunt which incorporates all of these group-friendly locations, where everyone completes the challenge in their own time and then gathers for prizes and socializing.
The group team at Lake Erie Shores & Islands can help you every step along the way! From selecting the perfect location, to suggesting off-site activities for everyone and even assisting with securing discounted group rates for area attractions, the knowledgeable team here can help make your gathering a memorable one!