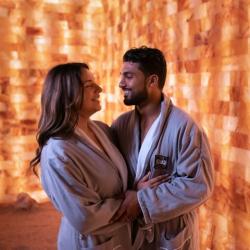 With Valentine's Day right around the corner and February the unofficial month of LOVE, you may be looking for a cozy weekend away and some activities to enjoy as a couple. Shores & Islands Ohio has plenty to offer, from spa treatments to fancy Valentine's cocktails, and from intimate private escapes to all-under-one-roof resort getaways. Here's how to spend a romantic weekend at Lake Erie.
Get pampered
Book a massage for two at Spa Catawba! The couples' massage at Spa Catawba includes a private suite, champagne, and chocolates sourced locally from Bassett's Market. Spa Catawba also offers a variety of other services from skin care, reflexology, and even float therapy.
At Spa Kalahari & Salon, treat your love this Valentine's Day with gift cards to use towards the service of their choice. Purchase $150+ in spa gift cards and receive a complimentary 45-minute Halotherapy session. (Use code VDAY at online checkout. Offer ends February 14, 2023.) Couples' massage is available here as well as an experience that encourages two people to bond closer together. Clients may use the session to communicate and chat, or simply relax and enjoy the shared experience in silence.
Go all out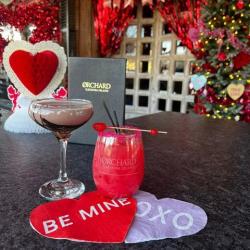 Looking to go a little bit over-the-top this Valentine's Day? Take your sweetheart to Cupid's Coop at Ørchard Farm Stand for specialty holiday cocktails. The Coop bar has been transformed into a Valentine's Pop-up Bar filled with the most amazing holiday decorations and creative drinks including cotton candy glitter bombs (hand-spun cotton candy with edible glitter, mixed with bubbly), sparkling cranberry margaritas, chocolate martinis, and lots of bubbles.
Another popular place for cocktails offering a very special Valentine's-themed menu this season is The Gristmill. They serve flights of specialty drinks, including a variety of margaritas, boozy chocolate cups, and martinis topped with bubbles that when popped emit a scented smoke. Many items are made with fresh-pressed juice and they also offer a spectacular mix of non-alcoholic mocktails.
While a Bloody Sunday doesn't sound particularly romantic, one look at the extravagant Bloody Mary's served at OH Taco and you'll be in love. Only around for a limited time, OH Taco's Bloody Sundays are legit – a full-on meal in a glass! While there is only one weekend left for this special (last one is February 12th), epic drinks are available from 11 am-8:30 pm and offer a variety of specialty items as toppers every week.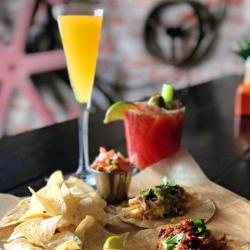 Catawba's Gideon Owen Wine Company offers a couple of romantic options, in addition to its gourmet dining menu. Get intimate in the historic wine cellar, transformed into the Cellar Bar Speakeasy and featuring live music and cocktails on Fridays and Saturdays. Or, if your night out includes friends, spend it enjoying the beautiful outdoor surroundings in the Gideon Glasshouses at Gideon Square, heated glass buildings seating 8-18 people for a private dinner party.
Looking to create your own Hallmark movie moment? Check out downtown Vermilion, Madison Street in Port Clinton, Lakeside, or the square in Milan for those romantic small-town vibes. Pop into a coffee shop or bakery, do some boutique shopping, and walk in the park or by the lake shore.
Overnight escapes
A romantic getaway can take many forms from a private cottage to an indulgent resort stay. Enjoy an affordable retreat with bit of privacy by renting one of the cottages at Camp Perry Lodging and Conference Center in Port Clinton. Discounted cottage rates (starting at $150 Civilian rate or $125 for active or retired military) make an excellent winter retreat.  The cozy, 4-room Red Fern Inn, located above Marblehead's Rocky Point Winery, is offering buy one night, get the second night free through the end of March 2023. Downtown Sandusky's boutique hotels, Hotel Kilbourne and The Washington make great secluded retreats as well, but close to lots of activity. Or, for a true Bed & Breakfast experience, consider the White Dog B&B in Milan, offering two suites and gourmet breakfast options.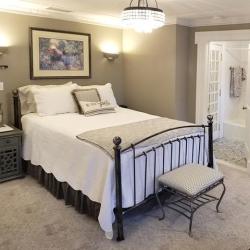 If you prefer a more inclusive, all-under-one-roof experience, romantic packages are available at area resorts. At Kalahari Resorts & Conventions, not only can you visit the indulgent spa mentioned above, but they are also offering winter BOGO deal: book two nights and get the second night free on select dates through February 15, 2023. Sawmill Creek by Cedar Point Resorts currently has a Romance Package, available Friday and Saturday nights in February which includes deluxe room accommodations, a special in-room welcome amenity, a three-course dinner at The Miller's Table restaurant, and complimentary breakfast buffet at the Harvest Restaurant. Be spoiled!!