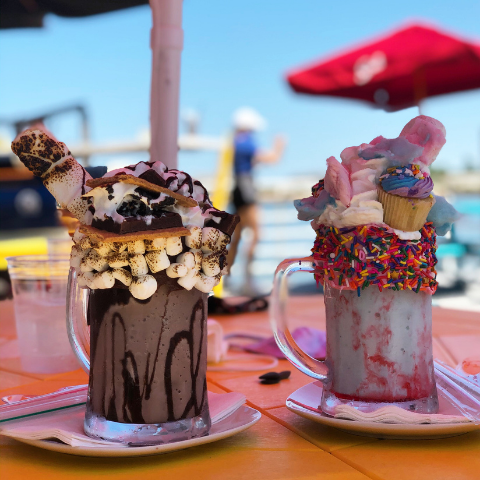 Published October 2020
In the mood for something sweet? Ohio's Lake Erie Shores & Islands offers delicious options, whether you're in the mood for an ice cream sundae, some creamy fudge, or fresh-baked pastries. Looking for a treat to gift someone? Pick up a popcorn tin, a box of homemade chocolate candies, or for something truly different try edible cookie dough! Check out some of the region's best eateries and shops for getting a sugar fix:
I SCREAM, YOU SCREAM
Dairy Isle – Put-in-Bay's ice cream shop, Dairy Isle offers a family-friendly menu with an unobstructed view of Perry's Victory & International Peace Memorial. Try a homemade waffle cone filled with ice cream, a fresh-made smoothie, or a Starbucks coffee float.
Granny Joe's Ice Creamatorium – A Vermilion favorite, housed in a former funeral parlor, Granny Joe's serves up great breakfast and lunch fare along with 32 flavors of Toft's ice cream.
Milan Village Drive-Thru – Stop by this full-service drive-thru and convenience store with an ice cream counter serving 26 flavors of hand-dipped Toft's ice cream and delicious hand-spun milkshakes.
Miller's Drive In – This Bellevue tradition serves up many homemade foods but is best known for their ice cream and soda fountain service. Try one of 55 flavors of flurries, indulge in the non-dairy Dolewhip, or try a seasonal favorite, like pumpkin or fresh strawberry ice cream.
Pier Pub – Situated alongside the Huron River in Huron, this eatery specializes in snacks and ice cream. Be sure to try one of their "Freak Shakes" filled way above the brim with delicious sweets and treats. Show your Shore Savings Card and get one free kids or dog cone with the purchase of an ice cream cone.
Toft's on 250 – Conveniently located on a main thoroughfare into Sandusky and in front of the Sandusky Mall, this satellite location for Toft's also features more than 50 flavors of their famous ice cream, served on cones, in sundaes, and mixed into shakes. An exclusive treat at this location is the ice cream taco – two scoops of your choice served in a fresh-made waffle cone shell with a choice of toppings.
Toft Dairy – Nothing beats the original! Visit Ohio's oldest dairy, located in Sandusky and marvel at 51 flavors of hard dip ice cream along with sherbets, sodas, milkshakes, and malts. Be sure to stock up on other fresh dairy products such as milk, sour cream, and chip dip – all produced on site and sourced fresh from 20 local farms.
MMM, CHOCOLATE!
Brummer's Chocolates – Family-owned and operated in downtown Vermilion, Brummer's has been making quality chocolate candies since 1904. In addition to homemade candies and other treats, the store has a great selection of vintage and classic candies, as well as gift items. Occasionally you can watch candy being made through the glass window overlooking the candy kitchen.
SWEET & SALTY
Bay Popcorn Company – This shop features over 30 flavors of gourmet popcorn in downtown Sandusky. They can put together gift baskets, corporate gifts, and more. Stop in for free flavor samples! With the Shore Savings Card, you can get a free small bag of butter popcorn with any size and any flavor popcorn purchase.
Great Lakes Popcorn Company – Located in the Port Clinton river district along the Portage River, Great Lakes Popcorn pops up more than 30 flavors of sweet and savory corn. Stop by for a sample and grab up a couple of bags or a gift tin. The fun store also features frosted and roasted nuts, chocolates, and other items to make up great gift baskets.
AW, FUDGE!
Christi's Just for Ewe – This eclectic collection of shops in Marblehead offers a wide variety of gift items, décor, jewelry, and apparel along with a great selection of gourmet foods. To satisfy any sweet tooth, the homemade fudge shop offers several different flavors – try a free sample to pick your favorite flavor!
Original Island Fudge Shop – While on Kelleys Island, be sure to visit this century-old building producing and serving up more than 20 varieties of fudge. The old-time store also features nostalgic candies and unique gifts. Stop by for a try!
FRESH BAKED
Vine & Olive – While this Sandusky shop is best known as a Mediterranean market full of great imports, Vine & Olive offers an extensive bakery filled with fresh-made baklava, cupcakes, lemon bars, cheesecake, and other yummy selections. Enjoy with a cup of one of their coffee selections, or carry-out a variety box of items or a party tray.
Vita Sandusky – This downtown artisan market and bistro includes a coffee bar, full-service bar, and delicious dining options in a 1920s-era building. Indulge in a flavored coffee or breakfast pastry, or try a dessert cheesecake including apple crumble, mixed berry, and a seasonal cheesecake flatbread such as pumpkin.
DECIDEDLY DIFFERENT
Doughin' Crazy – Edible cookie dough? Yes! This unique treat parlor offers edible dough flavors, such as chocolate chip, brownie batter, snickerdoodle, and peanut butter, as well as mix-ins and toppings. They also scoop out Toft's ice cream and create delicious milkshake combinations incorporating ice cream and dough. The combinations are endless!
Brown Dog Gelato Co. – Looking for a different sweet treat? In Port Clinton, Brown Dog offers 18 unique artisan gelato and sorbet flavors along with Italian pastries, coffee, espresso, and more. Stop in after a visit to the adjacent Ciao Bella Ristorante Italiano or any of the fun shops at Harbor Light Landing.