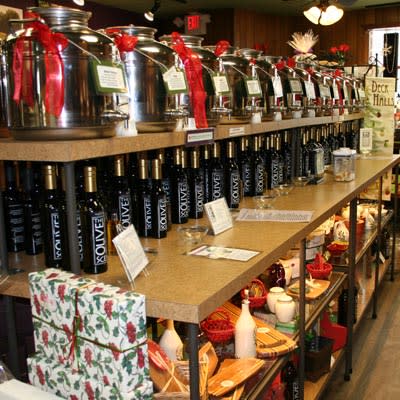 'Tis the season for gift-giving and local items are always a hit with friends and family, especially those loved ones who have moved out of the area or aren't locals but frequent visitors. Since it's always a great idea to support small businesses and shop local, we've rounded up seven great items from local shops to help you with your holiday shopping list.
Cedar Villa Original Sauce, Vine & Olive – Many have fond memories of Italian dinners at Cedar Villa, a local favorite restaurant that left the area years ago. However, the distinctive spaghetti sauce lives on and is available by the jar at Vine & Olive, a local Mediterranean market and gourmet food and wine store. Vine & Olive also stocks a variety of Amazing Rubs from The Kitchen's Bounty, another former area favorite.
Gladstone Box with Honey, Quarry Hill Orchards – Give the gift of fresh this holiday season with a holiday box of apples picked at the peak of ripeness. Quarry Hill Orchards offers a variety of gift boxes, but the Gladstone Box with Honey includes eight fresh, seasonal apples (different varieties) plus a jar of raw 100% natural honey produced by orchard bees. It's all packaged in a beautiful, stamped reusable box.
Lake Erie 100% Soy Candles, Northern Exposure Gallery – Candles with scent names reminiscent of the Lake Erie coast celebrate the frozen winter lake or bring back summer memories. Winter scents include such favorites as Ice Hole and Nauti or Nice. Cedar Point fans will love scents named after and inspired by their favorite coasters like Millennium Force and Valravn. Enjoy summer scents like Old Salty Sailor, Ship Faced, and our favorite, Lake Erie Love. Candles come in 6 or 12 oz. tins perfect for gifting, or the popular candle melts.
Surf's Up T-shirt, Zero Tide Apparel – Shopping for anyone who grew up in Sandusky during the 80s? Surf's Up was Ohio's first wave-action pool and entertained generations of locals and visitors before its closing. Consider a piece of nostalgia with one of Zero Tide Apparel's Surf's Up logo tees for men or women; or check out other old school, Great Lakes inspired apparel from this local company.
Wine-Infused Chocolates, Tre Sorelle Cioccolato – Tre Sorelle is known locally for their delicious selection of handmade chocolates of all types. Their wine-infused chocolates however are in a class by themselves. They feature such flavors as Raspberry Champagne, Ice Wine, and Concord Wine Cream and are made with wine from Sandusky's own Firelands Winery.
Golden Pineapple White Balsamic Vinegar, The Olive Scene – The pineapple is the universal symbol for hospitality. Why not bring a hostess gift of delicious pineapple balsamic vinegar from local olive oil and vinegar purveyors, The Olive Scene? Perfectly sweet and tart at the same time, this vinegar works well in marinades and dressings. Visit The Olive Scene to test a variety of oils and vinegars and put together fantastic gift sets.
Lake Erie Love Merchandise, Various Retailers – Our favorite way to share the Lake Erie Love this holiday season is through a variety of gift ideas featuring our iconic logo evoking feelings of pride and love for our Great Lake. We already mentioned the great candles at Northern Exposure, apparel and other gift items are available at Bassett's Market in Port Clinton and Shirt Shack in Sandusky, and pint glasses are for sale along with growlers of Lake Erie Love Light at Catawba Island Brewing Co. Our Lake Erie Love window clings and buttons are always free – just stop by one of our welcome centers to add one to your gift!
There are so many other local shops offering hand-made merchandise with a Shores & Islands touch. Please, get out and explore our quaint downtowns and small community shops this holiday season and let us know what you find to spread the hometown love! You'll find additional shopping suggestions in the "Shopping" section of SHORESandISLANDS.com.