As we enter the final months of 2022, we reflect on what an amazing year it was for travel and tourism for Shores & Islands Ohio – we hope you made tons of memories while visiting Ohio's north coast whether for the first time or if you're a "regular." But the year isn't over yet and there are still many reasons to continue your visits. Maybe enjoy weekend getaway to an indoor water park resort when the temperatures get colder, a romantic weekend full of dining and touring craft beverage makers, a quick day trip to do something fun with the kids as you prepare for the upcoming hustle-and-bustle of the holidays, or check out one of these fun special events. You can always find our full events calendar by clicking on the EVENTS tab above. Here are some of the exciting events you'll want to put in your calendar for November and December.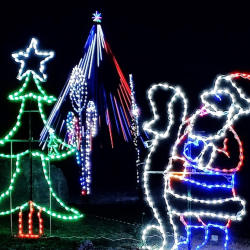 Lights on the Northcoast
Nov 5, 2022 – Jan 8, 2023
Watering Hole Safari and Water Park, Port Clinton
The Watering Hole Safari & Waterpark at Monsoon Lagoon is kicking off the holiday season with a flash! Come and check out the beautiful Lights on the Northcoast with a drive-through light display with over 1 million lights that dance to music and a walk-through zoo as well!
Corks and Kegs
Nov 5, 2022
Downtown Vermilion
Come Shop, Wine and Dine, and Explore in Downtown Vermilion Ohio. Entry fee gets participant an event bag, wrist band, and map to participating merchants for free samples of wine and/or beer. Complete the map and be entered to win the Grand Prize Basket!! For every $10 you spend at a participating merchant, receive an additional entry.
Bold Stripes & Bright Stars Patriotic Pops
Nov 6, 2022
Sawmill Creek by Cedar Point Resorts, Huron
The Firelands Symphony Orchestra presents a patriotic pops concert with guest vocalist Sergeant Major (ret) Bob McDonald. In celebration of Veterans Day, enjoy a spirited, family-friendly program full of songs paying homage to life, liberty, and the pursuit of happiness. VETERANS & ACTIVE MILITARY tickets are free thanks to the generosity of the Mylander Foundation!
2nd Annual Best of The Bay
Nov 9, 2022
Cedar Point Sports Center, Sandusky
The Best of the Bay is back! There will be lots of great food varieties to sample, drinks, and a great opportunity for networking, a thank you to your staff for a job well done this year, or simply just to spend a night out with friends. Try a variety of food from some of the area's best restaurants and vote for your favorites in several categories such as "best pizza," "best burger," "best coffee," and more.
Red Truck Christmas
Nov 12, 2022
Schedel Arboretum & Gardens, Elmore
Create a cute little Red Truck Christmas-themed wreath using a variety of the popular red and white buffalo plaids. Included in this class are all supplies you will need for the wreath – green wreath base, Christmas ribbons, little red truck embellishments, and a variety of coordinating holiday picks. Supplies may vary due to availability. Finished size is approximately 24-26".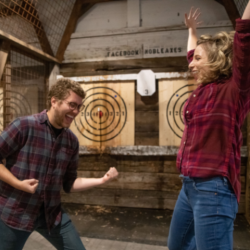 Battle of Lake Erie Axe Throwing Tournament
Nov 18-20, 2022
Noble Axes, Sandusky
Two days of amateur axe throwing competitions. Stop by Friday and Saturday and throw for a high score. High score wins prize – door prizes available as well. On Sunday, amateurs and professionals combine for an official WATL double-elimination tournament with $2,500 in cash prizes.
Songs of Thanksgiving
Nov 20, 2022
Sts. Peter and Paul Catholic Church, Sandusky
Join the FSO (Firelands Symphony Orchestra) Chorale as they lift their voices in gratitude and appreciation for all the good things around us. The group performs various vocal masterpieces to raise the spirit during these times of Thanksgiving.
Sandusky Holiday Lighting Ceremony and Santa's Arrival
Nov 25, 2022
Merry-Go-Round Museum, Sandusky
Visit downtown Sandusky for the annual lighting ceremony and Santa's arrival. $1 Carousel Rides.
Holiday Train
Nov 26-27, 2022; Dec 3-4, 2002; Dec 10-11, 2022
Mad River & NKP Railroad Museum, Bellevue
Celebrate the Christmas season with the Mad River & NKP Railroad Museum at the Annual Holiday Train. This event is tailored for young children and family fun. You'll be able to experience the same ride as railroaders of a bygone era did when cabooses were on every freight train across America. The ride lasts about 10 minutes, then it's off to the dining car. Sit down and enjoy hot cocoa and cookies in their 1927 Nickel Plate Road Diner. After you've enjoyed the diner, Santa Claus will be waiting to meet you at the museum.
Sights, Scents, and Sounds of the Holidays
Nov 26, 2022
The Kelley's Wine Co., Kelleys Island
What does an Island Christmas look like you ask? Well visit the Kelleys Island Wine Co. For Sights, Scents, and Sounds to get a sound, smell or taste! Featuring a hot drink menu filled with holiday cocktails, Christmas carols, and great end of season deals on clothing and wine. Grab a drink and knock out your Christmas shopping.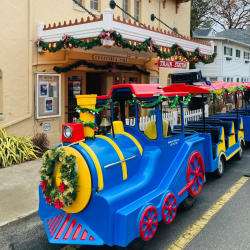 Lakeside Christmas and Express Train Rides
Dec 2-3, 2022; Dec 9-10, 2022
Lakeside Chautauqua
There's no place like Lakeside for the holidays! Start your celebration early by attending "Lakeside Christmas." Visit with Santa, attend a cookie decorating workshop, see a family movie in Orchestra Hall, and enjoy live entertainment with Chip Richter. All aboard! Invite friends and family to take a ride on the Lakeside Express Train on Dec 2-3. Enjoy the magic and beauty of Lakeside on this scenic ride complete with Christmas spirit and good cheer. 
It's a Wonderful Life "A Live Radio Play"
Dec 2-4, 2022; Dec 9-11, 2022
Harlequins Community Theatre, Sandusky
The beloved American holiday classic comes to captivating life as a live 1940's radio broadcast. With the help of an ensemble cast that brings a few dozen characters to the stage, the story of idealistic George Bailey unfolds as he considers ending his life one fateful Christmas Eve.
Christmas Candlelight Tour of Homes
Dec 3-4, 2022
Old House Guild, Sandusky
After a two-year absence, this popular tour of Sandusky homes and museums decked for the holidays has returned! The tour will include a number of homes as well as the Cooke-Dorn House Historic Site and the Follett House Museum. The extra features of our Porch of Wreaths raffle, 50/50 raffle and Door Prize raffle are also back this year. Tickets may be purchased in person at the Shores & Islands Welcome Center in Sandusky.
Huron Winter Fest
Dec 3, 2022
Huron Boat Basin, Huron
Visit Santa Claus, go for a Carriage Ride, SHOP LOCAL, enjoy various activities up & down main street, and winter fireworks.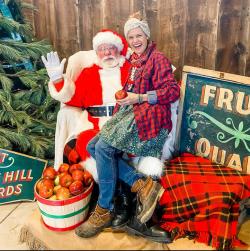 Merry Merry Market Barn
Dec 3, 2022
Quarry Hill Orchards, Berlin Heights
Quarry Hill Orchards has teamed up with local and regional favorites to bring a full day of flavors, engaging activities, and unique keepsakes for all ages. Enjoy winter wreath making, live Christmas music, bead key chain workshop, cookie decorating, photos with SANTA, and more!
Somewhere In My Memory Holiday Pops
Dec 4, 2022
Sawmill Creek by Cedar Point Resorts, Huron
Firelands Symphony Orchestra Holiday Pops Orchestra Concert featuring the FSO Chorale and young local vocalists. Celebrate the season through the eyes of children with music from Elf, Home Alone, Polar Express, and Frozen, while the FSO Chorale and young local vocalists join us for more holiday cheer.
Lights of Spiegel Grove
Dec 08, 2022
Rutherford B. Hayes Presidential Library and Museums, Fremont
Get in the holiday spirit by seeing Spiegel Grove light up for Christmas. Sip warming hot chocolate and snack on popcorn by the campfire. Enter the gingerbread house contest and see the "Hayes Train Special" model train display.
Rented Christmas: The Musical
Dec 9-10, 2022; Dec 16-17, 2022
Playmakers Civic Theatre, Port Clinton
John Dale, a middle-aged bachelor and prominent businessman, has a challenging job for Anne Weston, a proprietor of the local rent shop. He wants to rent a Christmas, not just with a tree and Christmas carols, but complete with a wife, a family, and all of the happiness for which he has been secretly longing. Beautiful medleys of popular Christmas carols along with delightful original music are the perfect accompaniment to convey the sentiment of the season!
A Presidential Christmas at Spiegel Grove: Horse-drawn sleigh and trolley rides
Dec 26-31, 2022
Rutherford B. Hayes Presidential Library and Museums, Fremont
Ride through the wooded estate of President Rutherford B. Hayes in a horse-drawn sleigh, as he did when he lived there. A horse-drawn trolley also will offer rides through Spiegel Grove. The rides are a nostalgic trip through the beautiful wooded estate, past the historic Victorian Hayes Home and down Lover's Lane, a favorite pine-tree-lined spot on the grounds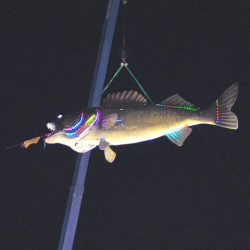 Walleye Madness at Midnight
Dec 31, 2022
Downtown Port Clinton
A New Year's Eve tradition! COUNTDOWN with Wylie and Friends 9pm to midnight. Downtown food trucks, vendors, and live on-stage entertainment. Stay for midnight as we drop a 20-ft, 600-lb fiberglass walleye to welcome the new year.