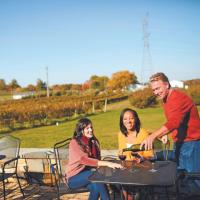 After a day of thrill-inducing roller coasters, island hopping, water parks, beach escapes, and visiting welcoming destinations, you're bound to get thirsty for a taste of local flavor. We suggest visiting local breweries, cideries, wineries, and distilleries throughout Shores & Islands Ohio, using our Cheers Trail!
The Cheers Trail makes is easy to find brews, ciders, and sips made with local ingredients while visiting Ohio's fun coast. Available as a free, mobile exclusive, instantly-delivered experience through text and email, the Cheers Trail takes you across 22 of the best libations-makers Ohio has to offer. Using your mobile passport, check-in when visiting participating businesses and earn points toward exciting prizes that can be redeemed at Shores & Islands Ohio welcome centers. Prizes can be earned for making qualifying purchases at five or more locations and you'll earn double points if you sip back, relax, and spend quality time at these brew-tiful locations!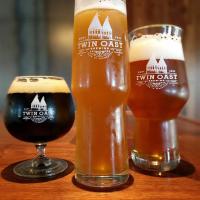 Get started by visiting Shores & Islands Ohio website, under the "Things to Do" tab, click "Trails," then "Shores & Islands Ohio Cheers Trail." First, sign up with your phone number or email then the mobile passport will be delivered to your phone via text or email. There is no app to download and your pass can be saved to your phone's home screen for easy one-tap access. When visiting a participating business, check-in to gain points towards your prize, just ensure your location services is turned on to check-in via GPS.
Your adventure will take you across northern Ohio from Avon Lake to Helena, and to Catawba Island where you will find Twin Oast Brewery, offering craft-made beers and food mixing traditional German offerings with a modern American sentiment, also known as one of Ohio's premiere fruit-based sour beer brewers. Next, to Marblehead's Rocky Point Winery, just a few minutes from the Marblehead Lighthouse. It's a great place to relax in an outdoor space and enjoy wines made using Midwest Grapes, including ones grown on Isle St. George in Lake Erie. Then to Sandusky's, Everwild Spirits, a craft bourbon distillery,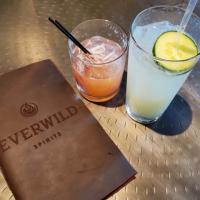 producing whiskeys and craft cocktails that represent the local land and grains native to Ohio. Don't forget to visit the Islands, including Kelleys Islands' Crooked Tree Vineyard, a 5-acre parcel of land and tasting room located on its Southeast shore where local grapes are harvested and distributed to Lake Erie-area winemakers. These are just a few locations the Cheers Trail will lead you to on your journey of experiencing some of the best local flavors, culture, and history. You can check out the other locations on our website.
Traveling the Cheers Trail is a fun and enjoyable experience, from lawn games for the kids to dog-friendly outdoor spaces, the Cheers Trail is for the whole family. Everywhere you visit will offer something for everyone, including giant pretzels, cheese trays, coffee, beautiful views, live music, and so much more! As you travel to each location check out all the other things the region has to offer and remember…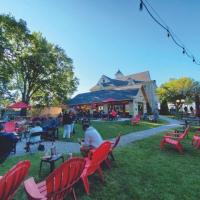 Good food, good drink, and good company with Shores & Islands Ohio Cheers Trail will make your getaway one to remember! Start your digital passport today to immediately begin earning points and please sip responsibly!