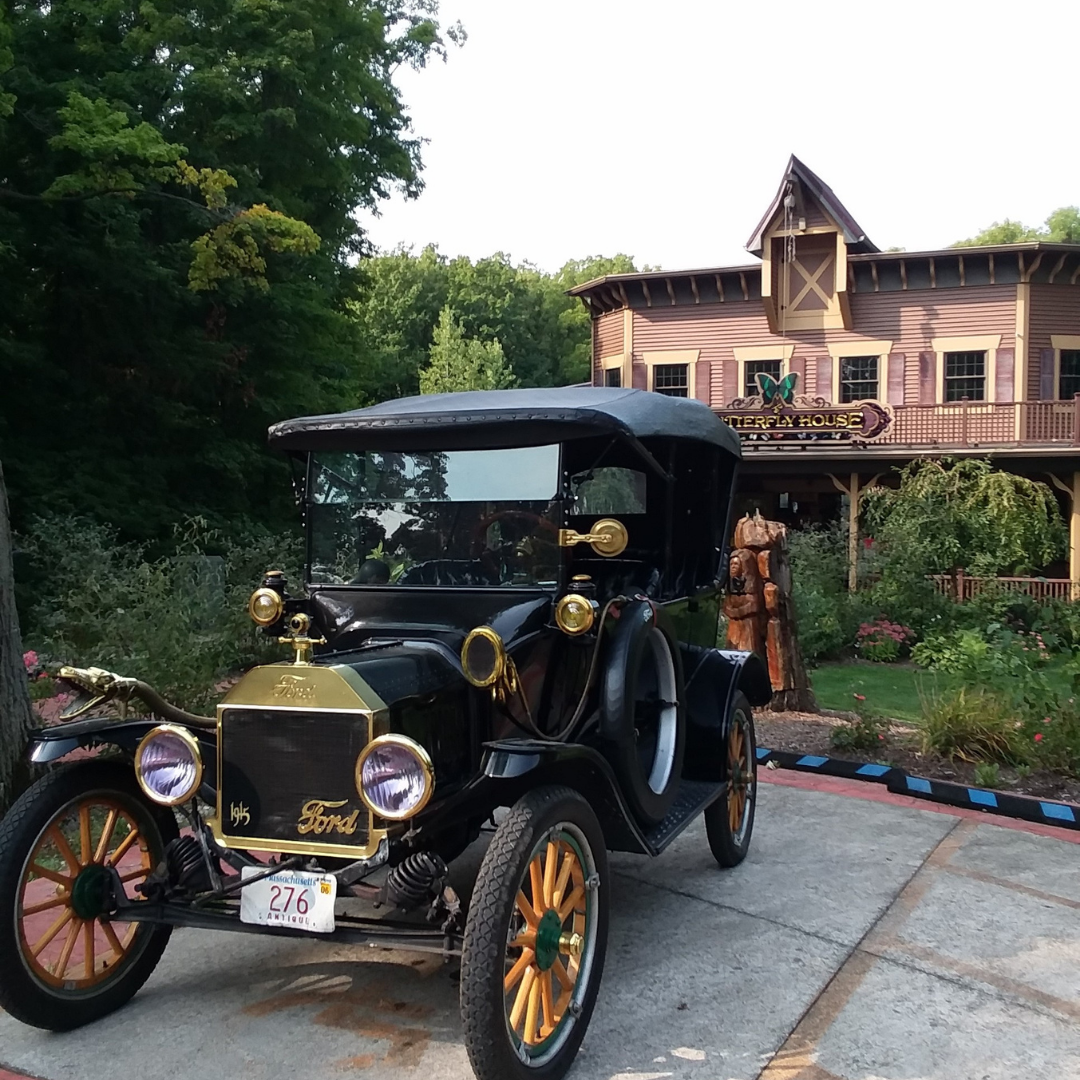 Published October 2020
Recently, the Snapper's Brass & Gas car club visited the Shores & Islands region for a multi-day tour which included several stops and photo ops. This touring club is a regional affiliate of the Antique Automobile Club of America for cars manufactured prior to 1916. According to the club's website, Snapper's is dedicated to the restoration, preservation, and enjoyment of Brass Era automobiles.  The club's activities emphasize the enjoyment of old tyme automobile touring away from the hustle and bustle of our modern lives in some of the most beautiful parts of the United States and Canada. The club plans several trips annually. Member Norma Davis of Norton, Ohio planned the local tour, which featured Marblehead, Port Clinton, Put-in-Bay, and Fremont. We recently asked Norma about their excursion.
LES&I: Thank you for your recent visit to the region! Tell us a bit about your group, and what does that name mean?
Norma: Our club was founded in 1993 at the Snapper's Saloon on the shores of the Ohio River in Ripley Ohio. We are a national touring region under AACA (Antique Automobile Club of America). We picked the Snapper's name as our cars go slow. All cars in our club are 1915 and older, so they are over 100 years old. I am a long-time member and tour with my 1914 Model T Ford.
LES&I:  What made your group choose the Shores & Islands area?
Norma: We have members from all over the United States & Canada. On this tour we had people from Florida, South Carolina, and Massachusetts. We are from Ohio and there were also people from Pennsylvania, Indiana, and Illinois. We do two tours in the summer and one in the fall. I picked this area as I am from Ohio and go to Lakeside once a week in the summer for the past 35 years. Our group was very impressed with this area.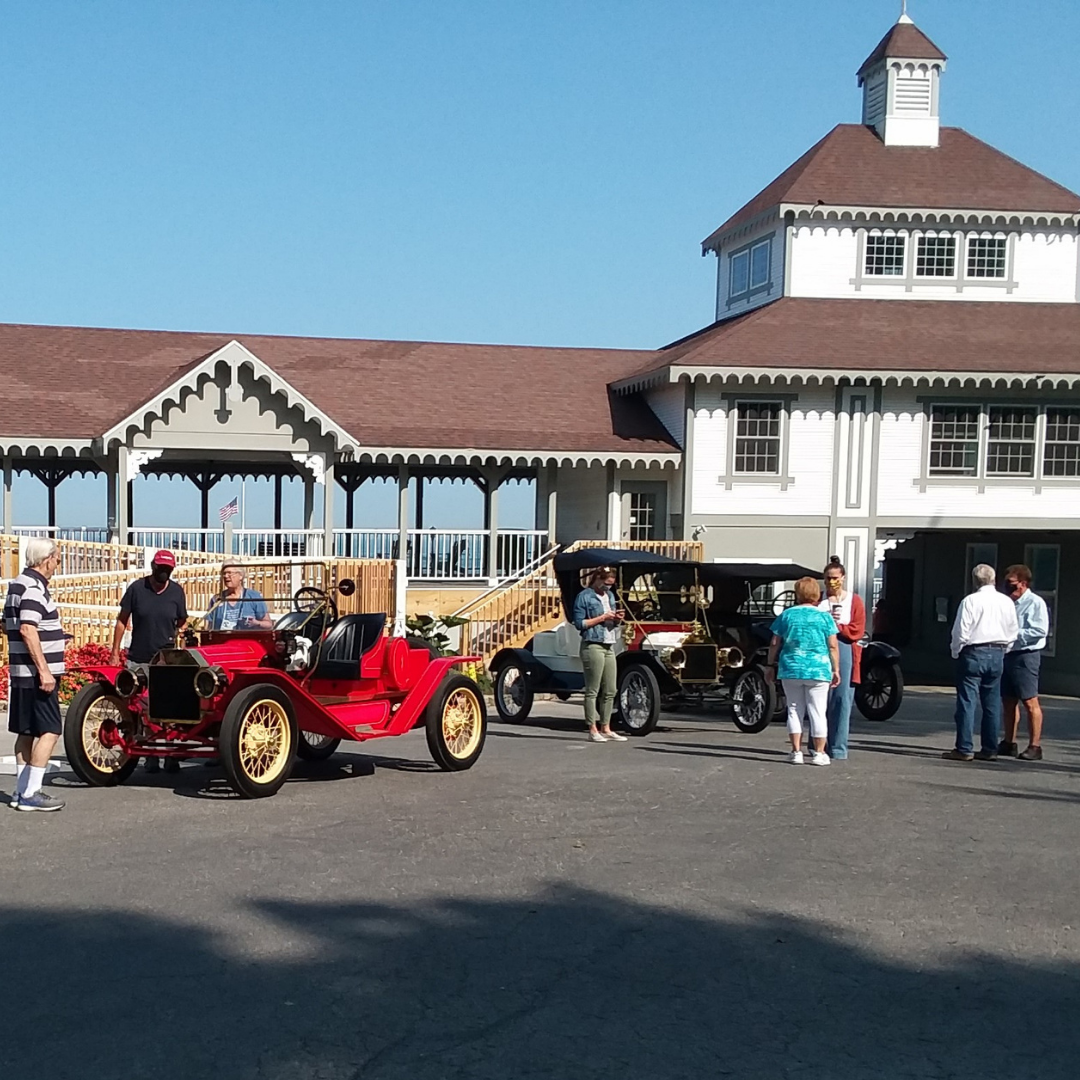 LES&I: Where did you visit on your tour?
Norma: On Thursday we took the Miller Ferry to Put-in-Bay. We spent most of the time at Perry's Cave and its Antique Car Museum.  Chip Duggan treated us to a coffee stop. Friday was spent at Lakeside, Johnson's Island, and Marblehead. Then we had a tour of the Liberty Aviation Museum. On Saturday we went to Fremont and toured the Rutherford B. Hayes Presidential Library and Museums.
LES&I: What were some of the club member's favorite visits?
Norma: It is hard to pick a favorite place. They loved driving around Marblehead and Lakeside. They also enjoyed the ferry ride to Put-in-Bay. The Hayes Home in Fremont was also very interesting!
LES&I: Anything to add about your tour in our region?
Norma: We were based at the Holiday Inn Express in Port Clinton. Kim and her staff there were very accommodating. They had plenty of room for our trailers. Also, I gave one of the Lake Erie Shores & Islands Travel Guides to everyone. The map inside is great. Thank you for your interest in our club. Visit our website to learn more about us: https://www.snappersbrassandgas.com/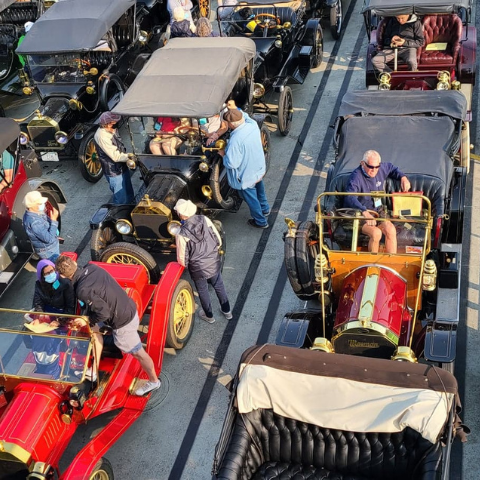 Are you a member of a classic car club, motorcycle unit, or other touring group? Lake Erie Shores & Islands can help you plan a perfect getaway for your group as well! With over 90 attraction choices, participants can enjoy multiple days of exploring. The destination is conveniently located just off the Ohio Turnpike just one hour from Cleveland and Toledo. We can help with securing accommodations, itinerary planning, promotional support, logistics, and more. Contact Group Experience Manager Alyscia Chapman at alyscia@shoresandislands.com to discuss bringing your next tour to Lake Erie Shores & Islands. Learn more about group services and itinerary ideas at SHORESandISLANDS.com/groups.