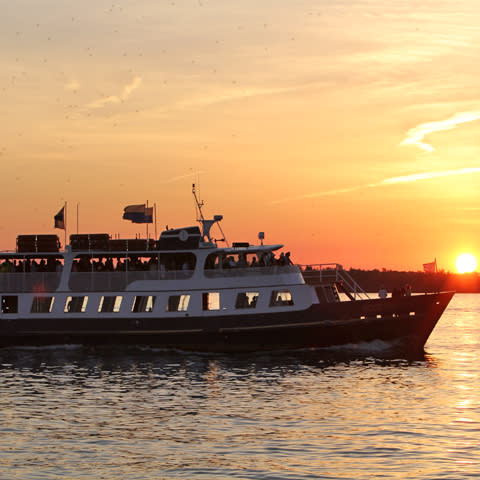 Published July 2020

One of the most important natural resources in the Shores & Islands region is our great Lake Erie. Not only does it provide fresh drinking water for the area, but it offers hours of recreational fun, from swimming to boating to fishing. While our Lake Erie beaches are popular for swimming and sunbathing, there are other ways to enjoy this natural wonder as well. Want to get out on the lake? Here are a few ways to start coasting!
Just Cruisin'
An easy way to get out on the water is to let the experienced professionals take you there. Scenic cruises are offered, some with destinations and others just for sightseeing. Goodtime Lake Erie Island Cruises offers island-hopping cruises to both Kelleys Island and Put-in-Bay, as well as picturesque Sandusky Bay cruises. Lake Erie Sailing Charters offers cruises on a 50-ft sailing yacht for up to 6 passengers. While temporarily not available in 2020, the Lakeside Wooden Boat Society offers twice-weekly 30-minute evening and sunset cruises at Lakeside Chautauqua and are available for private charters as well. Enjoy a paddle wheel excursion on the lovely Vermilion River, including a narrated tour of the lagoons and quick trip out on the lake at the mouth of the river, with the Mystic Belle. For an easy, short cruise on the lake you can always ride one of the ferries to the islands.
Reel in the Big One
If you're not one to just casually relax while taking in the sites of the lake, you may be up for a bit more adventure. Lake Erie offers some of the best freshwater fishing in the country! Both private and walk-on charter fishing excursions are offered throughout the region. Experienced and licensed fishing boat captains know exactly where the fish are biting and will provide you with everything you need to nab the catch of the day. Lake Erie is most popular for walleye fishing, but yellow and white perch and smallmouth bass are also prevalent. You can reserve a private charter for your group, usually up to six anglers per boat. Walk-on charters, also known as head boats, are also available for those who are a little more spontaneous in their planning. Dunlap's Fishing Charter Service and Blue Sky Charters are options for private charters. Tibbles Fishing Charter Service offers both walk-ons and reservable charters for larger groups, up to 19 people. In addition to fishing charters, Hatchetman Charters also offers scenic tours of the islands. If you're looking to fish, don't forget your license. One-day, three-day, and year-long licenses are available at many locations. Check out the Resources section of our site to find fishing license information, as well as area weather and marine forecasts.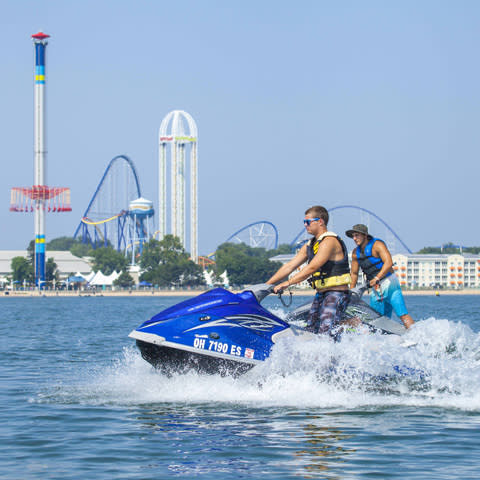 Guided Adventures
If you're certain you want to get out on the water in a personal paddle craft, but you're not experienced in operating the vessel or not sure where you want to go, a couple of outfitters offer guided tours. In addition to standard wave runner rentals, Erie Shore Wave Runners also offers extended ride tours from Vermilion to Huron (20 miles round-trip) or Vermilion to Sandusky (40 miles round-trip) with an experienced tour guide. Even standard rentals come with a "chase ski" to act as a life guard and keep you safe on your excursion. You can also purchase drone video and photos of your experience! Island Adventours at Kelleys Island offer ecotours of the island via golf cart, bicycle, or kayak. Two-hour kayak tours are available, including a special nightly sunset tour along the north shore of the island. Group and family tour rates are available and children ages 8-13 paddle at half-price with an adult.
Water Thrills
Parasailing offers a thrilling, birds-eye-view of Lake Erie. North Coast Parasail & Water Sports offers such excitement right at Cedar Point beach. Imagine floating above the lake alongside roller coasters, with island and shoreline panoramas. Parasailing offers gentle take-off and landing from a boat deck and is a fun time for the whole family – up to three people can fly together and rides are available from 300 up to 800 feet of tow line. Cool off on a hot day with an exhilarating ride on a jet ski or wave runner. These personal high-speed watercraft can be rented on the mainland at North Coast Parasail & Watersports in Sandusky and at Vermilion's Erie Shore Wave Runners. Some craft offer seating for up to three riders. On the islands, Put-in-Bay Watercraft Rental is located at South Bass Island State Park. In addition to personal watercraft, at Put-in-Bay Watercraft Rental you can also rent a 12' or 15' power boat, which fits two to four riders.
Grab a Paddle
Tamer ways to enjoy a refreshing float on Lake Erie include kayaking or stand-up paddleboards. These paddle craft are a nice way to enjoy rivers and bays, as well as sticking close to the coastline. As paddling has become very popular there are a number of places to rent these fun craft. Kayaks can come in a variety of sizes, from single- to double-riders. Places where you can rent both include:
Kelleys Island – Kelleys Island Kayak Rental at Kelleys Island State Park, walk up rentals only
Put-in-Bay – Put-in-Bay Watercraft Rental at South Bass Island State Park, walk up rentals only
Marblehead/Lakeside – Lakeside Chautauqua Watercraft Rentals – also offers Sunfish sail boats
Sandusky – North Coast Parasail & Watersports at Cedar Point Beach
Sandusky – Paddle & Climb, located downtown and launching from Shoreline Park – also offers an indoor rock-climbing wall, outdoor store, and bicycle rentals
Huron – The Paddle Shack at Nickel Plate Beach – also offers inflatables and large aqua mats for floating
Vermilion – West River Paddle Sports at Captain's Corner Marina on the Vermilion River – also offers canoes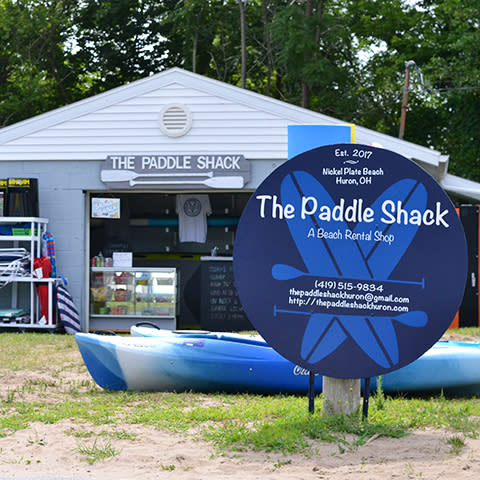 Experience paddlers looking for a new adventure should check out the Lake Erie Islands Water Trails, with water trails around North Bass Island, Middle Bass Island, South Bass Island, Kelleys Island, and a Mainland Trail from Catawba to Marblehead. Trails include access points as well as scenic points of interest along the way.
How will you get out on the lake this summer? Whatever you do, listen to the advise of experienced professionals and business owners, wear a life jacket and sunscreen, and have fun!