Updated February 2022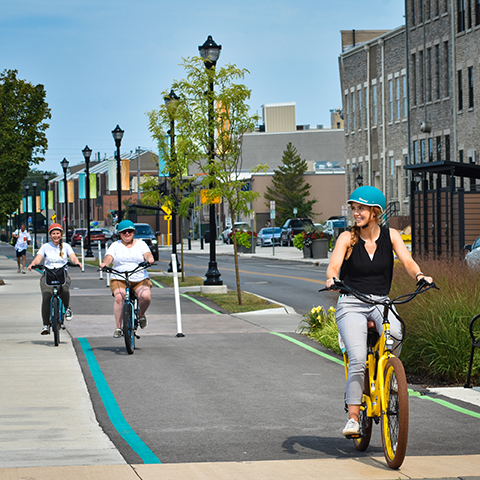 There's so much to explore in Ohio's Lake Erie Shores & Islands, but so little time! If you're looking to take a load off your feet and adventure through the region with a faster and more efficient means of transportation, we've got you covered. Whether you are looking to tool around on a golf cart or enjoy a guided tour on an electric bike, we've compiled a list of some of the best ways to scoot around the Shores & Islands region. Happy cruising!
Pedego Sandusky – Electric Bikes
Want to explore Sandusky, Put-in-Bay, and Kelleys Island, but don't want to pedal for hours on end? Pedego Sandusky has got you covered! The bikes' different settings allow for each user to customize the level of electric assistance that best suits their needs and desired experience. Tired from a long day of exploring and don't want to pedal at all? The bike will do it for you! Or, if you're looking to slow down and control the speed yourself, you can ride it just as a regular bike. This new electric bike rental offers guided tours from friendly, knowledgeable locals, providing an insider's look at the area that visitors and locals alike will love! Individual rentals are also available, as well as options to purchase your own bike.
Scooter Ding Ding
Explore the charming lake towns of Huron and Sandusky aboard these easily accessible scooters! All you need to rent this unique experience is the Scooter Ding Ding app on your mobile device. The app will then direct you to the nearest scooter at one of multiple rental locations throughout Huron and Sandusky, including Old Fish House, the Huron Boat Basin, Nickel Plate Beach, Boom Town Coffee, and Shoreline Drive. When you've finished exploring, all you have to do is return the scooter to one of the rental locations for the next adventurer to enjoy!
Golf Carts
One of the best ways to get around the islands in a convenient and enjoyable manner is by golf cart, and there's no shortage of rental spots available! On Put-in-Bay, rentals are available throughout the island at E's Put-in-Bay Golf Carts, Island Bike and Cart Rental, Erie Island Carts, AB Carts and Lodging, Boathouse Cart and Bike Rental, and more. Rental spots on Kelleys Island include Kelleys Island General Store Cart Rental, Peddler Carts, Portside Marina, Seaway Marina, and Caddy Shack Rentals. Within Lakeside, rentals are available at Sypherd's Cycles & Rental Center.
Bicycles
If you're looking to further immerse yourself in all the region has to offer, another great way to explore the islands is on a bicycle! There are multiple rental spots available throughout the region. On Kelleys Island, bikes are conveniently available at all of the aforementioned golf cart rental spots! Put-in-Bay offers Boathouse Bike Rentals and two locations of Island Bike Rentals at the Jet Express Dock and Miller Ferry Lime Kiln Dock. Lakeside has both bicycle and tandem bike rentals available at Sypherd's Cycles & Rental Center! In Sandusky, bike rentals can be found conveniently located downtown at Paddle & Climb.
From golf carts to scooters, there's a great option for everyone to enjoy the area. And no matter what mode of transportation you select, you're sure to enjoy your time exploring Ohio's Lake Erie Shores & Islands!