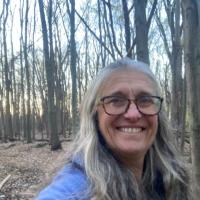 Guest post sponsored by Put-in-Bay Township Park District, by CEO Lisa Brohl
A trail winds through the woods to the dolomite cliffs, affording a spectacular view of Lake Erie and the surrounding Islands. Columbine and harebells bloom on the cliffs in the summer. Milkweed provides food for monarch butterfly larvae and hoptree food for the giant swallowtail larvae, both of which can be viewed in late summer here. Colorful warblers stop here in spring to feed on the abundant insects close to the lake. Baltimore oriole, red-winged blackbird, red-eyed vireo and great-crested flycatcher nest here during the summer. Benches provide a respite for visitors to enjoy the Lake. There is a dock for fishing and kayak access as part of the Lake Erie Islands Water Trails.
Access to this beautiful spot just got easier thanks to a Destination Development grant from Shores and Islands Ohio.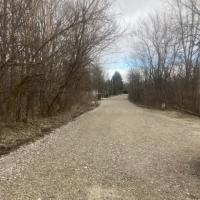 The Massie Cliffside Preserve has one entrance on State Route 357 with the foot trail to the lakeshore. Massie Drive provided a second access and parking lot for those who were mobility impaired and needed a shorter walk. The narrow road had been in a state of disrepair with deep potholes. Proper grading, widening, and a pervious gravel base was completed in fall/early winter 2022 and speed bumps were installed in March 2023. A new two-sided sign purchased by the owners, the Put-in-Bay Township Park District, will allow the many island visitors to clearly see their parking/access options from State Route 357.  It acknowledges the contributions from Shores and Islands Ohio to the project as well as funds from the Park District of Ottawa County. There is a new gate at the parking lot that can be opened for maintenance and special visitors if needed. The newly improved Massie Drive will allow easier access to the beautiful Lake Erie views, wildflowers, birds,
and benches for mobility impaired and elderly visitors.
The Put-in-Bay Township Park District now owns over 150 acres of lakeshore, forests, and wetlands on South Bass and Middle Bass Islands. Next time you visit South Bass with your family, explore some of their other preserves shown on this map. Dodge Woods Preserve is home to the Put-in-Bay StoryWalk® with a new book to read along the trail monthly in season. The Jane Coates Wildflower Trail has a beautiful display of Dutchman's Breeches in spring. Enjoy a walk along the lakeshore and look for shore finds at their most popular preserve-Scheeff East Point at the far eastern end of State Route 357. New are the Morrison Woods and Duff Woods Preserves, offering cool walks in the woods in the summer heat with benches at their entrance. Cooper's Woods-Benjamin Woods complex offers a great example of karst topography with several wild caves. When you need a break from the crowds, come visit another side of South Bass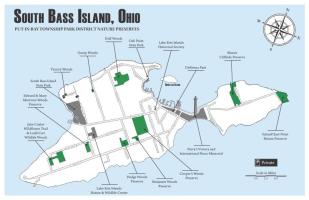 Island. 
*Pick up or download a Put-in-Bay Townships Park District Trail Guide to further your trail adventures!
**Special thanks to Susan Novak Byrnes and Kelly Faris for providing photos