On Tuesdays this summer, we are exploring the great cities and towns that make up Ohio's Lake Erie Shores & Islands for #TravelTuesday. Don't miss our previous #TravelTuesday posts – to-date we have visited Vermilion, Middle Bass Island, Lakeside Chautauqua, Milan, Kelleys Island, Huron, Put-in-Bay on South Bass Island, Castalia/Bay View, Marblehead, Elmore/Genoa, historic downtown Sandusky, and Port Clinton/Catawba. This week we were able to visit two more of our smaller communities, Berlin Heights and Birmingham. Here are a few of the places we visited today.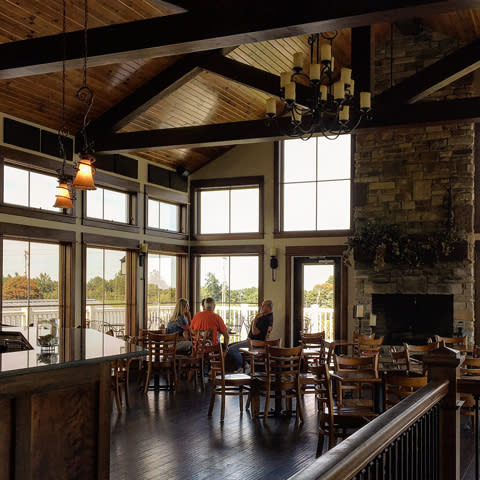 Play
History – In 1854, Berlin Heights resident Samuel Patterson founded the Berlin Fruit Box Company. The Berlin Fruit Box Company made baskets, crates, and ladders needed by the bountiful local orchards and family farms. After six generations and over 150 years of business, the Berlin Fruit Box Company closed its doors. The heritage and history of the basket-making craft still remains a cornerstone of the culture and traditions of Berlin Heights.
Winery – Sample wine at the highest point in Erie County at Quarry Hill Winery in Berlin Heights! The elevation, along with the rolling acres of the farm and the proximity to Lake Erie, provides excellent conditions for growing fruit. Quarry Hill Winery offers a wide variety of award-winning, estate grown & bottled Vinifera wines, including Vidal IceWine fruit wine, and more. The winery also offers indoor and outdoor seating, tasting bar, a beautiful stone fireplace, and light food menu to complement the wines.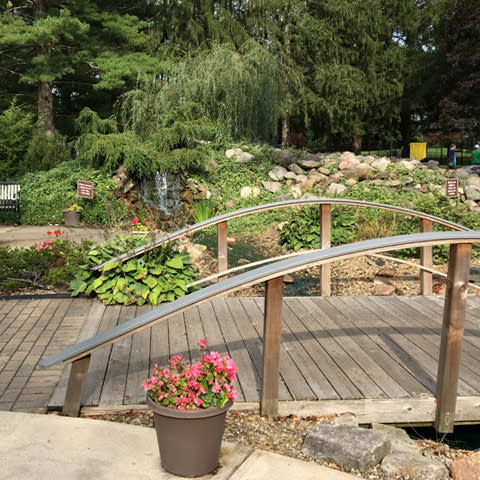 Explore
Begin with a self-guided tour of Schoepfle Garden, a 70-acre arboretum and garden containing 20 acres of topiaries, rose gardens, and perennial and annual flowers. Highlights include: The Formal Garden, The Shade Garden, The Natural Woodland, and The Schoepfle Children's Garden, the newest addition. Nearby is Erie MetroParks' Birmingham School MetroPark, the original site of Birmingham School. Visitors to this small community park can view the original stone and brick entrance arch of the school. With approximately 1300 acres of sandstone cliffs, wetlands, woodlands, and meadows, Edison Woods MetroPark is home to a variety of seasonal wild flowers, rare plants, amphibians, and reptiles. Are you into geocaching? It is a geocaching hotspot! It is also the only metropark where horseback riding is permitted.
Eat
Enjoy great food, drinks, and service at Gilhuly's Pub & Grille. Start with an appetizer such as mac & cheese bites or sauerkraut balls, followed by a delicious Barn Burger topped with fried egg, bacon, and American cheese, or the G61 French Dip, pilled high with roast beef, grilled onions, and provolone cheese.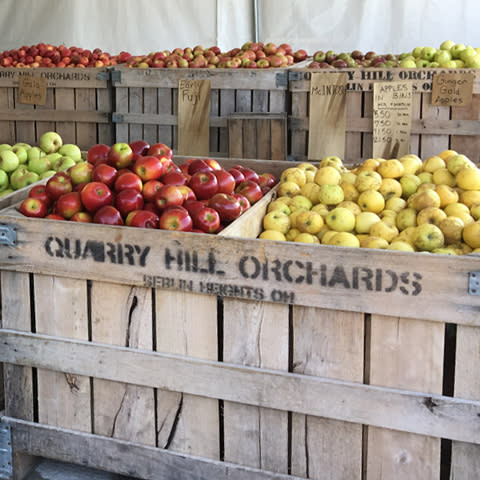 Shop
Berlin Heights is a charming town known for its abundant orchards and farm markets. Quarry Hill Orchards is a family-owned fruit farm near the shores of Lake Erie. Since 1929, the Gammie family believed the best fruit is fresh, local, grown with love, and shared with friends. The heart of Quarry Hill is the bustling market barn, where you can try delicious fruit; sip warm cider; meet the family and friendly dogs; and shop for farm-fresh local produce and artisan goods made by the community. Be a part of the tradition - take a tractor-pulled wagon ride through the orchards; walk the rows yourself, and pick your own fruit. Burnham Orchards is another family-owned and operated farm, providing great tasting fruits and vegetables along with a fun experience that includes activities for people of all ages. Pick-your-own fruit is available in the summer and fall. With the leaves changing colors, now is the perfect time to head out and discover something new in Berlin Heights and Birmingham, Ohio.