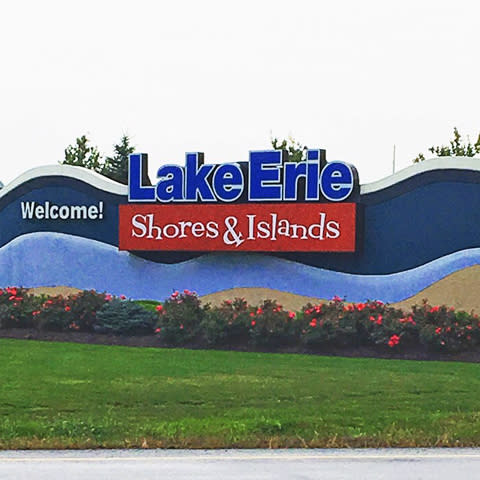 Sandusky? Wait a minute…I thought you already visited Sandusky for #TravelTuesday! You are correct – however last time we were only able to focus on those in the downtown Sandusky region. This week, we're seeing what else Sandusky has to offer when you explore the rest of the 44870 (our local zip code). This is the last of our individual community-focused #TravelTuesday features. Be sure to check out our previous posts to see what we were able to explore in the other towns, cities, villages, and islands that collectively make up Ohio's Lake Erie Shores & Islands.
First of all, welcome! Many people enter the region at the intersection of State Routes 250 and 2. The Lake Erie Shores & Islands welcome signs are a symbol that you have arrived and a "thank you" to out-of-towners for visiting. We figured visiting the welcome sign was a fitting start to the day.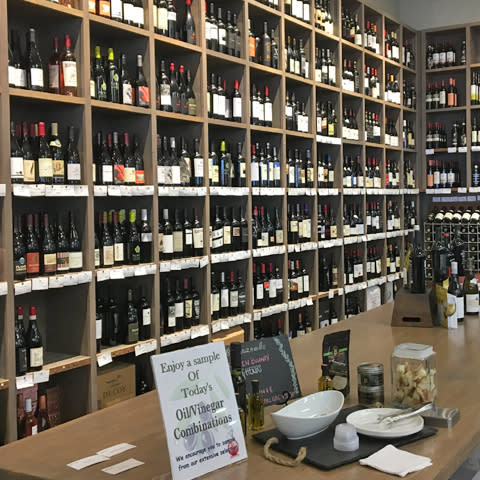 Next it was time for some retail-therapy. Our first stop, Vine & Olive, proved a great mid-morning spot as they offer a great coffee and espresso bar in addition to Mediterranean bakery, foods, and a stellar wine selection. We were able to browse the unique culinary finds, and even taste-tested a few! The smells coming from the kitchen were delectable as well and we wished it were lunchtime. Vine & Olive is great place to pick up specialty foods – they even offer recipe cards with many items – or to shop for a gift or  the perfect bottle of vino. Next, we headed to Pelz Lettering/Shirt Shack to check out local souvenirs. Shirt Shack is one of the exclusive retailers of Lake Erie Love merchandise! We found t-shirts, tote bags, and scarves with our favorite logo and other fantastic "Sandusky" and "Lake Erie" items.
Sandusky is home to not one, not two…but FIVE indoor waterpark resorts! So no matter what Mother Nature throws at you outdoors, you can enjoy tropical temperatures indoors year-round in Sandusky. We only had time to hit up one waterpark, so we selected Kalahari Resorts & Conventions because we were curious about a new attraction rumored to be coming this winter.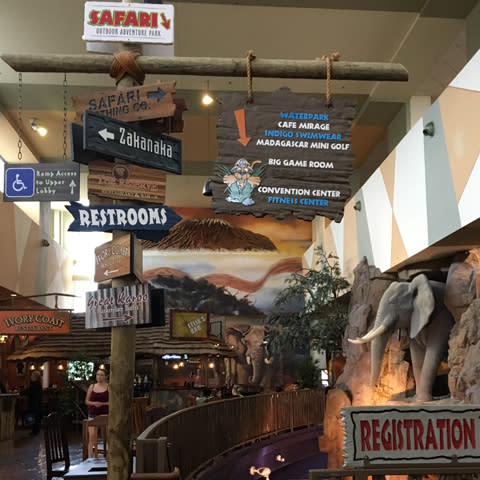 Kalahari Resorts & Conventions is, in one word, amazing! There were lots of families milling around enjoying, not only the waterpark, but the arcade, kids activity center, restaurants, shops, and more. After a short walk through the lobby and arcade, we made our way to the fabulous indoor waterpark to watch families wading in the wave pool and thrill-seekers descending down the water slides. After observing a few park goers brave body-boarding on the Flowrider, we headed back to the lobby to find out more about the upcoming new attraction. Storm Chaser is an interactive video game waterslide that integrates gaming, skill, speed, and competition. The debut of this gaming/waterslide hybrid will use a smart gaming system and an interactive vehicle to hit targets, score, and unlock additional levels. We are intrigued! Read more about Storm Chaser, coming this winter to Kalahari Resorts & Conventions, here. Of course, we couldn't leave without sampling some of the delicious candies and caramel apples from the Candy Hut.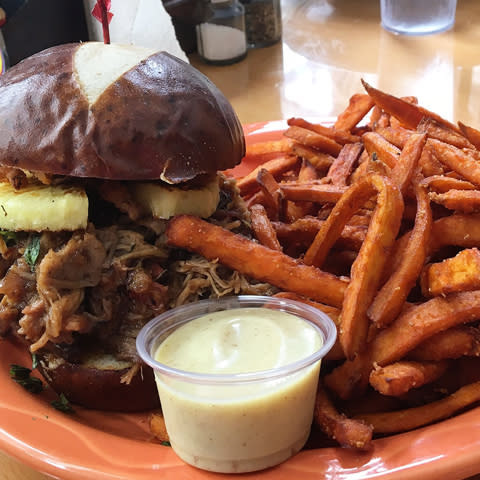 Our bellies were rumbling for a little bit more than sweets so we headed out for lunch. We decided to go to the west end of Sandusky, where the Cold Creek meets Lake Erie and dine at The Original Margaritaville. No longer just offering Mexican fare, The Original Margaritaville also features barbeque, southwest, and other dishes with a waterfall view – a 10,000 sq. ft. outdoor deck overlooks the falls weather permitting. Try the Pineapple Jerk Chicken Salad and the Hawaiian Barbeque Pulled Pork sandwich – you won't be disappointed!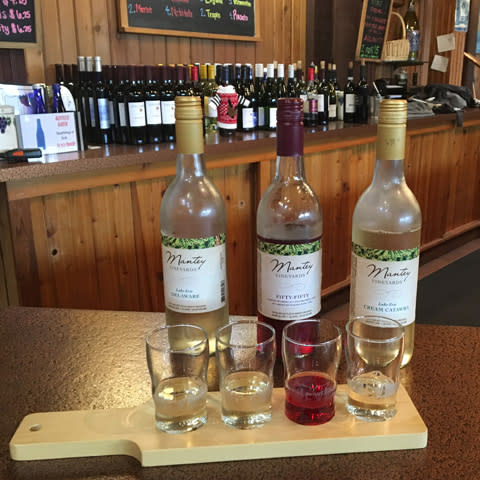 We kicked off our afternoon with a visit to the largest winery in Ohio. Firelands Winery has been producing fine wines since 1880 and currently produces under the Firelands, Mantey, Mon Ami, Lonz, and Dover wine labels. When visiting the winery, you can choose from a number of experiences. Take a self-guided tour of the working winery where you will have a clear view of the cellars, bottling room, champagne cellars, and warehouse. Taste a variety of wines at the tasting counter and browse the wine boutique and gift shop. The onsite Osteria Gusto exposition kitchen is open Thursday-Sunday and for special events. Here, enjoy watching the chefs prepare your meal in an open kitchen or take the meal, along with your wine selection, out to the adjacent covered patio. Stop by for lunch or happy hour!
Next, the sweet tooth came calling again and we headed to Toft's Dairy for a frozen treat. Toft's Dairy is Ohio's oldest dairy and its parlor offers more than 50 different flavors of mouth-watering ice cream. The servings are generous, so be careful what size you order! We, of course, chose our favorite flavor – Lake Erie Cookie Island Monster, a collaborative flavor with Lake Erie Shores & Islands which was released earlier this year.
We made our way to one of the area's best indoor entertainment complexes, Ghostly Manor Thrill Center. Don't let the name fool you – while a first-class haunted house is certainly part of the campus there is so much more to Ghostly Manor. This family-fun complex also features a roller skating rink, laser maze, escape room, indoor black-light miniature golf, XD-3D Theatre, arcade, jungle gym, and bounce houses. We encountered many families enjoying the facility that afternoon. Be sure to check out the dragon on the front of the manor!
We decided next to check out two outdoor attractions popular in the Sandusky area. First, we made a quick stop at Sports Force Parks at Cedar Point Sports Center. Did you know your travel team (baseball, softball, lacrosse, soccer, and more) could combine competition with vacation in Sandusky? Sports Force offers the opportunity for teams to play in tournaments while also enjoying the thrills of Cedar Point and the rest of the Shores & Islands region.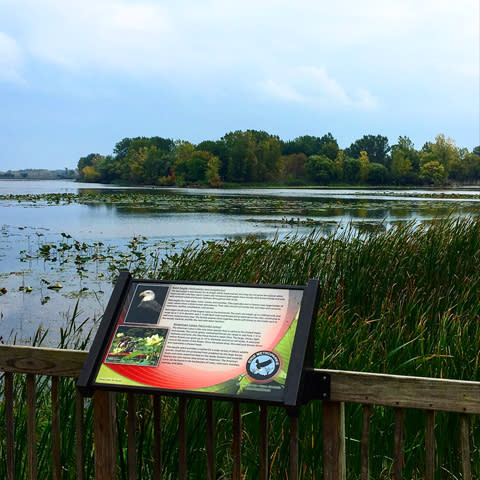 Finally, we ended our day with a lovely hike at Eagle Point at East Sandusky Bay Metropark. We enjoyed a peaceful view from the observation platform, though we were not fortunate enough to spot any eagles that day. We did see several other lovely birds and waterfowl. We also explored the Enchanted Cottage and the Erie Steamers railroad – both home to Erie Metroparks-sponsored special events. Check out the Erie Steamers during the upcoming Harvest Happenings at nearby Osborn Metropark.
It was a busy day exploring greater Sandusky and we still only scratched the surface. There are more indoor waterparks (Cedar Point's Castaway Bay, Great Wolf Lodge, Maui Sands Resort, and Rain Waterpark), plenty of shopping and dining, parks and natural areas and more to explore. With so much to do and so many wonderful places to stay, you'll definitely want to plan an extended getaway!