Published July 2017
On Tuesdays this summer, we are exploring the great cities and towns that make up Ohio's Lake Erie Shores & Islands for #TravelTuesday. Don't miss our previous #TravelTuesday posts – to-date we have visited Vermilion, Middle Bass Island, Lakeside Chautauqua, Milan, and Kelleys Island. This week, we visited the coastal community of Huron.
Located on the south shore of Lake Erie, Huron lies midway between Cleveland and Toledo in the heart of Ohio's Lake Erie Shores & Islands. This charming community is ideal for a quiet and relaxing weekend away. If you've only got one day, here is a suggested itinerary to make the most of your time.
7 am – Lake Erie provides wonderful fishing opportunities. You'll want to head out early in the morning or late evening into night time for the best results.

Hop on a fishing charter or cast a line off the pier in attempt to reel in some perch, bass, and walleye. Need a fishing license, bait, and other supplies? Stop by Cranberry Creek Marina, Harbor Drive-Thru, or Huron Lagoons Marina.
9 am - Is there anything more satisfying than that first sip of coffee in the morning?
Gather with friends and enjoy some amazing Crimson Cup Coffee! Gathering Grounds serves hot and frozen espresso drinks, gourmet teas, smoothies, and locally-made pastries in a cozy setting. You can also pick up lunch to-go with sandwiches and salads from local favorite Vine & Olive. Next to the coffee shop on the corner, you'll find the Huron Chamber of Commerce. Stop in for expert advice on experiencing all that Huron has to offer.

10 am – Experience the unique charm of this coastal community.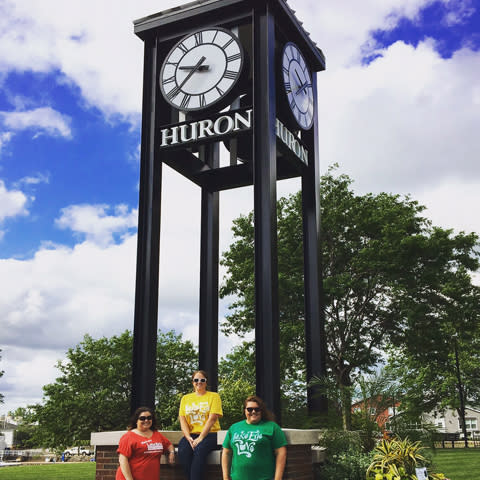 The Main Street Clock Tower welcomes visitors to Huron and serves as a city landmark. The Huron Amphitheater is located at the Huron Boat Basin and overlooks the scenic municipal marina. Serving as a popular community park, the basin and 1,000-seat amphitheater host Boppin' on the Basin concerts throughout the summer, along with movie nights and a full slate of food and arts festivals. Come by boat or car and enjoy fun, entertainment, and food.
11 am - Enjoy a late morning hike before the heat of the afternoon sun kicks in. Huron has several options for beautiful shaded walks.
Old Woman Creek National Estuarine Research Reserve, containing 573 acres, is one of Ohio's best remaining examples of a natural estuary. As a transition zone between land and Lake Erie, the estuary brings together many kinds of life. Birds, mammals, fish, reptiles, and amphibians are drawn here. A Visitor's Center offers exceptional learning exhibits and hiking trail maps. Don't miss nearby Old Woman Creek Barrier Beach. With its contiguous wetlands, Sheldon Marsh State Nature Preserve comprises some of the last remaining undeveloped stretches of shoreline in the Sandusky Bay region. Known to attract nearly 300 bird species and beautiful wildflowers, spring is one of the best times to visit! Summer finds great blue herons, red tail hawks, woodcocks, great horned owls, wood ducks, and numerous songbirds. Nearby James H. McBride Arborteum, a fifty-acre arboretum especially nice for weddings or nature walks, is surrounded with trees, flowers, a pond, and bridge.
1 pm – Hungry yet? Let's grab some lunch. Here are a few options: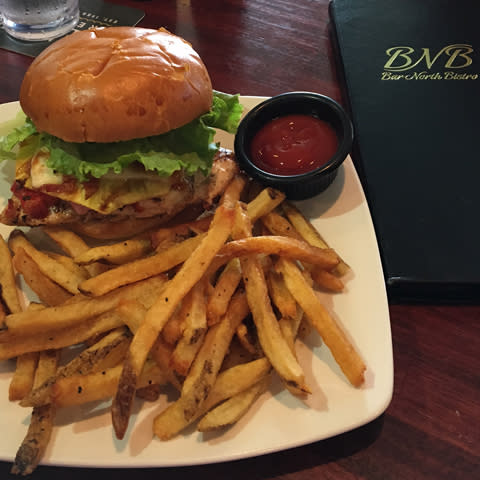 Bar North Bistro – This establishment offers chef prepared meals and unique small plates in a comfortable atmosphere with a great view of Thunderbird Hills Golf Course. Try the Hawaiian Chicken Sandwich, French Dip, or Strawberry Chicken Salad!
The Sand Bar - This hidden gem features fabulous dining on the cheap. Their staples include: pizza, burgers, and perch.
Berardi's - Originally famous for their fresh cut french fries served at Cedar Point Amusement Park until the late 1970's, Berardi's is now a full service restaurant. Popular for every type of meal, including a delicious breakfast, you can still get those famous fries!

2:30 pm – Time to refresh at the beach. Huron is "a Great Lake place," according to their welcome signs. The best place to experience our great lake is at a beach! Huron offers several public options.
Lake Front Park Beach - This park features a small sand beach, restrooms, playground, gazebo, picnic tables, grills, and drinking fountain. No lifeguard on duty; swim at your own risk.
Nickel Plate Beach - One of the area's largest public swimming beaches, it is located just east of the Huron River. The grounds include a picnic shelter and tables, grills, benches, portable restrooms, volleyball courts, corn hole boards, and playground equipment. Just opened this summer is The Paddle Shack, offering paddle-boards, kayaks, rafts and water mats, as well as beach chair and umbrella rentals. This new beach business also sells beach essentials like buckets, towels, and sunscreen.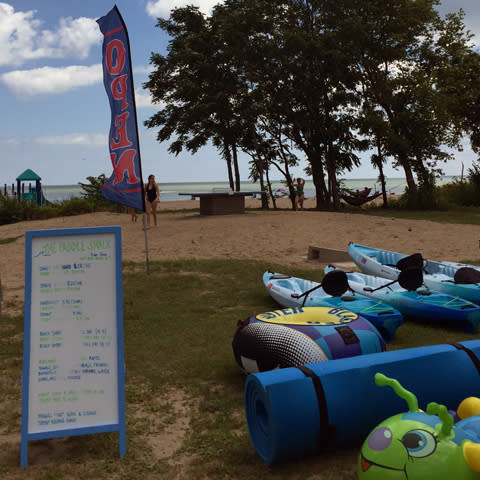 Sawmill Creek Beach – This private sandy beach is surrounded by walking trails and Adirondack chairs. Jet Ski rentals, restaurants, golf, sleeping rooms on premises. A beach is pass available at hotel front desk. No lifeguard on duty; swim at your own risk.
4 pm – When in Huron, don't forget to pick up a perfect souvenir, Lake Erie t-shirt, or one-of-a-kind gift for someone special.

The Lucky Stone - This shop features great Lake Erie and "Huron" apparel as well as school-spirit-wear for many local schools.
Do Good Studio - This store features a number of fair-trade, sustainably sourced items from across the world. From jewelry to apparel, accessories, coffee and home goods, the artisans that handcraft these beautiful products are the foundation of the store's mission to improve the lives of women and children living in extreme poverty. That means every time customers make a purchase, they are having a direct impact on the lives of these artisans and their families.

Sawmill Creek Shops- These shops offer everything from souvenirs, to children's toys, to high-fashion apparel. Explore the 1887 barn, original to the property and re-fashioned into a unique shopping experience.
5:15 pm – It's time to contemplate the marvelous time we had making memories today. Cold beverage, anyone? May we suggest… 

The Fish House – A full bar offering outside seating with scenic views of the Huron River. Locally, they are well-known for their Bloody Mary bar on Sundays.
Main Street Tavern – This tavern focuses on great service, delicious food, and an extensive selection of beers to please the palate of the most discerning beer drinker. Enjoy live music on the weekends.
Black Bear Saloon - With live entertainment, a spacious dance floor, and a generously stocked bar, the Black Bear Saloon at Sawmill Creek Resort is a great location for drinks, dancing, and fun.
7 pm – If you're lucky enough to stay in Huron for dinner you've got some delicious dining options. Here are just a few…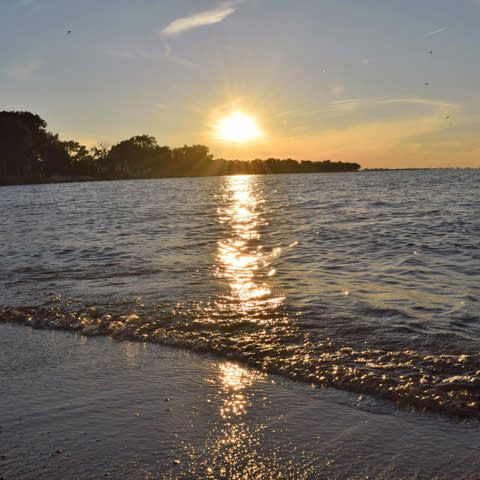 Marconi's – Marconi's Italian Restaurant is one of Huron's oldest restaurants and is committed to serving authentic Italian cuisine made with the freshest ingredients. Popular dishes including Lasagna, Chicken Parmesan, Steak Lauren, or Polo al la Anna all made with 100% fresh cheese and meat.
Salmon Run – Located at Sawmill Creek Resort, this restaurant offers a Dinner for Two Special every Friday & Saturday from 5-10 pm. Enjoy a bottle of wine, appetizer to share, two dinner entrees, and a dessert for only $49.95.
Harbor House Bar and Grill – Located on the Huron River, Huron's newest restaurant offers patio dining and easy access for boaters.
8:45 pm – There's no better way to end any day in Ohio's Lake Erie Shores & Islands than with a Lake Erie sunset and Huron is one of the best locations to see a spectacular one! We recommend a walk on the beach at Lakefront Park with the wet sand squishing between your toes or a leisurely stroll at the Huron Lighthouse & Pier.
Night, night! When you've spent a full day exploring Huron, the perfect way to unwind is waiting for you. Situated on the shores of Lake Erie, Sawmill Creek Resort consists of 236 guest rooms, suites and family rooms, 18-hole championship golf course, private beach, marina, pools, shops, full-service restaurant, and two seasonal restaurants/bars with outdoor patios. Looking for something a little smaller? Captain Montague's, an historic bed & breakfast, is a great place to relax. Other nearby accommodations include: Motel 6, Quality Inn, Plantation Motel, Wild Waves Motel, and Firefly Beach Resort. Thanks for joining us on a journey through Huron. If you've visited, what did you enjoy about it? Be sure to follow along #TravelTuesday and see where we head next!