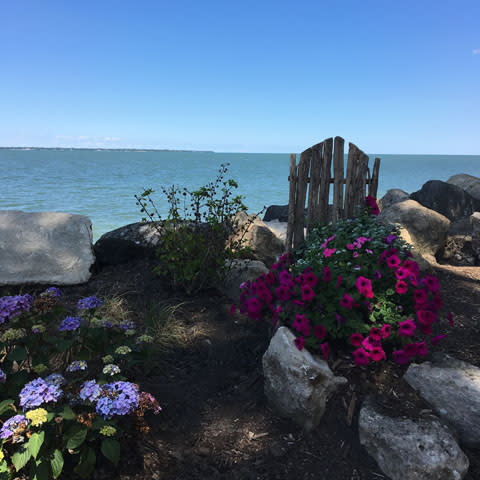 On Tuesdays this summer, we are exploring the great cities and towns that make up Ohio's Lake Erie Shores & Islands for our new #TravelTuesday initiative. Last week we left the mainland and headed out to one of the many islands in western Lake Erie – Middle Bass Island. This week we are visiting the Chautauqua community of Lakeside. Check out a few of the places we visited and be sure to follow us all summer! #LakeErieLove 
The first thing most visitors to Lakeside are drawn to is the Lakefront Path, also known as Ohio's Most Beautiful Mile. Folks enjoy walking along the shoreline taking in magnificent views of Lake Erie, as well as gorgeous flower displays. Take a stroll then find a bench and take time to relax and enjoy the scenery. 
Once you've taken in the beautiful scenery, it's time for some water play! Splash Park is perfect for the little ones, featuring a zero depth entry pool, unique spray features, bench seating for guardians, and a fence for safety. Take a swim in the lake or soak up the sun on the beach or dock. Lifeguards are on duty throughout the week. Ready for adventure? Enjoy the Lakeside shoreline from a different perspective – rent a sailboat, kayak, or standup paddleboard from Lakeside Chautauqua Watercraft Rentals. If you happen to be in Lakeside on Monday or Thursday throughout the summer, plan to take a wooden boat ride offered from 6-9 pm. Sunsets on Lake Erie are stunning, especially when you're out on the water. New this year is the Grindley Aquatic & Wellness Campus. It includes space for wellness classes, as well as a community swimming pool with lap lanes, a kids' area, and water slide. It is scheduled to be open in July, possibly sooner.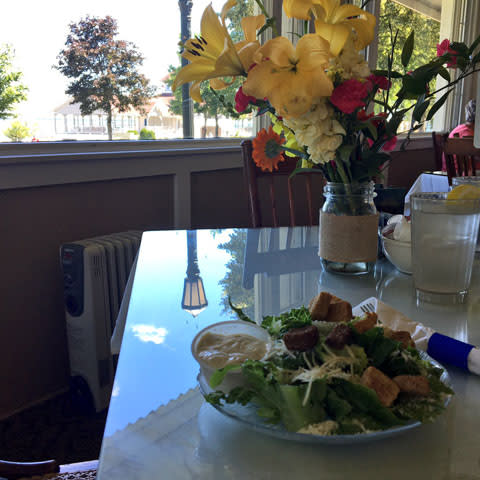 You're tummy might be grumbling somewhat and what better place to stop than nearby Hotel Lakeside Dining Room & Café. It is a great location with a unique waterfront dining experience. Start off with the delicious soup de jour (it was yummy tomato Florentine soup on our visit) and a side Cesar salad. Looking for something exclusive to the Shores & Islands area? Try the Lake Erie perch or walleye platter.
After your light lunch, spend a few hours exploring Lakeside's unique shops where you can browse for gifts, clothing, mementos, local art, beautiful jewelry, one-of-a-kind craft work, and souvenirs ranging from clocks and antiques to kites and stationary. Shops include: Artists-N-Cahoots, Heritage Hall Museum Gift Shop, Joseph Wise Fine Clocks, Lakeside Cottage Accessories, Marilyn's, Marilyn's Two, Miss Mercedes, North Coast Kite Co., The Fine Print, The Shade Tree, and World Next Door. An added bonus on Tuesday and Friday throughout the summer is the Farmer's Market. Shop locally grown vegetables, fruits, herbs, flowers, jams, and tea.
Stay fit while on vacation with activities for the entire family! Take a morning yoga class, engage in a friendly round of miniature golf on the newly renovated 18-hole course, or play a game of shuffleboard, basketball, volleyball, or horseshoes at Central Park. Children are sure to enjoy four playgrounds across the grounds. Too competitive? Rent a golf cart or bicycle and explore more things to see and do in Lakeside.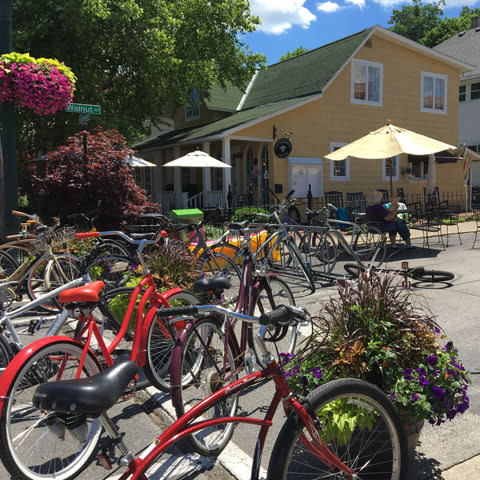 If you're a pizza lover, a stop at Sloopy's Sports Café is a must. They serve award-winning pizza using the best quality ingredients, including the freshest hand-cut vegetables, finest meats, and house made sauces and dressings. Only the best-tasting cheese is used on every pizza. Start off with sweet potato fries served with a cinnamon-butter sauce or garlic bread with melted cheese. The Hula Bowl is a delicious pizza pie topped with ham, bacon, pineapple, sauce, and cheddar cheese. If pizza isn't your thing, try a Mushroom Swiss ½ lb. Angus Burger with fries or a Chicken Bacon Ranch Wrap served with your choice of grilled or crispy chicken. New offerings this season include Brisket, St. Louis Style Ribs, and Pulled Pork.
With a full stomach, it's time to unwind and watch a movie at Orchestra Hall, the only movie theater in Ottawa County. It features weekly movies in the summer at 3:30 & 8 pm. Don't forget to add watching a live performance at Hoover Auditorium to your to-do-list. Search the online calendar for featured movies, performances, and other events taking place in Lakeside.
Snack time! There are plenty of places in town to satisfy your craving for something sweet. Check out the Hawaiian Ice-Cart (served in a variety of flavors), Lakeside Coffee & Cream (premium hard ice cream or soft serve ice cream), Ooh La La (authentic Italian Gelato), The Patio (donuts made fresh daily and Toft's hand-dipped ice cream), or The Whistle Stop (Toft's hand-dipped ice cream and popcorn made fresh daily).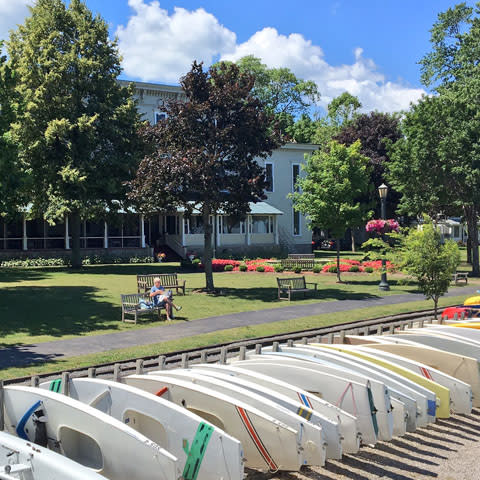 Relax for a weekend or an entire week with overnight accommodations including cottage rentals, bed & breakfasts, inns and suites, a campground, rustic cabins, and two hotels including the historic Hotel Lakeside and the more modern Fountain Inn. To find accommodations or to learn more about Lakeside, visit SHORESandISLANDS.com and search the North Shores & Islands neighborhood.
In order to provide quality entertainment, speakers, recreational activities and maintenance to the grounds and facilities, Lakeside Chautauqua requires all guests and residents to purchase a Chautauqua Pass and Auto Pass to enter the grounds during Memorial Day weekend (May 26-29, 2017) and the Chautauqua summer season (June 17-September 4, 2017). Kids 12 and under and guests 90 and older are always free. Check out the different pass options and start planning your Lakeside getaway today!