This summer, we are exploring the great cities and towns that make up Ohio's Lake Erie Shores & Islands for #TravelTuesday. Last week we explored the village of Oak Harbor. This week, we decided to leave the mainland behind and head out to the largest of Ohio's Lake Erie islands – Kelleys Island.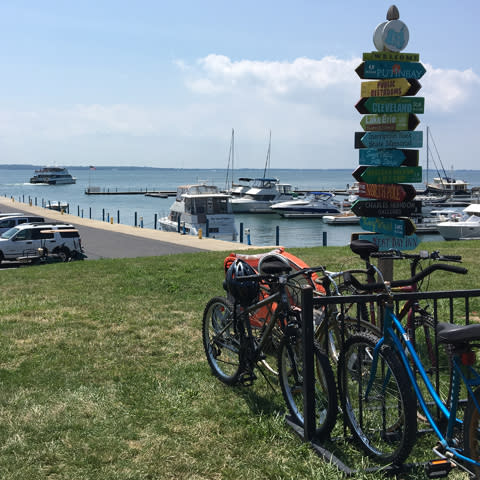 Kelleys Island is approximately three and a half miles north of the Marblehead Peninsula, and ten miles north of Sandusky. The population is 300 year-round, but it increases a bit during the summer months due to a large number of vacation homes and cottages. You can get to the island by plane, boat, personal watercraft, or ferry. Ferry service for cars, RV's, bicyclists, and pedestrians is provided from the mainland by Kelleys Island Ferry. Pedestrian-only ferry service is available with the Jet Express, a hydro jet catamaran. Getting to the island is half the fun!
Since breakfast is the most important meal of the day, we decided to start our day off with a stop at Taste by the Lake. Known as the island's gourmet coffee shop, they serve fresh donuts and pastries, smoothies, variety of coffee drinks, and more. We fueled up with coffee, a heavenly maple cream stick topped with bacon, and a savory sausage and cheese quiche. Our next stop would've been to select our mode of transportation for the day – golf cart or bicycle – however we had our fancy wrapped Shores & Islands van instead. There are a number of options for rentals including: Caddy Shack Square, Portside Marina, Kelleys Island Seaway Marina, and L'il Casino.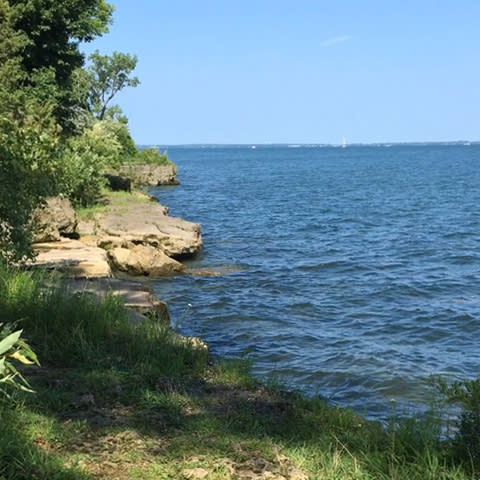 After selecting your transportation for the day, it's time to explore. Kelleys Island is home to some of the best natural areas in the region. The North Shore Loop Trail is an easy one-mile hiking and biking trail that leads to one of Kelleys Island's most unique treasures – the rare alvar habitat along the northern shore of the island. The East Quarry Trails are a five-mile network of hiking and biking trails that wind around an abandoned limestone quarry. The main entrance to the trail is on Ward Road, just east of the entrance to the North Pond Boardwalk. The trails take you through woodlands, around the flooded eastern end of the quarry – known as Horseshoe Lake – and down onto the largely barren floor. The Glacial Grooves are the most popular natural destination on Kelleys Island. These grooves are the largest and best accessible example of this geological phenomenon anywhere in the world! The grooves are visible from a winding series of steps and footbridges that loop around their upper rim.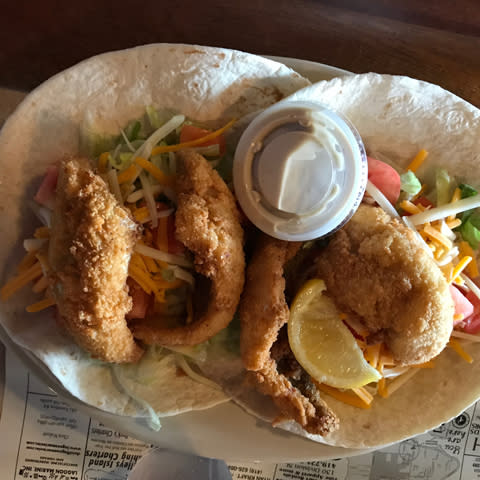 Hiking the trails is sure to work up an appetite. There are many delicious locations to choose from but for this particular trip our taste buds led us to West Bay Inn, known for peel and eat shrimp, and the Village Pump which is famous for their perch and walleye. We also stopped by The Kelley's Island Wine Co & KI Cantina for a refreshing margarita, perfect any day but especially on a hot day! Other dining locations include: Caddy Shack Square, The Casino, Captain's Corner Bar & Grill, Docker's Waterfront Restaurant & Bar, Kelleys Island Seaway Café, and more.
After grabbing a bite to eat, it's time to browse unique boutique and specialty shops where you can shop for souvenirs, a wide variety of clothing, gifts, homemade fudge, jewelry, island gear for adults and kids designed by local artists, and more. Don't miss Kelleys Island General Store, The Village Peddler, Original Island Fudge Shop, Vi's Island Treasurers, Chalres Herndon Galleries and Sculpture Garden, Caddy Shack Square, the gift shop at Kelleys Island History Museum, and much more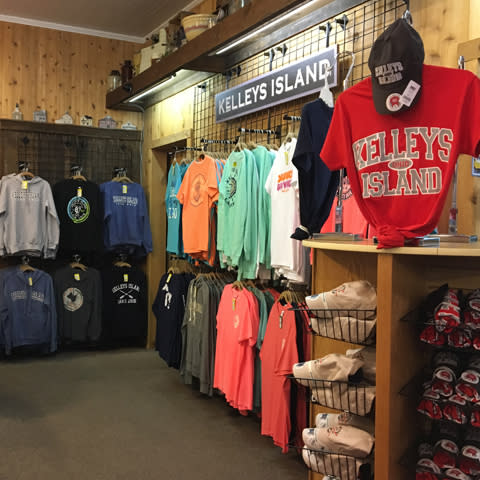 Now it's time to hit the water! The sandy beach at the Kelleys Island State Park is a great spot to beat the summer heat. A free public boat launch with plenty of trailer parking provides access to Lake Erie. The adjacent stone pier offers fantastic fishing and beautiful views. Kayak rentals are available during the summer season. On a warm day, there is nothing like a cool refreshing ride on the lake while enjoying spectacular scenery that can only be seen from the water. Looking for the most fun you can have on the water? Try Lake Zorbing, a rolling adventure inside an inflatable ball. Located on the picturesque Rock Beach near Kelleys Island Seaway Marina, it is an experience that's sure to make you smile!
There are plenty of places for overnight guests to the island. The 677-acre Kelleys Island State Park, located on the northern shores of the island, features 45 non-electric and 84 electric sites and is a perfect spot for camping. Kelleys Island Venture Resort, the island's only resort hotel, offers balconies and a deck across the street for lounging by the lake. There are a variety of vacation rentals, including cottages and condos, and bed & breakfasts as well. For those traveling by boat, dockage is available at the Casino Marina, Crafts Lakeview Lane Marina, Kelleys Island Seaway Marina, and Portside Marina.
In need of island maps and expert advice? The Kelleys Island Chamber of Commerce and Visitors Bureau is located near the Kelley Island Ferry dock and has a new weatherproof brochure rack. An information rack is also available at the Jet Express office and a new information center is in front of the Kelleys Island General Store. We only had time to visit a few locations - to find out everything there is to see and do on the island, stop by the chamber office or one of these new locations!