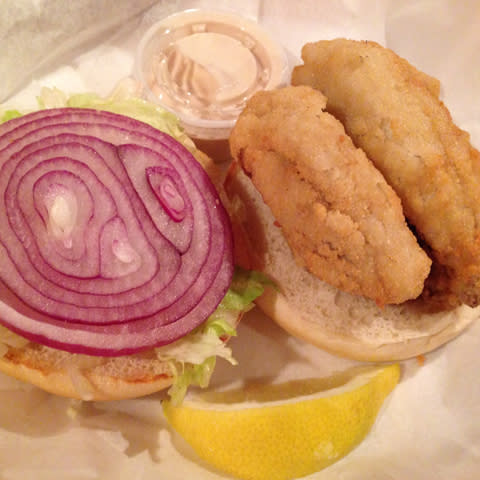 Let's be honest. One of the best things about traveling is all the delicious cuisine you get to enjoy. New atmospheres, local flavors, and fun experiences are what you'll find when you experience the region like those that live here year-round. When visiting Ohio's Lake Erie Shores & Islands, we encourage you to eat like a local. We surveyed locals about their favorite joints, and following are a few options we think you will enjoy!
1812 Food & Spirits, Port Clinton – Named for a bit of local history (The War of 1812's Battle of Lake Erie took place in nearby waters), this fine dining restaurant is located within the beautiful, historic Island House Hotel. Locals rave about their culinary treats, especially on "Walleye Wednesdays," when they offer such delicacies as walleye meatballs.
Berardi's Family Kitchen, Sandusky – Originally famous for their fresh cut french fries served at Cedar Point Amusement Park until the late 1970's, Berardi's Family Kitchen is now a full service restaurant. Popular for every type of meal, including a delicious breakfast, you can still get those famous fries!
Crush Winebar, Sandusky – Known by locals for their small plates and fabulous wine selection, Crush specializes in food, wine, and spirits in a casual atmosphere. Culinary superstar, Chef Cesare Avallone offers gourmet entrees, pastas, and pizzas at Crush, and also operates four additional dining options: the adjacent Kitchenbar, upscale Zinc Brasserie, casual Hearth Tavern, and waterfront Dockside Café – all favorites among local diners.
The Goat, Soup & Whiskey, Put-in-Bay – This island staple features one of the area's nicest patios along with made-from-scratch, cooked-to-order casual food. Daily soup and drink specials feature veggies and herbs from one of three on-site gardens. The Goat also offers the original perch taco, made with local Lake Erie perch, caught daily and served up fresh.
Martino's International Café, Vermilion – Known for generous portions at reasonable prices, Martino's features a wide array of delicious international dishes, as well as American-style home cooking favorites. In addition to breakfast served all day and an eclectic menu, international favorites include beers, wines, martinis, and frozen drinks.
Marconi's Italian, Huron – This second generation, Italian/Sicilian restaurant features original recipes, fresh seafood, Certified Angus Beef, fresh Lake Erie perch, and homemade desserts in an intimate, Italian-designed setting.
Mariner's Dockside Restaurant, Huron – This local gem is hidden behind the Sawmill Creek Resort at the Mariner Village Marina. It's a seasonal, lakeside favorite that is only open May through September and only serves on Friday and Saturday nights. Specialty entrees include rack of lamb and lemon-glazed walleye.
Nagoya Japanese Steakhouse & Sushi, Port Clinton – Enjoy a front row seat to a culinary performance at Nagoya Japanese Steakhouse and Sushi. Hibachi chefs entertain with dazzling knife and spatula tricks while cooking meals to perfection. Locals claim Nagoya offers some of the best sushi around. Reservations are recommended as there often is a several-hour wait.
Small City Taphouse, Sandusky – Small City Taphouse is a downtown Sandusky establishment for both craft beer lovers and raw fish fanatics. Try the Small City Taphouse roll: layered spicy tuna topped with tuna, salmon, mango, and apple finished with spicy mayonnaise, eel sauce, and caviar. Small City has a ton of accolades as well, recently voted Best Craft Beer Bar in Ohio by Cool Material and Best Asian Restaurant and Best Beer Selection in the local Funcoast.com Readers' Choice Awards.
The Orchard Restaurant & Bar, Port Clinton – The Orchard invites patrons to eat, drink, and gather while enjoying casual American cuisine and an extensive wine list. Natural ingredients, locally grown if possible, give every meal a unique appeal. Appetizers include sloppy duck sliders or angry mussels and entrees include Lake Erie perch, salmon, and Ohio pork.
Thirsty Pony, Sandusky – Billed as "awesome eats with an attitude" this family-friendly sports bar features the excitement of off-track betting along with delicious food and drinks. The Thirsty Pony features juicy hand-packed burgers and Frickers' famous frickin' chicken wings. Dinner specialties include steaks, perch, and walleye as well as specialty drinks served in souvenir cups.
The Village Pump, Kelleys Island – The Village Pump has been the destination watering hole for boaters and visitors alike since 1983. Specialties include the 'famous' Brandy Alexander made with French vanilla ice cream, and Lake Erie perch deliciously prepared by Pump chefs.
There are many, many other options out there to try, from casual picnic-style to white-tablecloth waterview dining. We've even got a few "hole-in-the-walls" where everybody knows your name. Do you have a local favorite?