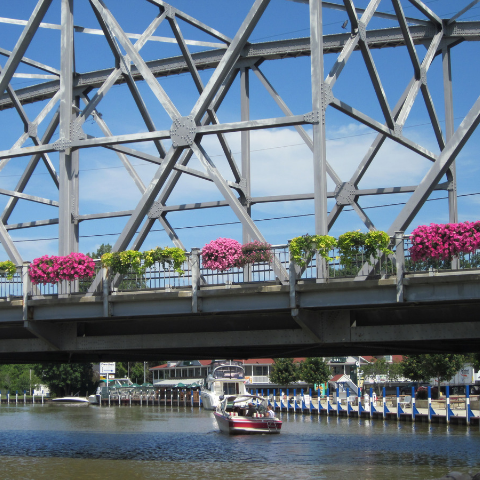 Published June 2019
"This is coasting" is the unofficial mantra for the Lake Erie Shores & Islands region and it's easy to see how the coastal town of Vermilion embodies that feeling. Not only is it literally a coastal town, but it evokes a laid-back vibe…somewhere you'll enjoy just "coasting" through your days. It's a wonderful place to get away from the daily grind. Visit Vermilion and you'll soon let your cares "coast" away as well. This quaint historic town embraces its nautical heritage.
The mouth of the Vermilion River meets Lake Erie at the Vermilion Lagoons community, a neighborhood filled with white-and-black, Cape Cod-style homes, most built in the 1930's and featuring boat dockage at the doorstep. You can see these homes via the Mystic Belle scenic river paddleboat cruise. New to the community, Erie Shore Wave Runners also offers scenic 2-hour tours via jet ski, which are also available for rental. Another fun way to enjoy the water is with a canoe, kayak, or paddle board rental from West River Paddle Sports.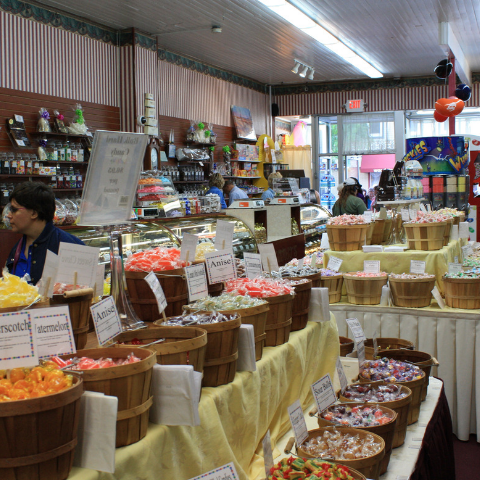 The Vermilion Lighthouse is a popular destination for visitors. Located adjacent to Main Street Beach, the lighthouse is a replica of an 1877 original that was moved in 1929. Shore Thing, a group of volunteer ambassadors, welcome you to Main Street Beach and offer chair and umbrella rentals and concessions. The beach also features a raised observation platform. The beach is much-loved place for special events, such as Third Thursdays. This music-filled evening is held the third Thursday of every month, May through September and includes a downtown full of bands, choirs, acoustic guitars, strings, and more. Many genres of music are showcased with live musicians stationed outside of downtown businesses, on street corners, in parks, and at the beach. Third Thursdays are the place for "music, flowers, and a sunset" – the last best viewed while sitting on the lawn next to the lighthouse.
Speaking of flowers, due to the Vermilion in Bloom initiative, the entire community is filled with more than 160 hanging baskets and 2,500 flowers planted throughout the parks and business district. There are even beautiful flowers adorning the main road bridge crossing the river.
Both the lighthouse and public beach are walking distance to some of the most unique shops and eateries in the area. Walk to town for culinary options as varied as a classic 50s-era soda fountain to an upscale riverside French bistro. Browse the shops for nautical gifts, alpaca knitwear, candles, antiques, fine art, home decor and traditional souvenirs. Don't miss Brummer's, makers of quality candies since 1904, for homemade chocolates and salt water taffy. Pick up premium olive oils and balsamic vinegars at The Olive Scene, along with other gourmet foods and unique products.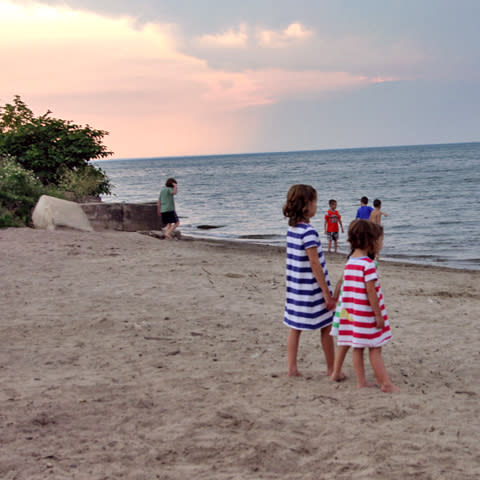 When it's time for a break, there are several parks where you can rest either overlooking the river at Exchange Park, watching downtown activity from Friendship Park, or enjoying a gazebo concert at Victory Park. Victory Park is also well-known as a location for "railfans" or fans of watching train traffic. There is a rail-viewing platform that features a raised deck with benches where one can watch at least five trains an hour pass through. Visit the Main Street Vermilion office for area information and to take in art displays from more than 35 local artists.
Vermilion offers a variety of accommodations, from quaint bed & breakfasts named after sea captains to beachfront cottages, lakeside homes and convenient hotels. When you're ready to start coasting, check out everything Vermilion has to offer!