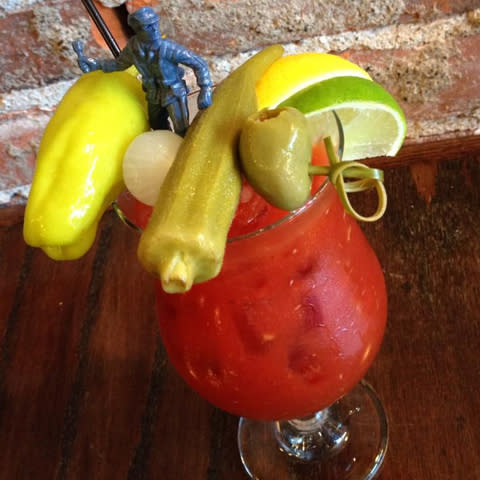 What's better on a cool Ohio evening than warming up with a toasty beverage? Warm your soul with a selection of sizzling drinks.
Drink: Gingerbread Man
Can't catch me, I'm the Gingerbread Man! Enjoy this sweet mix of Fireball, buttershots, Frangelico hazelnut liqueur, and coffee topped with whipped cream and ground nutmeg at Crosswinds in Port Clinton.
Drink: Mayan Hot Chocolate
The first chocolate beverage is believed to have been created by the Mayans more than 2,000 years ago. Celebrate the now-popular American drink's roots with the Mayan Hot Chocolate which includes a spicy cayenne pepper kick at Common Grounds Coffee in Port Clinton.
Drink: Holiday Blend Coffee
Celebrate the holiday season with a festive blend of toasted chestnuts and warm cinnamon, one of two new brews available at Mr. Smith's Coffeehouse in Sandusky. (The other is Cranberry Crème.)
Drink: The Duck
Not technically a warm drink, The Duck is one of Catawba Island's specialty crafted beers. It is a smoked black lager brewed with a generous amount of beach wood smoked malt. Enjoy The Duck, the Cookie Cutter Christmas Ale, or a number of other fine quality brews at the Catawba Island Brewing Co.
Drink: Vanilla Chai Tea & Tuaca
Try this exotic and sweet vanilla Chai tea with Tuaca, an Italian liqueur, and whipped cream at Touché/Chez Francois in Vermilion.
Drink: Italian Coffee
For another warm drink with Italian flair, try the Italian Coffee at Ciao Bella Ristorante Italiano in Port Clinton. Ciao Bella's Italian Coffee includes Tia Maria, Baileys, Grand Marnier, Frangelico, Dark Crème de Cacao, and coffee, all topped with whipped cream. Enjoy with a cannoli!
Drink: Bloody Mary
Also, not a hot beverage, but a spicy Bloody Mary certainly will heat things up! Get this tasty concoction of tomato juice, vodka, and spices at Volstead Bar in Sandusky, known for their "Bloody Sundays."
Drink: Irish Coffee
The December drink of the month at Cleats Club Seat Grille in Marblehead features Irish coffee, St. Brendan's Irish Cream and Jameson Irish Whiskey topped with whipped cream. The Nutty Irishman at Bay Harbor Inn in Sandusky includes Baileys, Frangelico, coffee, and whipped cream.
Drink: The Milky Way
For those who prefer their after-dinner-drinks on the sweeter side, try the Milky Way at Huron's Black Bear Saloon at Sawmill Creek Resort. The Milky Way offers caramel, chocolate syrup, espresso, and steamed milk. Or, tackle the Black Forest with cherry syrup, chocolate syrup, and espresso.
Drink: Mulled Wine 
While we can't find anyone serving this traditional warmed up wine locally, pick up a bottle of your favorite fruity red from one of the many wineries on the Lake Erie Shores & Islands Wine Trail and try making it at home; or, just warm up with a glass by the fireplace.
So, what will you be drinking to keep warm this winter?