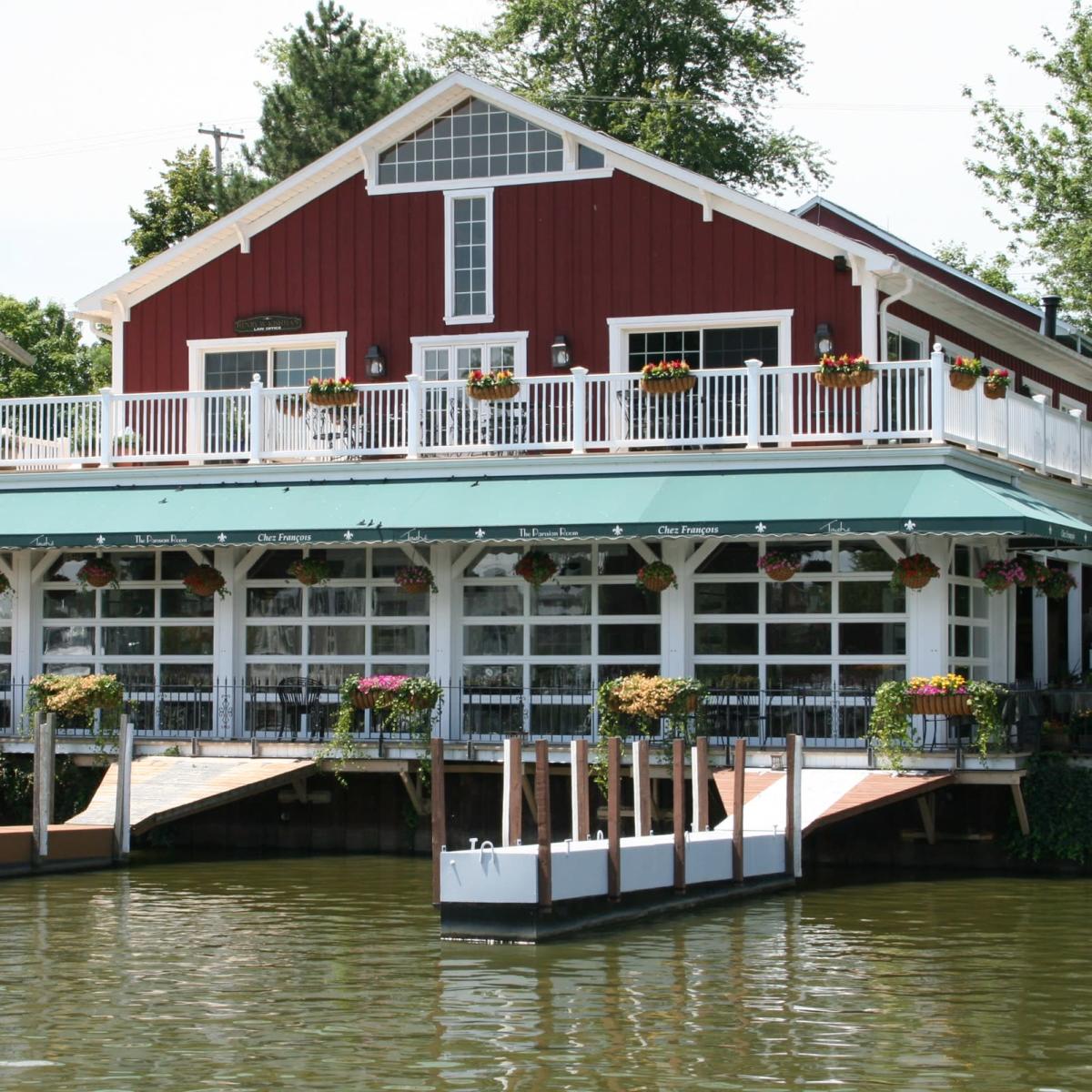 Updated April 2021

Whether you're sitting down to devour a delicious perch sandwich, a plate of fresh seafood, or a juicy burger, food just seems to taste better when eaten outdoors with a waterfront view. At Ohio's Lake Erie Shores & Islands, there is no shortage of restaurants with scenic dining.
UPSCALE DINING
Your table is waiting at the Riverfront Café at Chez Francois. This casual but sophisticated, riverfront dining experience features seasonal, farm to table highlights. The menu has both French and Northern Italian influences. Bay Harbor, located at Cedar Point Marina, provides a casually-elegant setting serving the area's freshest seafood along with delicious pasta and spectacular prime rib (Cedar Point admission is not required).

ON AN ISLAND
Waterfront dining takes on an entirely different feel on an island. At Kelleys Island, visit Dockers Waterfront Bar & Restaurant for fresh seafood, cool breezes, and spectacular sunsets. Try the homemade crab cakes, served with Cajun aioli. The Casino (sorry no gambling here) is an island favorite featuring salads, wings, sandwiches, and appetizers. West Bay offers inside or lake view dining on the patio. Try their peel and eat shrimp. Kelleys Island Seaway Cafe is a local favorite. In addition to breakfast, they feature homemade soups, sandwiches, and a fresh pie of the day. Waterfront dining options are also plentiful at Put-in-Bay on South Bass Island. Enjoy a lakefront feast at the lobster bisque capital of Ohio! The Boardwalk offers fresh seafood in a casual family dining atmosphere. The Upper Deck, located directly above The Boardwalk Main Deck, features an upscale, table-side service experience on Put-in-Bay with a panoramic 180-degree view of the harbor. The Keys features both décor and delicious food to put you in a "Key West" mood. Every table provides a waterfront view. Try the Conch Fritters, a traditional island blend of Bahamian Conch, onions, and bell peppers, lightly fried and served with Key Lime Tartar Sauce. The Crew's Nest is an elite private club devoted to satisfying the needs of its members. Purchase a day or weekly membership and enjoy amazing views of the harbor, great food, live entertainment and incredible sunsets. Topsy Turvey's Bar & Grill is a fun, local hangout with an outside deck overlooking the harbor; it is also the home of one yummy Cuban sandwich.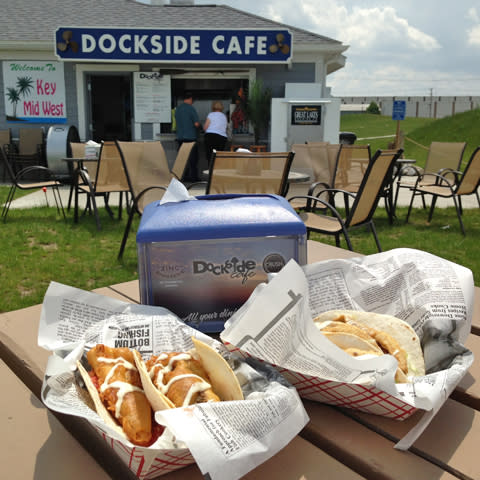 CASUAL DINING
The mainland offers a number of waterfront eateries and places to sip a drink while watching boats float by or catching a Lake Erie sunset. In Huron, the Old Fish House is an ideal location for those that want to be near the water while enjoying a few cold or hot beverages. The Bloody Mary Bar is a must-try on Sundays. Take a short walk from the Old Fish House to Pier Pub. This local favorite features simple food options and great views; new menu coming soon! If you're visiting the Marblehead peninsula, Hotel Lakeside Dining Room & Cafe offers a unique lakefront experience. Sandusky offers plentiful options also. Dockside Café, located next to the Paper District Marina, is accessible by car, foot, or boat. This seasonal food counter offers outside dining and is an excellent location to catch the sunset on Sandusky Bay. Try their "World Famous Walleye Tacos" topped with pico de gallo, mixed lettuce, and lime aioli. Famous Dave's, at Cedar Point Marina, offers delicious St. Louis-style BBQ plus tantalizing sauces, including the award-winning Rich and Sassy sauce. The Original Margaritaville is a dining experience with a one-of-a-kind waterfall view right from your table. The atmosphere is festive, the dress is casual and the cuisine features in-house smoked meats. Looking for fresh fish? The New Sandusky Fish Company serves award-winning fresh Lake Erie perch with outside picnic-table-dining and great views of Sandusky Bay. Popular items at Jolly Roger Seafood House, a local favorite, include perch and chips, perch dinner, and the perch boat - one pound of Lake Erie yellow perch. Waterfront views are sure to please at their new location on Perry Street in Port Clinton. OH Taco serves authentic Mexican street tacos, Ohio craft beer, signature margaritas, and specialty cocktails in the heart of downtown Sandusky. Quaker Steak & Lube, with waterfront locations in Sandusky and Vermilion, is a motorsports-themed family restaurant featuring wings, appetizers, soups, salads, sandwiches, steak burgers, ribs, steaks, desserts.
ON A BEACH
The Hidden Beach Bar in Marblehead is a little-known gem. Enjoy a piece of paradise with harbor side dining and views of Lake Erie and the islands. Try the Lake Erie perch piled high on a toasted brioche bun with a side of their signature coleslaw. Located on a private beach in Port Clinton, Dock's Beach House offers great food, fine spirits, and a great atmosphere. Enjoy panoramic views of Lake Erie and fabulous sunsets. The lakeside patio at TGI Friday's on the Beach overlooks the beach at Cedar Point. A bistro menu is available with a variety of signature Jack Daniels items, entrées, sandwiches and salads.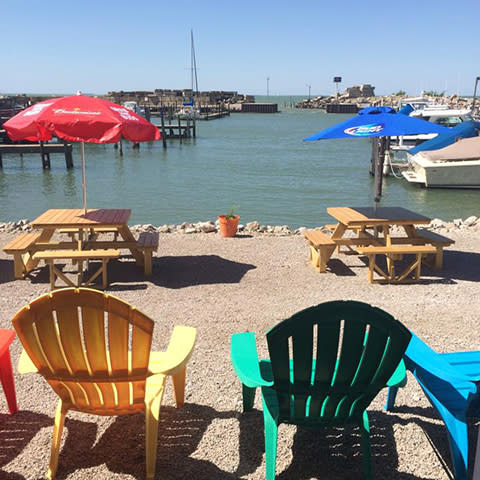 Many area waterfront restaurants offer dockage if you arrive via boat. Check out our Dock and Dine options! You don't need a boat to enjoy dockside dining or fantastic cuisine with amazing lake and river views. Take full advantage of a visit to Ohio's Lake Erie Shores & Islands and enjoy your meal with a great view.