This year is just flying by! While we are in the thick of the beautiful fall season in Shores & Islands Ohio, we know that the bustling holiday season is just around the corner. The month of November brings a number of fun special events which allow guests and locals to enjoy and support a number of community and neighborhood businesses and support the arts. By the end of the month, we welcome the celebration of the holidays with late November and December filled with all the holiday cheer you can imagine! Here a some of the event highlights to help you wrap up an amazing year in Shores & Islands Ohio.
Corks and Kegs
Nov 4, 2023
Various locations, Vermilion
Come shop, wine, dine, and explore in downtown Vermilion! The Registration fee gets you an event bag, wrist band, and map to participating merchants for your samples of wine and/or beer. Complete the map and be entered to win the Grand Prize Basket! Plus, for every $10 you spend at a participating merchant you will receive an additional entry for the basket.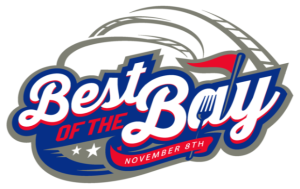 Cedar Point Sports Center's Best of the Bay
Nov 8, 2023
Cedar Point Sports Center, Sandusky
The Best of the Bay is back for the 3rd year! Enjoy a variety of foods from the region's best restaurants. Vote in a number of categories including best pizza, best burger, best taco, best coffee, best dessert, best breakfast, and more! There will be lots of great food varieties to sample, drinks, and a great opportunity for networking!
The Heidelberg University Concert Choir
Nov 12, 2023
Port Clinton HS Performing Arts Center, Port Clinton
Heidelberg Choral Ensemble performs and Port Clinton HS Center for the Performing Arts. Since its inception in 1938, the Heidelberg Concert Choir has achieved the distinction of being one of the premier collegiate choral ensembles. Open to all Heidelberg students, regardless of major, the Concert Choir performs more than fifteen concerts each year, including a domestic tour and a performance of Handel's Messiah. Part of the Musical Arts Series Port Clinton. The Musical Arts Series Port Clinton exists to engage, enrich, entertain, and educate the Port Clinton area community through world-class musical performances. For more than 21 years, our mission is to present artistically excellent, performances and foster music education.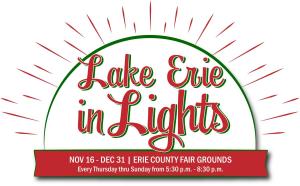 Lake Erie in Lights!
Nov 17-Dec 31, 2023, Thursday-Sunday evenings
Erie County Fairgrounds, Sandusky
Ring in the holiday season with Lake Erie in Lights, a drive through light display featuring over a million lights! Funds raised benefit Ability Works, Inc. Several holiday workshops will be held throughout the season as well.
Shipwrecks & Scuba
Nov 18, 2023
Sawmill Creek by Cedar Point Resorts, Huron
Shipwrecks and Scuba is a beloved annual conference that has been running since 1984 and continues to draw diving enthusiasts and historians from all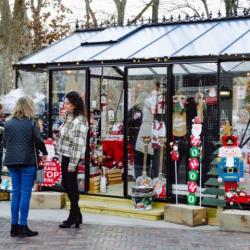 over the region. The conference is renowned for promoting diving and historical shipwrecks and the excellent lineup of nationally recognized speakers have been a major draw for attendees over the years. This year's event promises to be just as exciting, with a diverse range of talks and presentations that are sure to spark your curiosity. Whether you're a diver, a history buff, or just looking for an interesting day learning about the Great Lakes- there's something for everyone at this incredible event!
Holiday Market 2023
Nov 24-26, Dec 1-3, Dec 8-10, 2023
Gideon Owen Wine Company, Catawba
Bring your families, friends and loved ones to the beautiful Gideon Owen Wine Company for this year's Holiday Market and experience a winter wonderland reminiscent of the Christmas markets in Europe! Discover unique gifts from 20+ local vendors, meet Santa, savor delicious treats, and bask in the holiday charm.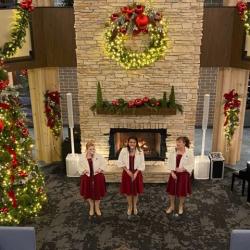 Season of Joy at Sawmill Creek Resort
Nov 24-Dec 31, 2023
Sawmill Creek by Cedar Point Resorts, Huron
Welcome to The Season of Joy at Sawmill Creek, where you can escape the hectic pace of life and immerse yourself in the magic of winter! From Nov 24 through Dec 31, their 200-acre woodland resort invites you to experience the true spirit of the holidays in extraordinary ways. Indulge in a delightful array of activities, from sipping on naughty or nice cocktails to delighting in live music and comedic performances. Discover the joy of holiday decorating and be surrounded by the captivating sights, sounds, scents, and tastes of the North Coast. Join in on these fun events for an unforgettable winter event that will leave you feeling refreshed, inspired, and full of holiday cheer.
Sandusky Tree Lighting Ceremony and Santa's Arrival
Nov 24, 2023
Schade-Mylander Plaza and Washington Park, Sandusky
Visit downtown Sandusky for the annual lighting ceremony and Santa's arrival. Enjoy $1 carousel rides at the Merry-Go-Round Museum.
Holiday Trains
Nov 25-26, Dec 2-3, Dec 9-10, 2023
Mad River & NKP Railroad Museum, Bellevue
Celebrate the Christmas season with the Annual Holiday Train! This event is perfect for young children and family fun. First you will take a short ride on a restored caboose. These cabooses are heated, comfortable, and fully operational. You'll be able to experience the same ride as railroaders of a bygone era did when cabooses were on every freight train across America. The ride lasts about 10 minutes, then your family is invited to the dining car. Sit down and enjoy hot cocoa and cookies in the 1927 Nickel Plate Road Diner. Experience what it was like when passenger train travel was more commonplace and eating in the diner was a luxury of the journey. After you've enjoyed the diner, Santa Claus will be waiting to meet you in the Monument Station at the museum. Also in the Monument Station, the gift shop will be open for Holiday shopping. All tickets are pre-sale, no tickets at the door.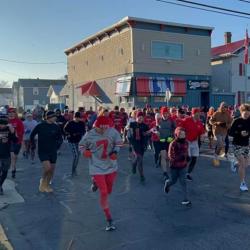 The Race before the Game
Nov 25, 2023
Downtown Sandusky
Go Bucks and Go Blue during this 7th annual event in downtown Sandusky. There isn't a better way to start the morning of the Ohio State/Michigan game day than "Dotting the i" or "Blocking the M." And you can do both in this one-of-a-kind event. There is no other city with a unique street grid like Sandusky's to complete this kind of course. The Big O, a one-mile walk option to complete just the O in Ohio. Registered Participants (By November 13, 2023) receive long-sleeved shirts.
Lakeside Christmas
Dec 1-3, 2023
Lakeside Chautauqua, Marblehead
There's no place like Lakeside for the holidays! Families, friends and loved ones can Visit with jolly ole Santa, attend the beautiful Tree Lighting Ceremony, see a family movie in Orchestra Hall, enjoy fun live entertainment, stay at the Fountain Inn and more!
Light Up Vermilion
Dec 1, 2023
Downtown Vermilion
Feel like you have stepped back in time to enjoy the holidays the old-fashioned way, with family, neighbors, and friends in historic downtown Vermilion. Main Street Vermilion is bringing back Light Up Vermilion for its ninth season with family-friendly events and special new traditions.The evening begins at 6 pm in Exchange Park when Santa arrives in style to help Mayor Jim Forthofer count down to the Community Tree Lighting. After the tree lighting, stroll through town enjoying caroling, roasting chestnuts, hot chocolate, photo opts and more. Kids, don't forget to bring your letters to Santa. A special North Pole mailbox is located at 685 Main Street. It is the perfect time to start your holiday shopping and grab a bite to eat as many stores and restaurants will add extra hours this night.
Perkins Township Presents: Winterfest 2023
Dec 1, 2023
Strickfaden Park, Sandusky
Join in on the holiday fun for Perkins Township's first ever WinterFest at Strickfaden Park! This wonderful event is free! Enjoy lots of food trucks, craft vendors, a petting zoo, fire pits with a S'mores Bar and free hot chocolate! Don't miss Santa's arrival! They can't wait to see you and celebrate this beautiful winter season!
Mulberry Creek Herb Farm's Christkindlmarkt
Dec 2-3, 2023
Mulberry Creek Herb Farm, Huron
Celebrate, shop, eat & drink with your friends at Mulberry Creek Herb Farm's 13th Annual Christkindlmarkt. 20 Artisans, German food & warm beverages, holiday music (including a live choir), 12 days of Christmas raffle and more. Suggested admission: drop off an item from "Back to the Wild's" wish list.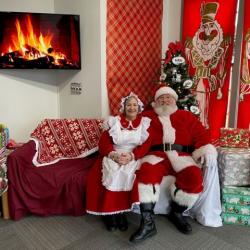 Huron Winter Fest
Dec 2, 2023
Huron Boat Basin, Huron
Huron Winter Fest is a great family festival with something for everyone in the family! Santa and Mrs. Claus will be making a joyful appearance as well as sleigh rides, arts and crafts, Main Street shopping, and a fireworks show at 6 pm!
Sandusky Winter Wonderland
Dec 8-9, 2023
Jackson Street Pier, Sandusky
Ice Skating – check. Small business holiday market – check. Festive, live music – check. This year we are embracing the holiday season with the annual Sandusky Winter Wonderland, sponsored by the Erie County Community Foundation. The two-day event will have numerous components that are fun for everyone in your family. Come down to the Jackson Street Pier to ice skate on the expanded Civista Bank Ice Skating Rink or shop for unique gifts, created by artisan vendors. Downtown businesses and parks will be decorated for the most romantic and fun wintery atmosphere. Christmas ales, holiday drinks, and food trucks will be available for you to enjoy or visit one of the many delicious restaurants in downtown Sandusky.
Christmas Carousel Ride-A-Thon
Dec 9, 2023
10-4 pm
Merry-Go-Round Museum, Sandusky
Come and enjoy Free Admission with $1 carousel rides. There will be children's crafts, wood carvers, a large-scale train display, and of course a visit from Santa!
A Peppermint Twist Christmas
Dec 10, 2023
Sawmill Creek Convention Center, Huron
The Firelands Symphony Orchestra presents a sweet twist on the annual holiday pops concert, this year's program will feature many new and unexpected versions of holiday music. The orchestra and guest vocalist Connor Bogart O'Brien performs selections from Trans-Siberian Orchestra, Duke Ellington's Nutcracker, Holiday Hoedown, Clarinet Candy, and more. The FSO Chorale also ring in the season with holiday music from around the globe.
Harlequin's Christmas Cabaret
Dec 15-17, 2023
Coach House Theatre, Sandusky
An evening of music, song, storytelling and skits all celebrating the holiday season. Get in the spirit even more as you enjoy the show in Harlequin's historic and festively decorated Coach House Theatre.
The Burning River Brass Holiday Concert
Dec 17, 2023
Port Clinton High School Performing Arts Center, Port Clinton
Free brass Christmas Spectacular concert, presented as a "Christmas gift to the community" by the Musical Arts Port Clinton group.
Horse-drawn sleigh and trolley rides through Spiegel Grove
Dec 26-31, 2023
R.B. Hayes Presidential Library and Museums, Fremont
Ride through the wooded estate of President Rutherford B. Hayes in a horse-drawn sleigh, as he did when he lived there. A horse-drawn trolley also will offer rides through Spiegel Grove. The sleigh can fit four people, and the trolley can fit 16-18 people. The rides are a nostalgic trip through the beautiful wooded estate, past the historic Victorian Hayes Home and down Lover's Lane, a favorite pine-tree-lined spot on the grounds.

So, get out and make some great memories before the year comes to a close! Stay tuned for a separate post on all the fun ways you can ring in the New Year! As always, you can find our full events calendar at SHORESandISLANDS.com/events.