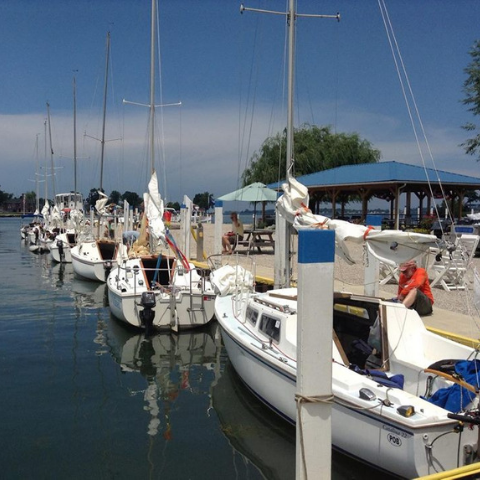 Updated July 2022
Shores & Islands Ohio is a boater's dream! The region is filled with marinas and transient dockage so that visitors via the lake have plenty of places to find adventure.
If your boating adventures involve fishing, there has never been a better time to fish the Walleye Capital of the World, with the Ohio Division of Natural Resources Division of Wildlife promoting excellent fishing opportunities for 2022 and beyond. In addition to forecasted record walleye catches, yellow perch, largemouth bass, and smallmouth bass catches will be plentiful in the Western Basin of Lake Erie.
The entire region is boater-friendly. Nearly 90 marinas are available for boaters throughout the region, with most of them offering transient dockage or mooring buoys. Marinas with transient dockage allow those visiting the region via boat to easily reach major attractions, such as Cedar Point amusement park, or get close to downtown shopping and dining districts with businesses located within walking distance. There are even several area restaurants that offer dock-and-dine options, for boaters out for a quick bite.
Where do boaters go? Here is a bit about each of our coastal, boating communities.
Put-in-Bay on South Bass Island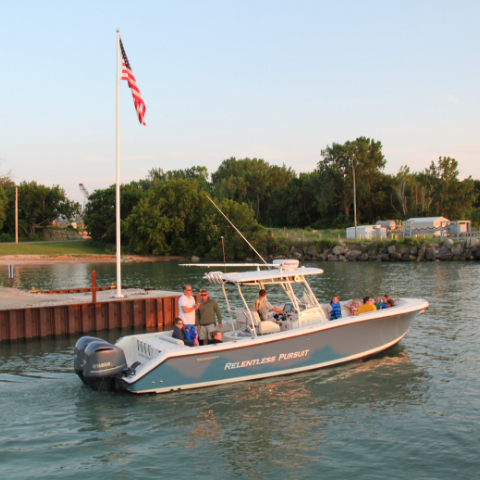 Many visitors begin with a narrated tour on the island tour train; but, for those wishing to go at their own pace there are golf carts, scooters, and bicycles to rent. The island offers a "Kids Love Put-in-Bay" trail, filled with family-friendly fun such as a butterfly house, miniature golf, cave tours, and a carousel. History enthusiasts won't want to miss Perry's Victory and International Peace Memorial. There are numerous shopping spots and a wide selection of restaurants and pubs to please every taste and budget.
Transient boat dockage at Put-in-Bay is plentiful but also very popular, especially on weekends. Three large public docks downtown can accommodate hundreds of boats. Mooring buoys are also available to rent in the harbor with water taxi shuttle service available. Dockage can be reserved at several marinas including Miller Marina, The Crew's Nest, Boardwalk Marina, and Park Place Boat Club.
Middle Bass Island
Middle Bass is a green island with rental homes, cottages and condos, camping, beaches, and a wildlife refuge. There are also a small number of dining spots and shops.
Middle Bass Island State Park features a 190-slip marina, primitive camping, bicycle rentals, miniature golf, and more. The state park is the only transient dockage on the island; however, ferry service is available to and from Put-in-Bay if you dock there.

Kelleys Island
Most commonly explored by foot, bike, golf cart, and/or kayak, Ohio's largest island is full of outdoor opportunities for all ages. The Glacial Grooves State Memorial is a favorite destination. There is also a popular downtown district that offers shopping and entertainment, as well as dining.
Transient dockage is available at several island marinas, including Craft's Lakeview Lane Marina. Kelleys Island State Park, on the north side of the island, offers free boat-launching ramps and trailer parking.
Catawba/Port Clinton/Marblehead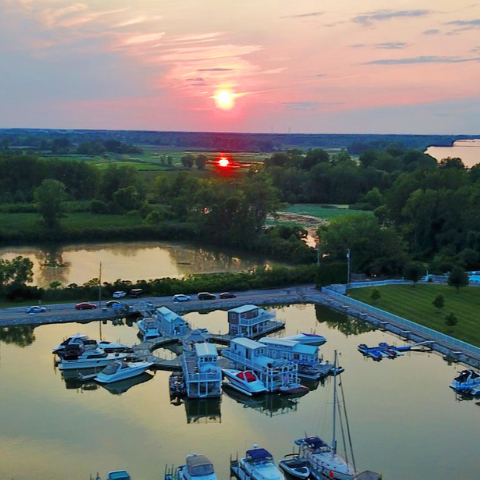 Named for the variety of grapes commonly grown here, the Catawba Island peninsula offers a historic winery, two modern micro-breweries, rolling orchards, and farm markets. Nearby Port Clinton is known as the "Walleye Capital of the World" for good reason. Here you'll enjoy world-class fishing, beaches, sightseeing, shopping, and entertainment. The adjacent Marblehead peninsula features eclectic shopping and art galleries, as well as the oldest continually operating lighthouse on the Great Lakes.
Public boat launch is available at Catawba Island State Park, Dempsey Sandusky Bay Wildlife Area, Little Portage Wildlife Area, Turtle Creek Fishing Access, and West Harbor Public Boat Launch. Transient docks are offered at East Harbor State Park Marina, Shrock's Marina, and Tibbles Marina.

Sandusky/Huron/Vermilion
Sandusky is known for its revitalized downtown featuring the gorgeous Jackson Street Pier and multi-use Sandusky Bay Pathway, museums, waterfront parks, unique shops, and fantastic dining. Cedar Point Amusement Park is in Sandusky as well with a large marina adjacent to the park, making easy access to family fun. Several indoor water park resorts entertain families year-round. In Huron it's all about beach-living with excellent fishing opportunities, championship golf courses, and live entertainment at the Huron Boat Basin Amphitheater. Vermilion is reminiscent of a New England coastal seaport that embraces its nautical heritage. A quaint downtown offers delicious dining options, beautiful flowers, and fun shopping as well as a scenic beach and lighthouse.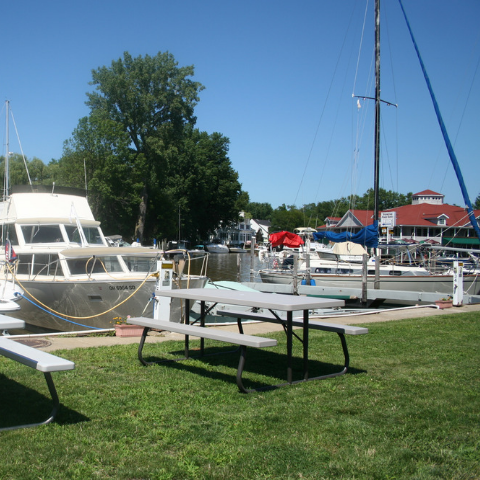 Visiting boaters can launch from a number of ramps, including the Huron River Boat Access, Shelby Street Boat Launch, and South Street Boat and Kayak Ramp. Transient boaters are welcome at a number of local marinas including Cedar Point and Castaway Bay marinas and the Paper District Marina in Sandusky. Huron welcomes guests at the Huron Boat Basin Marina and Sawmill Creek Marina and Vermilion offers Valley Harbor Marina, Vermilion Marina, Romp's Water Port, and two Municipal Docks.
Boaters visiting Shores & Islands Ohio should be aware of Ohio's boating laws and regulations. Contact the Ohio Department of Natural Resources – Division of State Parks and Watercraft at ohiodnr.gov for information. The local U.S. Coast Guard Station can be reached by marine radio at VHF-FM Channel 16.
With so many options to choose from, it's easy to see why Shores & Islands Ohio is ideal for boat-lovers. Get ready to find your Lake Erie Love! For a more detailed list of marinas and launch ramps, stop by or contact one of our local welcome centers for our marina directories.