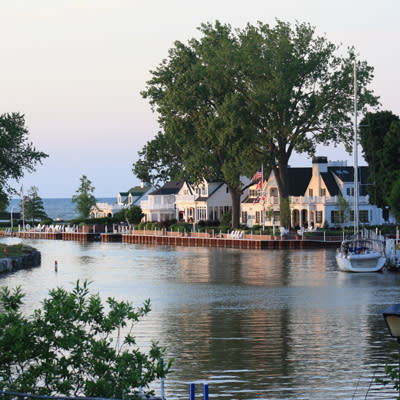 Lake Erie Shores & Islands is a diverse mix of coastal communities, island energy, and rural landscapes. From the liveliness of downtown Sandusky's renaissance and Put-in-Bay's entertainment district, to the laid-back vibe of Kelleys Island and the bucolic charm of historic Milan, the pulse of every town is distinct. Each with its own reasons to visit, see why each of our welcoming neighborhoods beckons to be explored.
Lake Erie Islands
South Bass Island/Put-in-Bay
Put-in-Bay on South Bass Island has been an ideal stopping point for boaters ever since Native Americans "put in at the bay" during their many journeys across Lake Erie. In 1864 the island also began its history as a visitor destination and today more than 1.5 million people enjoy the small town quality, Victorian Era buildings and quaintness of this island resort community each year. Put-in-Bay offers a wide variety of activities for the entire family. Most tour the island by bicycle or golf cart and take in attractions including: Perry's Monument, museums, a butterfly house, miniature golf, cave tours, a winery, arcades, and much more. When the sun goes down the village of Put-in-Bay lights up with exciting nightlife; dozens of restaurants and pubs offer a wide selection to please every taste and budget. Come winter, visitors enjoy world-class ice fishing on a frozen harbor dotted with colorful ice shanties.
Middle Bass Island
In the heart of the Lake Erie Islands neighboring both Kelleys Island and Put-in-Bay, Middle Bass blends nature and serenity on this small, secluded island getaway. Originally named Ile de Fleurs or Island of Flowers, visitors can find beautiful lake views, beaches, marinas, a historic district, a wildlife refuge, and an Ohio state park. $6 million has been allocated specifically for renovating the historic Lonz Winery property at Middle Bass Island State Park to create a facility that will invite a future public-private partnership.
Kelleys Island
The largest of Ohio's Lake Erie Islands is dominated by natural areas. It appeals to nature and bird lovers as well as those looking for a relaxing, quiet getaway. Its rocky shorelines, pristine beach, lush forests, fragrant vineyards, historical homes and friendly hospitality are inviting. Islanders welcome visitors to share in their laid-back lifestyle. Rent a golf cart or bicycle and encounter the world's largest, most spectacular glacial scoring, find Native American pictographs carved into a limestone boulder, hike miles of trails at the state park or build fairytale sandcastles at the beach. Downtown is the heart of the island where clothing and gift stores, miniature golf, karaoke, restaurants, and live entertainment bring rhythm to the island pace.
Coastal and Inland Communities – West to East
Genoa
Several historic landmarks, some registered on the National Register of Historic Places, await visitors to this one-of-a kind village. Local artists sell their crafts in many delightful shops. Explore Genoa's rich heritage, including the Lourdes Grotto and the restored Opera House.
Elmore
Take a step back in time! If you are looking for unique shops, antiques, historic sites and beautiful gardens, then Elmore is the place for you. This riverfront village, home of Schedel Arboretum and Gardens, has a charming small town atmosphere. Elmore hosts many festivals and events all year long for you to enjoy.
Oak Harbor
Welcoming is the word that comes to mind when you visit Oak Harbor. This lovely town located on the Portage River features quaint shops, historic buildings and cozy restaurants. Numerous celebrations such as October's Apple Festival draw thousands here each year.
Port Clinton/Catawba
Port Clinton is known as the "Walleye Capital of the World" for good reason. Here you'll enjoy world-class fishing, boating, beaches, sightseeing, shopping, and entertainment. Local festivals and events take place practically every weekend. Don't miss the unique New Year's Eve tradition of Walleye Madness at Midnight where a 20-foot, 600-pound fiberglass walleye is dropped from the sky to mark the beginning of the New Year.
Lakeside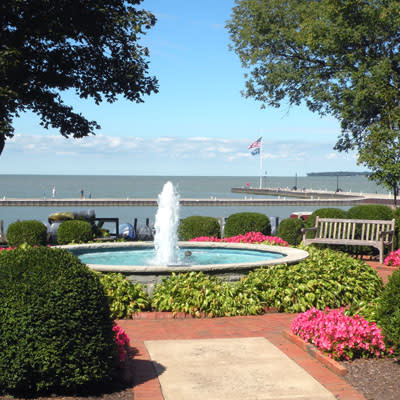 Located in Marblehead, this Chautauqua community has been nurturing mind, body and spirit for more than 140 years. The Lakeside experience offers something for all ages... swimming, sailing, relaxing on the beach, miniature golf, shuffleboard, movies, arts & crafts, cultural events, and much more. Plus a summer season of entertainment in the 3000 seat Hoover Auditorium.
Marblehead
Do not forget your camera, any visitor to this picturesque town will find numerous opportunities to use it! The oldest operating lighthouse on the Great Lakes is located here, along with numerous other historical attractions. Hometown restaurants and quaint gift shops round out this lakeshore experience.
Castalia
Most remembered for the former Blue Hole attraction, this rural village is known for its mysterious "blue holes" - seemingly bottomless ponds filled with spring-fed water that lacks oxygen. Visit the Castalia State Fish Hatchery for an up-close view of one of these "blue holes" and discover coldwater trout streams and a picturesque landscape, or hike the Castalia Quarry Reserve where you can see the islands from the elevated viewing deck.
Sandusky
This growing destination benefits from the popularity of the world class amusement park, Cedar Point, and is known as being Ohio's Waterpark Capital due to the popularity of year-round indoor waterpark resorts. In season, ferries and island-hopping cruises depart from downtown daily. Flooded with numerous attractions, Sandusky surprises with its beautiful parks, downtown architecture and wealth of history, including its role in the Underground Railroad passage to freedom. The iconic Sandusky State Theatre entertains with an eclectic mix of musical, theatrical, dance, and comedy performances.
Milan
Milan is most recognized as the birthplace of inventor Thomas Edison, but visitors to this scenic village will discover much more. Here you can stroll a picturesque town square, encircled by unique specialty and antique shops housed in historic buildings. Tour the birthplace of Edison and a seven building historical museum complex or enjoy special events in the town's square.
Huron
This "Great Lake Place" enjoys amazing Lake Erie views, natural sandy beaches, excellent fishing opportunities, championship golf courses, and serene canoeing and hiking along the Huron River. Its ever-popular summer theatre and live outdoor entertainment and events by the water shouldn't be missed. When temperatures drop, enjoy snow-shoeing, cross-country skiing, and ice skating at the lakefront Sawmill Creek Resort and adjacent Sheldon Marsh.
Berlin Heights
This charming village is known for its abundant orchards and farm markets including Quarry Hill Winery and Farm Market, perched high atop a rolling hill overlooking Lake Erie in the distance. Rural Berlin Heights is also home to Edison Woods MetroPark. The park features over seven miles of trails that are ideal for hiking, cross country skiing, birding and horseback riding.
Vermilion
Reminiscent of a New England coastal seaport, this quaint historic town embraces its nautical heritage. A lighthouse and public beach are walking distance to some of the most unique shops and eateries in the area. Savor locally-made, sumptuous chocolates or big juicy burgers while enjoying outdoor live music of summer concerts, annual festivals, and special events.