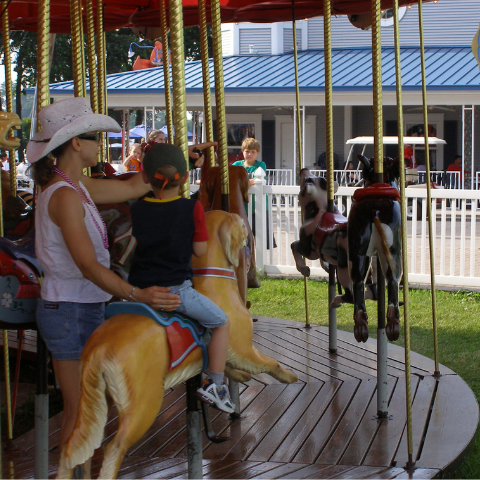 Published June 2019
Do you think you know Put-in-Bay? Did you know there is a super family-friendly side to the island? Visit the island during the week or on less-busy weekends and you'll find a quiet community that welcomes children with a variety of activities for all ages. The Put-in-Bay Chamber of Commerce offers a "Kids Love Put-in-Bay" brochure, filled with highlighted island destinations perfect for a family getaway.
This "trail" of kid-friendly island activities features 15 suggestions, including parks and nature areas, historical and educational attractions, and amusements. Destinations such as:
Perry's Victory and International Peace Memorial – Children under 16 years old ride free to the observation deck, some 317 feet above the island with spectacular views of Lake Erie and adjacent islands. Operated by the National Park Service, the visitor center often offers children's programs including a Junior Park Ranger program.
Kimberly's Carousel – One of the last all-wooden carousels in the U.S., the young and the young-at-heart will enjoy a spin on this historical treasure.
DeRivera Park – Located in the center of town, this park hosts two amazing play areas, one for younger kids and one for older kids. Plus, the fountains, statues, and green space make for a welcome respite in the middle of all the island activity.
Dodge Woods StoryWalk Trail – Each stop on this beautiful trail through the woods takes you through the pages of a story. Definitely a hidden gem among island attractions, it's a great way to discover nature and a love for literature at the same time.
Aquatic Visitors Center – This facility, operated by The Ohio State University's Stone Laboratory mid-June-late-August, offers a view at Lake Erie ecology and fish. This free facility offers guided tours and interactive displays. As a bonus, kids under age 16 can fish from its dock, equipment and bait provided.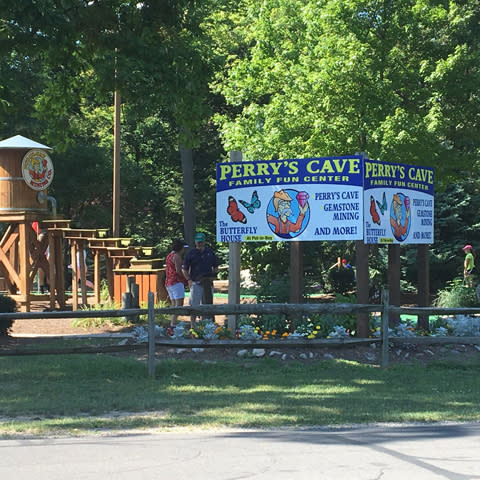 More island family fun can be found in the Kids Love Put-in-Bay brochure, available at the Lake Erie Shores & Islands welcome centers, the Put-in-Bay Chamber of Commerce, and online at https://www.visitputinbay.com/put-in-bay-kids-brochure/.
There are a variety of family-friendly restaurants on the island as well. The entire crew will love Frosty Pizza, an island tradition for more than 60 years. Dairy Isle is known for their ice cream treats, but also offers a full menu of burgers and hot dogs, as well as healthier wraps and salads. The Boardwalk serves their kids meals in a souvenir frisbee. Pasquale's Café offers home-cooking in a quiet, hometown diner atmosphere.
Of course, just getting to and around the island are part of the fun, especially for kids. It's easy to take children on both ferry services. Miller Ferries offers round-trip tickets for kids ages 6-11 for $3 and those 5 and under ride for free. Similarly, on the Jet Express from both Port Clinton and Sandusky children ages 12-16 ride round-trip for $15, ages 6-11 ride for $6, and 5 and under are free. Once on the island, rent a golf cart for some open-air riding enjoyment, or rent bicycles for the whole fam. Another get-around option, much-loved by families, is the Island Tour Train. The tram offers a narrated island tour, where passengers learn about the history of Put-in-Bay as well as some of the main attractions on the island. The tour train offers on/off privileges at a number of popular stops as well, allowing you to maximize your time checking out all the island fun. A favorite stop on the tour is Perry's Cave Family Fun Center which also includes the Butterfly House.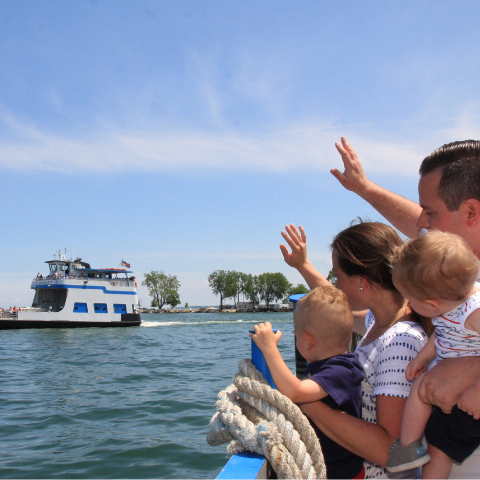 Put-in-Bay hosts a number of fun-for-the-whole-family events as well. Don't miss the 3rd annual Put-in-Bay Music Festival June 8, the 45th Founder's Day Celebration June 15, and Pyrate Fest XI June 21-23.
Ready for your family island adventure? Don't forget your Shore Savings Card – available at SHORESandISLANDS.com or at either of our local welcome centers. This card offers discounts for area attractions, including ferry, golf cart rental, dining, shopping, and more.