Published March 2022
When planning a group trip to Shores & Islands Ohio, be sure to include a visit to Put-in-Bay on South Bass Island on your itinerary. Groups of all types and sizes love to visit this beautiful Lake Erie island and we help make planning your island excursion easy.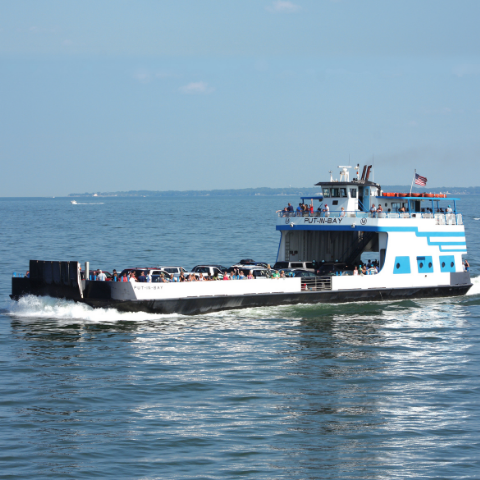 When planning your trip, it all starts with transportation to the island. There are a few different options to get there from the mainland. Here, we break them down for stress-free planning.
Miller Ferry runs daily trips from its Catawba mainland dock for both vehicles and passengers, Spring, Summer and Fall. This traditional ferry offers primarily open-air seating, with an interior cabin available as well. Transportation time is about 20 minutes with trips as often as every half hour and as late as 9pm during peak season. Miller Ferry provides group discounts, free parking, and additional service to Middle Bass Island.
Jet Express offers seasonal, direct-to-downtown, passenger-only service. This high-speed catamaran operates two mainland ports - Port Clinton and Sandusky. Transportation time from Port Clinton is about 30 minutes. The Jet Express offers comfortable, indoor seating as well as an open-air deck and is the only ferry to offer late-night service, with runs sometimes as late as after midnight. The Sandusky boat also stops at Cedar Point and Kelleys Island, so the total excursion time is about 45 minutes. 
Goodtime I Lake Erie Island Cruises offers an island-hopping trip to Put-in-Bay, which includes a stop at Kelleys Island. Take in the beauty of Lake Erie, and enjoy live narration of the sights along the way on the Goodtime I daytime tour. You will cruise past famous Cedar Point, historic Johnson's Island, the Marblehead Lighthouse, and much more.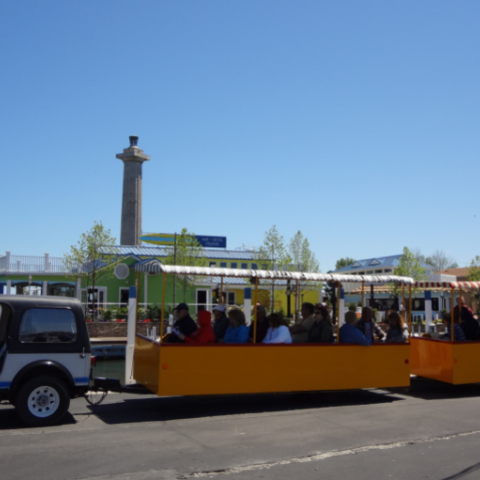 Once you are on the island, let Island Transportation Company take care of your group. Island Transportation offers groups of 25 or more with two different packages, both of which can include round-trip boat tickets on either the Miller Ferry or Jet Express. Your group can choose from their hourly tour package or an all-day inclusive package.
All Day Inclusive Package – A private tour train with an experienced guide will meet your group at the Miller Ferry or Jet Express dock once you arrive on the island. You will then be treated to a one-hour, narrated island tour with door-to-door service all day with tour stops at two attractions of your choosing. A group lunch is included with your package, along with free time for the group to explore downtown Put-in-Bay and do some shopping. At the end of the day, your tour train guide will return to the dock for your trip back to the mainland.
Hourly Tour Package – You may choose from one-, two-, or three-hour group tours. A private tour train with an experienced guide will meet your group at the Miller Ferry or Jet Express dock once you arrive on the island. With all hourly packages, you will be treated to a one-hour narrated island tour. The two-hour package includes a stop at one attraction of your choosing, while the three-hour package includes a stop at two attractions of your choosing.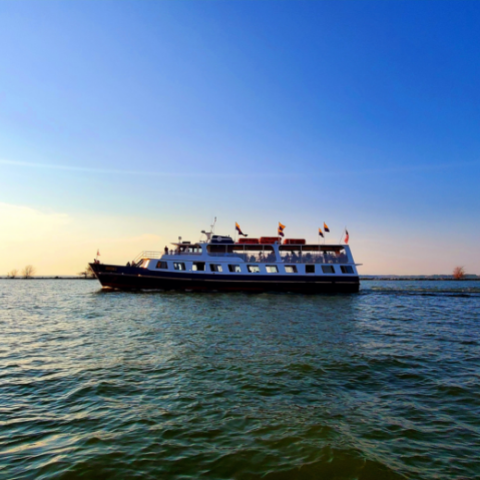 You're probably wondering, about the attraction options? Here is a quick overview of what is available to accommodate group tours.
Perry's Cave, registered as an Ohio Natural Landmark, is a natural limestone cave steeped in historical tradition and lying 52 feet below the surface of South Bass Island. Here your group can also enjoy a visit to the Butterfly House or the free antique car museum.
Heineman Winery and Crystal Cave, is the home of the world's largest geode, and offers wine and/or grape juice tasting from island-grown grapes.
Perry's Victory and International Peace Memorial was established to honor those who fought in the Battle of Lake Erie, during the War of 1812, and to celebrate the long-lasting peace among Great Britain, Canada, and the United States. While there, be sure to take a trip up to the observation deck of the monument standing 352 feet over Lake Erie.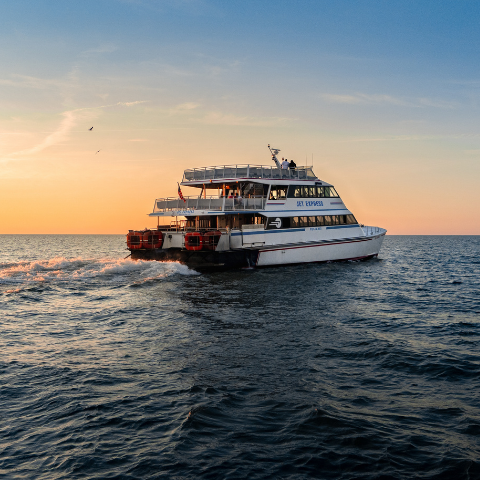 While there are many other options available, these are the most popular and easiest to fit in a one-day itinerary. If you are looking for a multiday trip we recommend working with any of our 10 Group Tour Co-Op Partners, all who work together to create a fun and varied itinerary which includes the thrill of roller coasters, a safari adventure, touring a Japanese garden, a haunted house, and much more. While all of our attractions love group business, our co-op partners go above and beyond to make sure memories are made by each group! Plan your group's island getaway now! For planning and booking assistance, reach out to Shores & Islands Ohio Group Accounts Manager, Tiffany Frisch, at tiffany@shoresandislands.com.