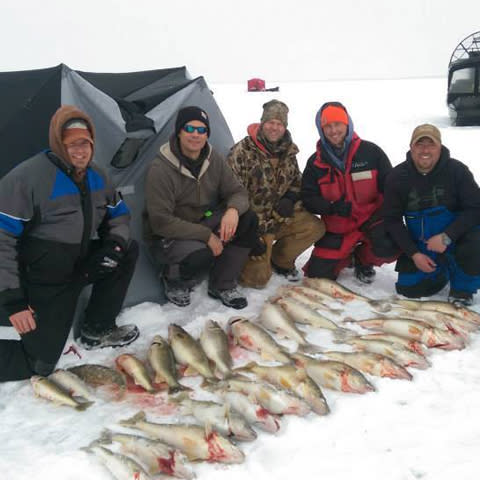 Published January 2018

January's cold temperatures have driven a lot of people inside where it's warm. Here in Lake Erie Shores & Islands, "inside" sometimes means a shanty on top of a thick layer of ice. That little hut contains a heater, a couple of stools, a hole in the ice, and the chance to catch a lot of walleye! Ohio's Lake Erie Shores & Islands is known as the Walleye Capital of the World. Fishing enthusiasts know that some of the best catches come from a hole cut through several feet of ice on a frozen Lake Erie. The recent cold snap in northern Ohio has brought about an early influx in area ice fishing as the lake is already nearly 41% frozen, especially near the shores. We caught up with knowledgeable ice fishing guide, Captain Tony Muscioni from Air1 Airboats, and asked him about the experience.
LES&I: Tell us a bit about your business, Air1 Airboats.
Captain Tony: We are an ice charter business for those who love ice fishing, which I am one of them. We run out of West Catawba State Park. We fish around all the Lake Erie islands as far as West Sister. Charters start in January and continue through March. We use an enclosed heated airboat for comfort, warmth, and SAFETY.  You can find us online at icefishinglakeerie.com and on Facebook. In the summer we operate fast and fun airboat tours on Lake Erie, near Cedar Point. It is a great, great time!
LES&I: What kind of fish do you catch?
Captain Tony: We mainly catch walleye.
LES&I: Do I need a license for ice fishing?
Captain Tony: Yes our guests do need an Ohio fishing license.
LES&I: Is there a catch limit in the winter?
Captain Tony: There is a six limit on walleye.
LES&I: What kind of equipment do I need to fish and what do you supply if I go with you?
Captain Tony: You will need to bring fishing poles, lures, gaff, and a shanty if you want. We supply bait, help you set up, drill the hole, and help you fish as much as you need. We fish with you and assist all we can.
LES&I: How thick does the ice need to be for ice fishing to be safe?
Captain Tony: We fish on four to five inches minimum.
LES&I: Why should I hire an experienced guide (as opposed to trying it on-my-own)?
Captain Tony: An experienced guide will help you with a lot of things you may not know or understand about the ice on Lake Erie. We will also help you locate fish and keep you safe. I am a U.S.C.G. licensed captain and a licensed Ohio Guide on the Western Basin of Lake Erie.
LES&I: What makes Lake Erie Shores & Islands a good area for ice fishing?
Captain Tony: The Western Basin of Lake Erie is one of best walleye fishing areas in the world, also some the biggest fish you will catch! That is why fishermen come from all over U.S. and Canada to fish our waters year-round.
LES&I: Thanks Captain Tony!
Whether you're a pro or wanting to try it out for the first time, Lake Erie Shores & Islands has what you need for a memorable day on the ice, including ice fishing guides and resources. See our complete list!