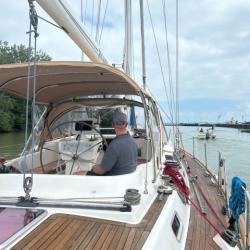 I love Yacht Rock. So, it's fair to say Christopher Cross' "Sailing" is what first came to mind when we got the invite to try out a sailing excursion on Lake Erie. A few members from the Shores & Islands Ohio team recently learned a bit more about what guests can experience when they book a sailing tour with Captain Jake Burgy on the Valkyrie with Lake Erie Sailing Charters.
Our team was invited for a half-day sail and Captain Jake was amazing. We found the boat near the last slip at Brands Marina, just over the drawbridge on SR 163 in Port Clinton, across the street from Dock's Beach House and just past the Commodore Perry Resort. Captain Jake greeted us with a wave and a friendly smile and invited us aboard. Once on the vessel we removed our shoes, as is customary on boats, especially those with beautiful teak decks! He gave us a safety talk, showed us where the life jackets were, talked us through some emergency procedures, and invited us to check out the boat.
He used the boat's motor to maneuver out of the slip and through the channel towards Lake Erie. Fun fact: the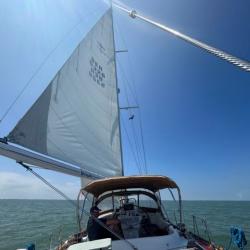 Port Clinton drawbridge goes up on the half-hour so we had made it onboard just in time. Otherwise, we'd have been sitting in the marina for another 30 minutes. Going under the drawbridge was neat and then we passed the Jet Express loading passengers for its next excursion to Put-in-Bay. We waved at some folks enjoying beverages at their upstairs bar, Island Port. As we slowly made our way downriver, we waved at folks fishing and enjoying the beach at Waterworks Park and we passed a jet ski making the same journey towards open water.
Once out of the channel and into the wide-open waters of Lake Erie, Captain Jake shut down the motor and hoisted the sails. It was a fairly breezy day and in no time, we were sailing along the Catawba Island coast at 8 knots and it was smooth sailing! We enjoyed the views of the Catawba cliffs, beautiful waterfront homes, and the Catawba Island Club's restaurant and marina. We cruised up the coast until we came around the tip of the peninsula and saw our friends at the Miller Ferries to Put-in-Bay! Admiring views of Mouse Island and Put-in-Bay not far away, we waved at the passengers on the MV Mary Ann Market enroute to a day of fun on the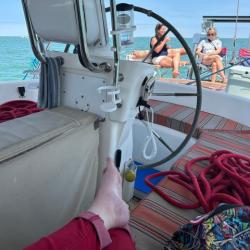 island and turned back towards the west. We could spy the Davis Besse Nuclear Power Plant in Oak Harbor off in the distance and our return sail was much slower, at about 4-5 knots. It became a very relaxing sail and the sun had peaked through the clouds. Listening to country music (Captain Jake offers your choice of Sirius XM satellite stations), soaking up the sun, and enjoying each other's company made for a very enjoyable cruise. The boat also offers a cooler and storage if you choose to bring food and/or beverages aboard.
Returning to our home port in Port Clinton, we enjoyed views along the coast including condominiums with private beaches, the yacht club, and more people enjoying shoreline fishing or a cold drink along the riverside. Taking in the sails and going back to motor, we cruised upriver towards town. The drawbridge opened to welcome us back to the marina and Captain Jake effortlessly did the job of several deckhands as he pulled into his dock and tied up. It had been a beautiful trip and a fun experience for all!
Lake Erie Sailing Charters offers a variety of sailing charter options for up to six passengers on the beautiful 56-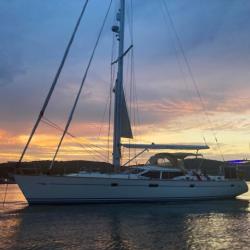 foot Oyster Yacht, Valkyrie. She sails from Brands Marina in Port Clinton and can take your crew to a variety of locations, including the Lake Erie islands. Select from a half-day sail (about 5 hours), full-day sail (up to 10 hours), a 3-hour sunset cruise, or even an overnight charter. Valkyrie boasts a lovely cabin below deck, with sleeping quarters for up to four persons, restrooms, galley, heat/AC, hot water, and most all the comforts of home.
For your sailing trip, you'll enjoy a spacious teak deck, a large shaded cockpit, and even a swim platform if you'd like to swim at anchor. A trip with Lake Erie Sailing Charters is great for families, special occasions, and small parties.  A half-day sail allows enough time to sail past the islands and allow for a bit of swimming. The full-day sail allows you to dock and visit the islands. Captain Jake is very knowledgeable about the area and acts not only as captain, but as tour guide. The sunset cruise is the perfect amount of time to relax and enjoy a few cocktails as you watch the sun go down.
Reservations can be made online and gift certificates are available and make a great adventure gift. Valkyrie sails through the end of September. Make a sailing excursion part of your Shores & Islands Ohio getaway with Lake Erie Sailing Charters!