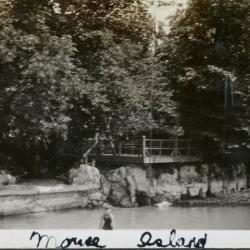 Part of our Time Traveler Series
Rutherford B. Hayes may not be the first person to come to mind when one recalls presidential history, but his presidency, while contentious, has had a lasting impact on our nation. His presence in the Shores & Islands Ohio region and its neighboring communities also continues to have an influence, particularly with the presence of the Rutherford B. Hayes Presidential Library & Museums in Fremont. While President Hayes' life and presidency is fascinating (his election was so controversial his opponents even referred to him as "Rutherfraud"!), for the purposes here we will give just a brief synopsis. If you are interested in more detail, you can learn more at the Rutherford B. Hayes Presidential Library & Museum's website.
Rutherford B. Hayes was born in 1822 in Delaware, Ohio, his father having died two months prior to his birth. Hayes attended school in Delaware, then Norwalk, Ohio moving on to Kenyon College and eventually Harvard Law School. In 1852 he married Lucy Ware Webb, who graduated from the Cincinnati Wesleyan Women's College (eventually making her the first president's wife to have graduated from college). As many men of age did, Hayes volunteered for the military during the Civil War, fighting with the 23rd Ohio Volunteer Infantry. Towards the end of the war, Hayes (without even campaigning) was elected to Congress in 1864. After serving two terms in congress, he was elected Governor of Ohio. After two terms as governor, he retired to Fremont in 1873. After winning a third term in 1875, he became the presidential candidate for the Republican Party. After narrowly winning the contentious race, he was secretly sworn in on March 1877, beginning what continued to be a controversial term.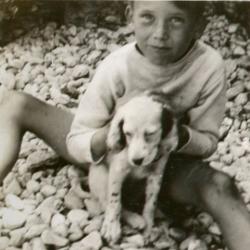 So other than proximity to our region, what were the Hayes' connections to the Shores & Islands Ohio region? One major connection to the area is that President Hayes (and later his descendants) owned their own island in Lake Erie! Mouse Island is located just north of the Catawba peninsula (it can be seen from the Miller Ferry dock on Catawba). To quote historian Henry Howe, "There is something romantic in the idea of having an island all to one's self. Ex-President Hayes felt it years ago when his children were young, for he bought a mile or so off the [Catawba] peninsula…a very small affair, so small one might someday take a fancy to pick it up, slip it in his vest pocket as he would his watch and walk off with it." The island was purchased from Ira Dutcher in 1874 by Hayes, Ralph Buckland (a Fremont attorney), and Dr. L. Q. Rawson. Hayes felt that this would be the perfect spot for his family's recreation. In fact, one of Lucy's favorite pastimes was fishing, which was plentiful on and around the island. When Hayes returned to the area during his presidency, he often spent time on Mouse Island. He spent so much time on the island that it became known as the "Summer White House."
While many attempted to buy the island (included the owners of the famed Hotel Victory at Put-in-Bay), the Hayes family owned it for over 90 years.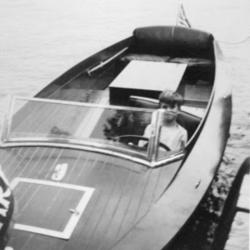 In 1879 Hayes purchased Dr. Rawson's portion of the island and traded land in Nebraska with the Bucklands for their portion of the island. Over the years Hayes' descendants built two cabins, a tennis court, and numerous docks on the island; eventually the island even had running water. Lake and water recration ran in the Hayes' blood, as President Hayes' grandson, Admiral Webb C. Hayes, owned the Dart Boat Company of Toledo, Ohio. These inboard mahogany runabouts were known for their speed and seaworthiness and were sold around the world. Unfortunately, after much initial success, the Great Depression took its toll and the company closed in 1933.
With the former president's grandchildren not residing in the area, the maintenance became too much and in 1966 the island was sold to a private buyer. The island is still privately-owned and has no public access. However, it has been said, that the remains of the local stone fireplaces and some crumbling building foundations still remain on the now forested island.
Another connection between President Hayes and the Shores & Islands region is the historic Hotel Lakeside. Hayes was very active with his military regiment after the war, he even referred to his Civil War service as the "best and happiest portion of my life." It was common at the time for military groups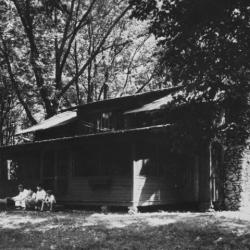 to have reunions annually. We know that Lakeside Chautauqua (and Hotel Lakeside) hosted one such reunion of the 23rd Ohio in 1883. Additionally, it is likely that many of these men visited Mouse Island as well. In addition to participating in the 23rd Ohio reunion, Hayes also frequently attended reunions of the Army of the Tennessee, Army of West Virginia Society, and the Military Order of the Loyal Legion of the United States (MOLLUS). Hayes was even elected Commander-in-Chief of MOLLUS in 1888 where he helped increase membership to over 8,000.
While his presidency was often fraught, Hayes' contributions to our country still remain today. His nearby home, and his strong connection to our Shores & Islands region is another layer in the rich historical fabric of our area! Although we can't venture to Mouse Island, we can venture to Rutherford and Lucy's home, library, and museums at Spiegel Grove in nearby Fremont, the FIRST presidential library to be created! 
Special thanks for the Rutherford B. Hayes Presidential Library & Museums for their assistance in research and photos.