Published March 2022
As part of our ongoing Like a Local series, where we interview Shores & Islands Ohio business owners and local personalities, S&IO recently checked in with Kelleys Island mainstay, the Kelley's Island Wine Company. Meet Abbey Rosado, General Manager.
S&IO: Tell us about your family history in relation to Kelleys Island and the winemaking industry. As a multi-generational winery, what generation started the business and who is still involved today?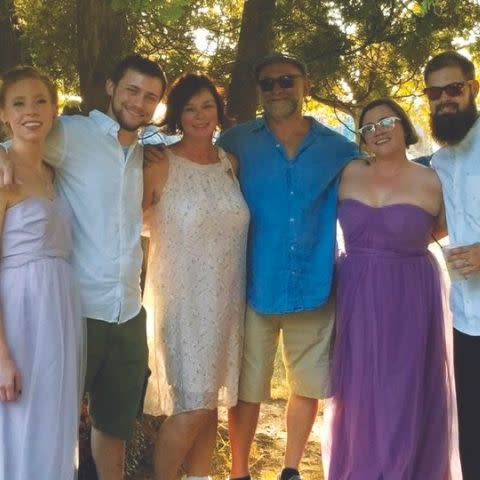 Abbey: The Zettler's began making wine in the early 1980s on Kelleys Island. My grandfather (Toby) and father (Kirt) opened the Kelley's Island Wine Co. in the Nick Smith house where the KI Cantina building is now. In the early days it was 100% family owned and operated by my dad, mom, grandpa, grandma, aunts, uncles, and even cousins! The operation moved into the current building in 1998, at which time most of the day-to-day operations were handled by my parents, Kirt and Robby Zettler. Currently my whole family is involved. My husband, Rodney and I oversee everything as the General Managers, although all of our family members are involved in various ways. From my sister running the main tasting bar, to my brother helping in the kitchen of the cantina, even their significant others have worked or still work here. The employees that spent their summers here leave as family, and still visit and stay in touch. It's a family business through and through.
S&IO: What is the history of wine making on Kelleys Island?
Abbey: There is a long history of winemaking on Kelleys Island dating back to the early 1800s. At one time there were as many as 26 wineries operating at once here. According to my father, Kirt, the original Kelleys Island Winery, was built in 1872 and thrived until prohibition. It was one of the largest wineries east of the Mississippi. Additionally, every plantable acre on the island was vineyards, totaling 750 acres at its peak in the early 1900s. After prohibition ended, several wineries re-opened with the last one closing in the 1950s. The Kelley's Island Wine Co. resurrected the island's wine making industry in 1982.
S&IO: What varieties of wine do you produce and how much of it is grown directly on the island?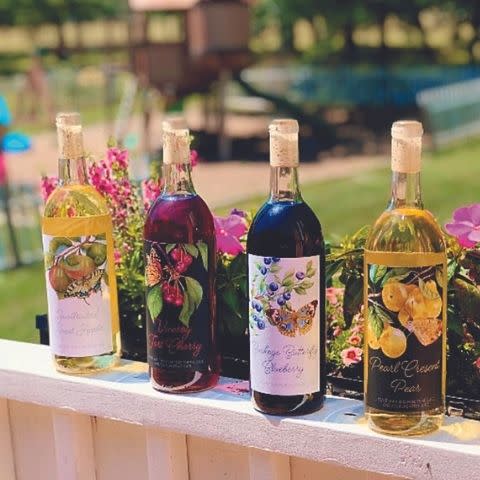 Abbey: Currently we produce a total of seven wines ranging from dry reds to classic sweet island wines. We currently have an 1.5-acre vineyard that produces exclusively dry red grapes. One of my favorite varieties is our Glacial White. It is a semi-dry Vidal blend, that I feel really exhibits how a grape that grows well in this climate can make a well-balanced, semi-dry wine.
S&IO: What are the challenges involved with operating a wine business on an island?
Abbey: There are so many challenges in operating any business on an island, but sometimes I think people tend to forget that we produce wine on site here. While balancing a shrinking labor force and short season, we also must find time to filter, bottle, and label wine during our peak season. There is always something happening here. This place never sleeps from May 1st through September 30th. Then, when things calm down in October they really pick up in the cellar, with new product coming in and the start of the winemaking season beginning. Just when you have a second to catch your breath in March, things begin to open, and it all begins again. We love it.
S&IO: What makes your winery unique/different from other wineries in the region?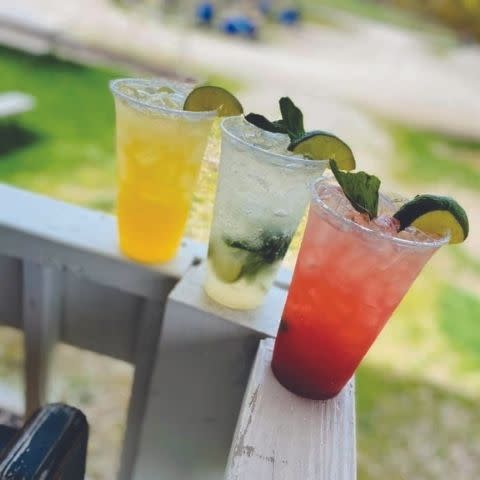 Abbey: I would say our three-acre property with a little bit of everything, makes us really unique. We offer a full winery, bar, and restaurant, as well as a Cantina serving up margaritas and tacos. There is a playground for kids, goats to feed, and areas where you can sit and enjoy a meal with your pet. My mom always used to say, this place is great because she could enjoy a glass of wine and just let the kids be kids. We can accommodate your entire family and even the pickiest of eaters (and drinkers). There is literally something for everyone!
S&IO: Do you have a favorite wine and food pairing you would recommend that is available at your location?
Abbey: One of my favorite pairings is a glass of Inscription White and our Beemster cheese plate. Beemster is an aged goat Gouda that pairs amazingly with the Sauvignon Blanc blend.
S&IO: Anything exciting or new planned for the 2022 season? What special events do you have planned?
Abbey: Every year we tend to add something to the property! We haven't figured out what 2022 will bring, so you may just have to wait and see. My vote is a peacock or llama. My dad wants a putt-putt course. Maybe a putt-putt petting zoo? Who knows!
One of the events I am most excited about is our Wine and Art Fair on September 17. We are planning to really expand this event, to include artists and vendors at all three island wineries. (Crooked Tree Vineyard, Monarch Winery, and The Kelley's Island Wine Co.) Guests will be able to wander the new Kelleys Island Wine Trail and enjoy island-wide art and wine.
S&IO: Within the past couple of years, you opened another island venture (Monarch Winery & Butterfly Box.) What prompted the decision to open another winery and please tell us a bit about that business?
Abbey: My husband Rodney and I opened the Monarch Winery this year, as our own little piece of the island dream. We make a line of sweet and dry fruit wines as well as wine slushies. We are looking to add a couple of dry grape wines this coming year as we really enjoy making (and sampling) dry reds and whites. It's always fun to start something new and we have really enjoyed opening a new operation on Kelleys Island.
S&IO: What is your favorite thing about living and working in the Shores & Islands region?
Abbey: There are so many things I love about living and working here. I love being a part of the small island community and seeing various parts of the island grow and change with the times, while remaining nostalgic and a little stuck in time somehow. It's a great place to live.
S&IO: If you had friends visiting from out of town, where would you take them?
Abbey: It would really depend on the season. In summer, we would probably head to the beach and play tourist for a day. Visit all the shops and enjoy dinner outside at the Island House and watch the sunset at West Bay Bar and Restaurant. Spring and fall you will find us at Captains Corner Bar & Grill playing pull tabs and meeting all my favorite island characters, if it's Sunday we are at the VFW for a turkey shoot. No matter the season, we always finish the night with a nice glass of red at the Winery with family and friends.
S&IO: Perch or pizza? Where is your favorite place for either?
Abbey: I love perch and pizza; it just depends on what I'm in the mood for! The Wine Co. serves up a mean pizza, my favorite is the Fun Guy. It's a white sauce pizza with mozzarella, parmesan, mushrooms, garlic aioli, and chives. If the perch is fresh, and the service is good, any place downtown can satisfy my cravings! I usually hit Captains Corner or The Village Pump. The Island House has an amazing perch or walleye special and their cocktails are tough to beat.
S&IO: Lake or land? Would you prefer spending time on the water or by the shore?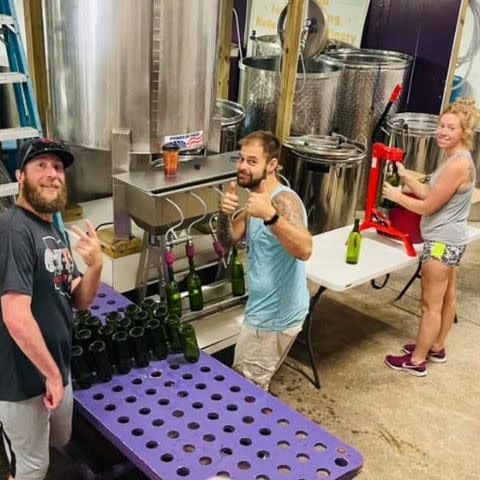 Abbey: I love the lake and being on the shoreline, but I am not as crazy about being on the water. Don't get me wrong, on those perfect days, being on the boat is like dreaming you're in a different place. Rodney would spend any spare moment on the lake, he loves driving our boat and just being on the water.
S&IO: Anything else to add regarding how to enjoy the region "like a local?"
Abbey: It's all about your mindset and learning to sit back and relax. You may not have great Wi-Fi, but the view is like no other in the world. Remember to set your phone on silent and enjoy the company of the people around you. One of the best ways to enjoy the region "like a local" is to be KInd. (No, that's not a typo!)