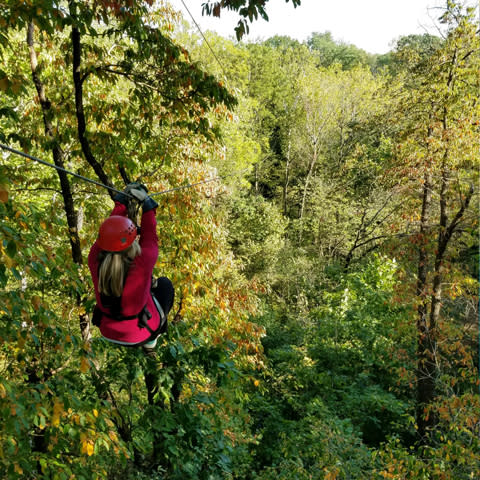 Updated September 2021
Timing is everything, especially when it comes to seeing beautiful fall colors in the great state of Ohio. The leaves have already started to change color and will continue through October, with mid to late-October being the peak viewing time. While there are many traditional ways to see the leaves changing colors, we decided to be a little more adventurous and have compiled a list of the most extraordinary ways to experience fall foliage at Ohio's Lake Erie Shores & Islands.

Zipline Tours - Zip into autumn with two and half hours of non-stop aerial action at Common Ground Canopy Tours. Traverse a series of seven zip lines and 13 treetop platforms that connect a network built high into the trees over the Vermilion River Valley. Three aerial bridges and two spiral staircases add to this thrilling adventure. Reach speeds up to 40 mph as you whisk past towering trees and get a bird's-eye view of richly-autumn flora and fauna below.
On an Island - Take a ferry to Put-in-Bay on South Bass Island or Kelleys Island to see the vibrant fall colors blanketing each island. As you dock, take in the breathtaking and welcoming autumn colors along the Lake Erie shoreline. As the islands are surrounded by water, moisture is retained in the air longer and therefore the leaves change color later in the season and don't fall off the trees as quickly. Explore the island via golf cart or bicycle – each island has a number of natural areas and pathways through majestic woods.
Segway Tour - Take a guided Segway tour through downtown Sandusky with Sandusky Segwave. View the foliage in the parks and along the waterfront as you learn about the history of the city which will celebrate its bicentennial in 2018. Tours include Segway instruction along with a historical narrative about city architecture and landmarks and are an unexpected way to discover this shoreline community.
Electric Bikes, Scooters, and More - Cruise through area parks and natural areas a whole new way with an electric bike or scooter rental. Learn all about ways you can "scoot around" the region here!

Helicopter Tours - Paratus Air offers a different kind of birds-eye-view of the fall landscape in Port Clinton, Ohio. 15- and 30-minute flights are available with views of Sandusky Bay, Cedar Point, Marblehead peninsula and the Lake Erie islands. ​Please contact 914.FLY.HELI to schedule your helicopter tour today.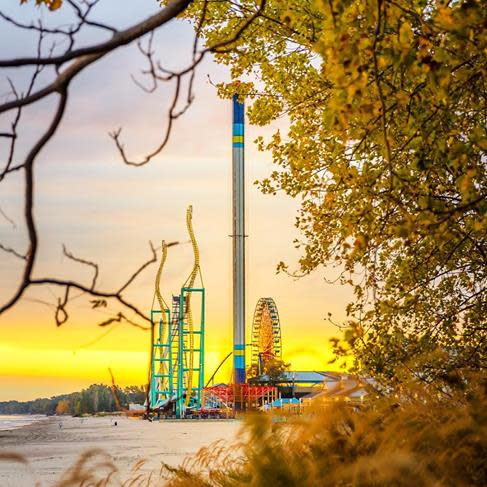 On a Roller Coaster - Soar through the brightly colored landscape on one of Cedar Point's famous roller coasters for an up close and personal view of the changing leaves. The Sky Ride is a more relaxing option to enjoy the view from approximately 100 feet in the air along the main midway, or steam through the woods on the Cedar Point & Lake Erie Railroad. As an added bonus, Cedar Point celebrates the fall season with HalloWeekends. Highlights include six haunted mazes and houses, six outdoor "fright zones," a Halloween parade, special fall décor, and much more.
There is a short window of time to experience the beauty of fall. Start planning your getaway today. See you in Ohio's Lake Erie Shores & Islands!