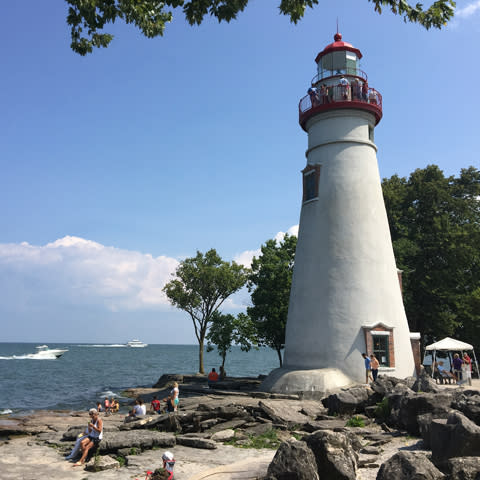 On Tuesdays this summer, we are exploring the great cities and towns that make up Ohio's Lake Erie Shores & Islands for #TravelTuesday. Last week we explored the communities of Castalia and Bay View. This week we visited the quaint waterfront village of Marblehead. Here's a quick look at some of the places we explored in one day.
Information Resources

Chamber of Commerce – There is something for everyone in Marblehead! Whether you are looking for information on the area's history, the perfect location to cast a line, the best place to grab a bite to eat, or a unique shopping experience, The Marblehead Peninsula Chamber of Commerce has the answers to your questions. 
Play
Winery – Rocky Point Winery at Red Fern Inn, located on the first floor of the former Marblehead Schoolhouse building, has more than a dozen different types of wine available for tasting and purchase. The winery also serves many craft brews and unique distilled spirits. Enjoy live entertainment on the outdoor patio. The new pavilion is a great addition for weddings, receptions, and private events.
Boat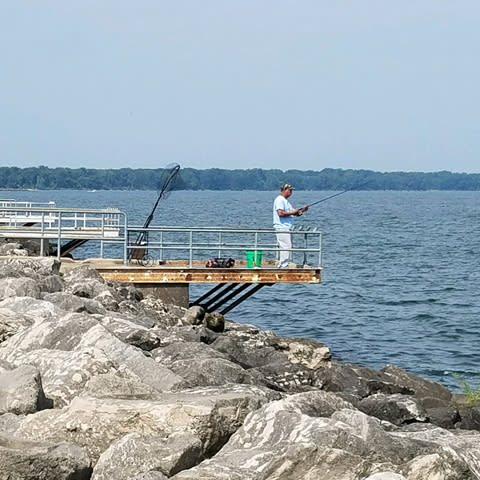 Marinas – There are a few marinas for boaters to find slips and services: Lakevue Marina, Shrock's Marina, and Tibbel's Marina.
Fishing charters – No matter the season, Lake Erie's southern shore is a freshwater fishing hot spot where both experienced anglers and beginners join in the fun. Although most known for walleye, perch, and smallmouth bass, in certain waters throughout the year you will also find steelhead trout, white bass, rock bass, largemouth bass, catfish, and other species. Charter captains and walk-on head boats make the fishing experience easily available for all ages. Contact Dunlap's Fishing Charter Service, Reef Bobber Charters, and Tibbels Fishing Charter Service to make your reservation today.
Fishing Access - There are a number of access areas to cast a line: Dempsey's Fishing Access, Mazurik Area Access, and more.
Explore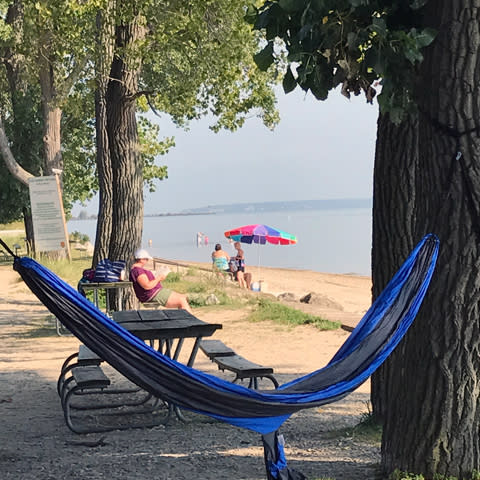 Outdoor recreation – Located on the shores of Lake Erie, 1,831-acre East Harbor State Park has unlimited opportunities for enjoying the outdoors. The park provides the perfect setting for Lake Erie adventures including a beach for swimming, hiking, biking, boating, fishing, birding, camping, and more. Those looking for a more thrilling adventure can rent kayaks and standup paddleboards at NALU Standup Paddle & Surf or Lakevue Marina. 150-acre Great Egret Marsh Preserve boasts classic Lake Erie marshland, blanketed each summer with water lotus and abundant with wildlife. The preserve is a haven for waterfowl and wading birds – including great egrets, which can congregate there in large quantities. Visitors will find opportunities for bird watching, fishing from the trails, hiking, kayaking, and canoeing.
Shop
Marblehead is well-known as an artist's community. In addition to several art galleries you can spend a few hours exploring the unique specialty shops where you can browse for souvenirs, handbags, clothing, jewelry, glass art, homemade fudge, and more. Don't miss Christi's Just for Ewe, The Pink Perch, and Ferguson Gallery to name a few.
Eat
Marblehead boasts a number of delicious eateries serving up all types of cuisines; many of them are fiercely loved by locals and visitors. We only had time to eat at a couple of places. Eat, sip, and relax at the Hidden Beach Bar. Enjoy lakefront dining accessible by boat with free dockage (first-come, first-served basis) or by car. We split two appetizers, zucchini fries served with ranch and cheese curds with marinara sauce. Next on our list:  local favorite Lake Erie perch and chicken and waffles topped with chunks of bacon and honey mustard, served with a side of maple syrup. Try a frozen specialty drink or a local craft beer. There is a playground set on-site perfect for the kids. Cleats Club Seat Grill is a full-service sports bar and restaurant featuring waterfront and patio dining, seasonal entertainment, and a menu to suit just about any taste. Well-known for their wings, we sampled the traditional-style with the Erie Island Smoked dry rub and boneless-style drenched in Kentucky Bourbon sauce.
Stay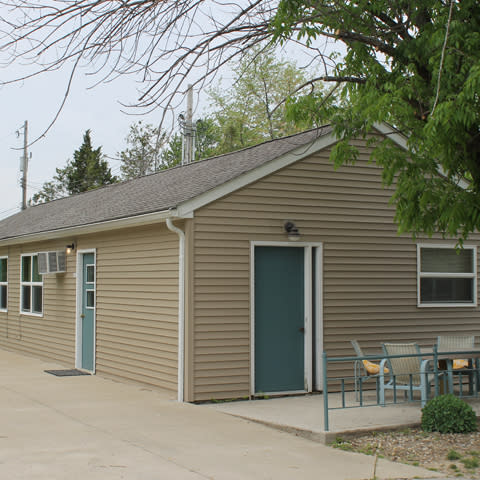 Red Fern Inn is the ideal location for a romantic weekend or a trip to the lake with your family. Located above Rocky Point Winery, guests of the inn can enjoy a complimentary bottle of wine during their stay. Little Ted's Cottages features thirty-one cottages on four acres with a 22-slip marina, pool, tiki bar, large fish cleaning facility, horseshoe pit, and more. Fishing charters leave the marina daily. Other nearby accommodations include: Marblehead Lite Bed & Breakfast, Victorian Inn Bed & Breakfast, Tibbels Motel and RV Park, Mar-Lu Sportfishing Resort, Younkers Cottages, and more. To find a complete list of lodging, visit SHORESandISLANDS.com and click on the North Shores & Islands neighborhood.