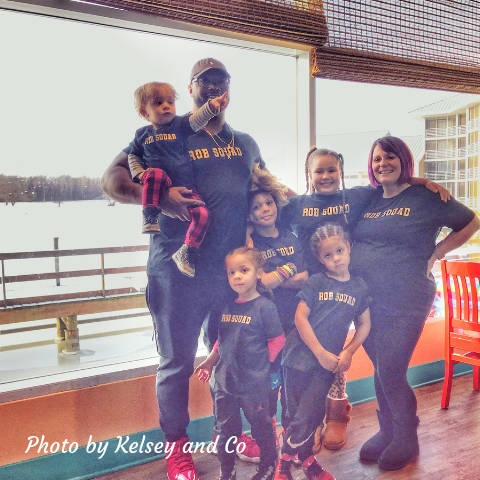 Published February 2019
This review is part of a series of guest posts reviewing the indoor water park resorts of Ohio's Lake Erie Shores & Islands. Kelsey Bunker Robertson, blogger at Kelsey and Co, recently visited Cedar Point's Castaway Bay, as well as a few other local attractions, with her family and shares her experience. A version of this blog can also be found at: kelseyandco.org.
In the event you don't watch the news and/or don't live in the Midwest, we've been getting A LOT OF SNOW lately. Like as I type this we just wrapped up our 10th snow day. TEN! And last week we were lucky enough to spend a much-needed weekend doing what every kid needs: getting allllll that energy out!! And do you know where one of my most favorite places to do that is? At a water park resort at Ohio's Lake Erie Shores & Islands, with a bunch of other things to do in between. It was exactly what all of us needed, parents included!
A little background: I live just outside of Flint, Michigan. Sandusky, Ohio is a quick 2.5 hour drive from us. It's a really easy drive and I am always blown away by how much there is to do and how absolutely STUNNING it is. I'm a big fan and Lake Erie Shores & Islands has become one of our favorite places.
Let me break down this last weekend though, because it was our first time really venturing outside of our hotel and getting a real taste of the area and all there is to #LakeErieLove!
We stayed at Cedar Point's Castaway Bay. This is an indoor water park resort. Its where the "Caribbean meets Sandusky" with its tropical theme and heated water. The palm trees and huts were JUST what my frozen heart needed. Some of the things I really liked about this place: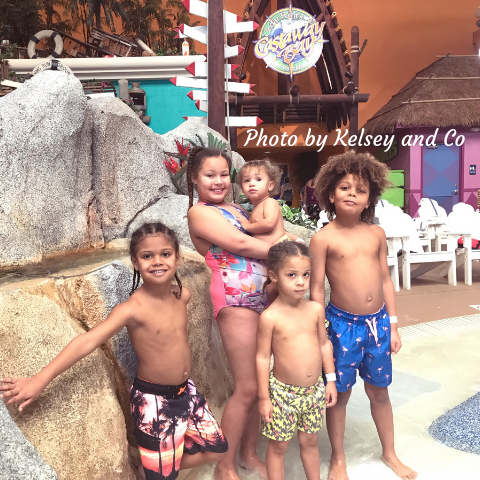 It has 237 hotel rooms, so even fully booked, its not overwhelming and packed. This is particularly important to me as a mom traveling with lots of kids. My kids didn't have to wait in long lines, honestly they rarely had to wait at all, and if they did it was only for the most popular "big kid" slides.
Most of the rooms are adjoining! So if have a family bigger than four, its pretty easy to get two rooms connected. The convenience, and for us, the NEED to have adjoining rooms is a huge plus and I really appreciated the fact that we could get rooms connected.
The biggest hit for my kids was the Wave Pool. Not all the water park resorts we've stayed at have one, and that was a total win for them. They actually hung out there for hours. If I ever needed to find them I could count on that being a solid choice for a first look.
The lifeguards, seriously. I was beyond impressed with the lifeguard team at Cedar Point's Castaway Bay. The lifeguards are the very first thing I pay attention to at water parks. It lets me know how I will let my kids go through the water park. In fact, if I don't feel comfortable with the lifeguards, my kids aren't allowed in the wave pool without my husband or myself. Within minutes of watching the staff at Castaway Bay I felt very comfortable and assured that the lifeguards were well trained and super focused.
In between playing in the water, my kids (and husband) hung out at the arcade and also squeezed in a few crafts. The big bonus about the arcade is that they offer "Unlimited Video Play," meaning you can pay $10 for two hours or $20 for all day and the kids could play the video games as many times as they wanted! *Note, this is only good for the games that do not offer tickets. The games that give you tickets require a game card and credits, but you can buy credits in bulk for a pretty good deal too. For crafts, they decorated cookies, colored cute little backpacks and made shirts! So we left with our fair share of souvenirs! Castaway Bay offers both free craft time and crafts that were about $10. 
​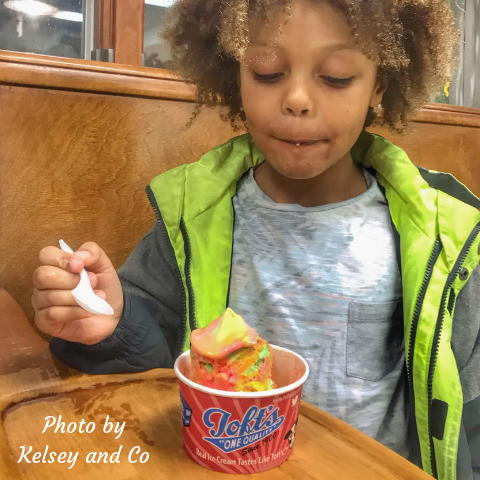 Also, every afternoon and evening there are free events for the kids. Craft time or Game time; Meet the PEANUTS Gang; Karaoke & PEANUTS; a Dance party and a Movie and a Story with SNOOPY. Lots of options!
In a nutshell, we had a GREAT time at Cedar Point's Castaway Bay. There was LOTS to do and we thawed our bodies and hearts out. My kids left happy and exhausted. And it was a wonderful fit for our family.
Now, let me tell you about my favorite part: the food and dessert. A good trip is made into a GREAT trip when you're eating good food throughout your stay, which brings me to two places we tried for the first time and two places we will absolutely go back to on future visits.
Our stop for dinner was to The Original Margaritaville!!!! Yes, that was my heart you heard breaking a little. Margaritas are my JAM. So going to The Original Margaritaville while pregnant was slightly (a lot) heartbreaking but you guys, the food made up for it. My husband and I both picked meals that were from their variety of slow cooked meat choices. I went with the "Brisket Mac Melt," which was a sandwich with hickory smoked BBQ brisket, white cheddar macaroni, and pepper jack cheese served on toasted sourdough. It was amazing. My husband picked "2nd Gear" which was a pick of two meats and two sides and two sauces. He loved it all and he's pretty picky about his slow cooked meats. In fact, we both took what we had left (they had big portions) to-go because we knew we'd need a midnight snack once we got back to our room and got all the kids to bed. It was a smart decision, let me tell you! And this is the most amazing part: we fed our entire family of six for $60!!! You guys.That's insane. The kids all got their own Kids Meals and everyone left stuffed and happy. It was welllll worth it. Feeding a big family is always pricy, so when you feed everyone at that price AND it's delicious AND you don't have to do any of the serving or cleaning. WIN WIN WIN WIN WIN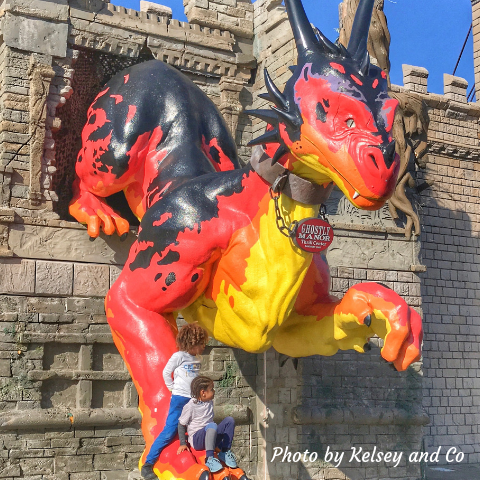 After dinner we made our way to the only place my kids asked to go: ice cream. Do your kids ask for dessert when they're literally still chewing their last bite of dinner? Asking for a friend… Anyways, we headed to a place lots of people recommend to us: Toft Dairy Ice Cream Parlor. Ohio's oldest dairy! Let me just cut to the chase: huge assortment of flavors, big serving sizes (we all got kiddie sizes and it was easily two scoops), fast and super friendly service and incredible ice cream! In fact, so incredible that we made a last minute stop the next day after lunch on our way back home. I had Chocolate Chip Cookie Dough one night, and then for lunch the next day, Salty Caramel Fudge Truffle. O.M.G. That Salty Caramel flavor?! I mean Cookie Dough is always a solid choice and I was happy with it, but Salty Caramel Fudge Truffle was heaven! So now my kids officially think Toft's is "Our Spot" and there's no way we will ever be able to come back without visiting.
Our final stop was to Ghostly Manor Thrill Center. And FYI: it is not JUST a haunted house. It's also a family entertainment center with things like black light miniature golf, roller-skating, bounce houses and an indoor playground. There's an arcade area and a few different virtual reality and interactive 3D games. My kids did the bounce houses and indoor play ground which was awesome for all. I was super impressed by the playground and they all had a lot of fun in it.  After they did the play area they skated, and the win there was that my four and six year olds could rent scooters! I had no idea that even existed, but it was such a lifesaver. They really wanted to get out and skate, but they most definitely did not know how, and even with a skate trainer it would've likely been melt down central, so the scooters were perfect. My two oldest kids and husband skated while they scooted and the baby and I ordered pizza. It was so nice to be in a place that had options for all my kids and the parents. I have a large age spread, my youngest is one and oldest is nine, and everyone was happy, played hard, and left with a full belly and ready for a nap!!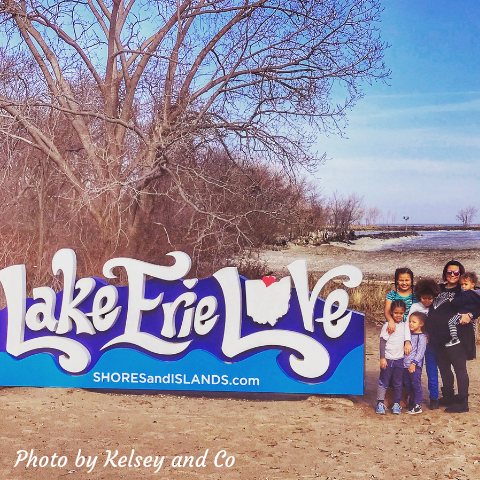 Sooooo, does this make you ready to get that Spring Break trip going?
Our trip was an absolute HIT. I liked the area already, and now we just love it. Wishing you a fun spring break.