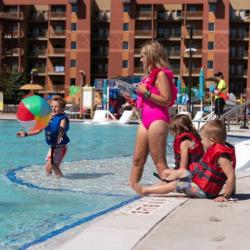 Celebrate National Waterpark Day, a holiday created by Kalahari! ­– Kalahari Resorts and Conventions, home to America's Largest Indoor Waterparks, is the ultimate summer destination.
Sandusky's Kalahari Resort this season unveiled a huge expansion to its three-acre Zambezi Outdoor Waterpark! New additions include a 50-foot free fall jump tower, a zipline experience, and a new 15,000-sq. ft. pool with premium poolside lounging.
The new outdoor pool holds 365,000 gallons of water, making it the largest outdoor pool Kalahari has ever built across it's four nationwide resorts. Most of the new pool is 42 inches deep and features tanning ledges on three sides, with lounge chairs set in approximately 8 inches of water. The fourth side is a zero-depth entry catering to younger children and featuring fountains throughout the space.
The zipline experience has also reopened after being renovated with four towers at each corner of the outdoor park. The new free fall jump tower allows thrill-seekers to leap off a 50-ft. tower and experience a freefall for the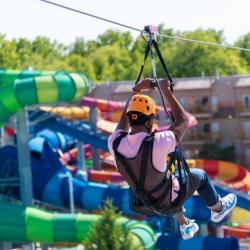 first 10-15 feet before a jumpbelt catches and lowers them safely to the ground.
Kalahari Resorts & Conventions recently celebrated 18 years in Ohio and there isn't a better time than now to check it out! Check out this National Waterpark Day Pass Deal: Celebrate National Waterpark Day at Kalahari Resort on July 28th with waterpark day passes marked down to only $54.99! Buy now and splash with Kalahari on July 28, 2023.  https://bit.ly/3NSlUV7
* No promo code necessary, just click the link above to purchase day passes. Passes will be available now through July 28 but are only valid ON July 28, 2023. New purchases only. No limit on quantity of passes purchased. Cannot be applied to Evening, Military, or Combo Passes.
Also, be sure to follow along with @shoresandislands on Instagram and Facebook the week of July 24th, as we will be giving away 4 Kalahari water park day passes!
Along with Kalahari, there are a variety of Shores & Islands Ohio water parks to enjoy, both indoor and outdoor, with something for everyone!