Published June 2022
The weather is heating up and that means one important thing on Ohio's north coast – patio season! All the best restaurants with patio, deck, or porch dining areas are brushing off their umbrellas, extending their awnings, and putting up the string lights to welcome in the season of eating outdoors.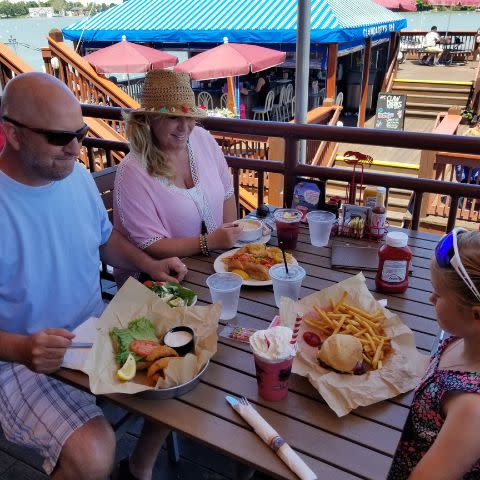 Here, enjoy as we rundown several local favorite patios.
On the Islands
The Backyard at the Frosty Bar, Put-in-Bay – The Backyard is outdoor venue which offers fresh-fruit margaritas and specialty cocktails along with Frosty's famous pizza. The Backyard also offers Big Man's Burrito Stand, an outdoor concession offering burritos, tacos, and nachos all made with fresh ingredients.
The Boardwalk, Put-in-Bay – At The Boardwalk's Main Deck and Rita's Cantina there is a variety of concession dining with tons of seating on a huge outdoor deck overlooking the bay with views of Gibraltar Island and Perry's Victory & International Peace Memorial. With a variety of concessions, there's something for everyone including The Boardwalk's famous lobster bisque.
Chicken Patio, Put-in-Bay – The fragrant aroma of chicken grilling wafts through the island air as you're walking downtown. That delicious smell? The grill-masters cooking at Chicken Patio, famous for their wine-basted BBQ chicken. With "patio" in its name, the venue in front of the Historic Park Hotel and adjacent to the world-famous Round House Bar, has been serving dinners made from a secret recipe for more than 65 years.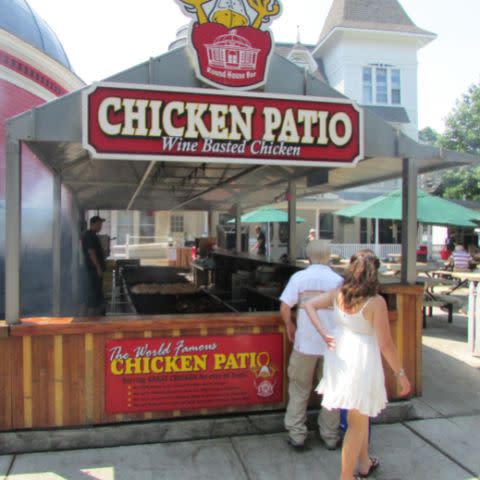 The Goat, Soup and Whiskey, Put-in-Bay – This small chain (with additional locations in Colorado and St. Croix) offers farm-to-table recipes on a lovely covered porch overlooking the restaurant's herb garden. Or, you can choose to enjoy a brew at the outdoor biergarten.
Hazard's Microbrewery & Restaurant, Middle Bass Island – Located at the St. Hazard's Resort, this secluded favorite eatery features nautical décor with a Caribbean vibe. Porch seating includes a hand-carved tiki bar made in Bali. Enjoy burgers, wings, and pizza just steps from the resort pool.
Kelley's Island Wine Company, Kelleys Island – This boutique winery located on a country farm (yes, there is a country farm on an island!) features plenty of outdoor seating, both on the wrap-around porch and throughout the expansive property. Enjoy fresh pizzas and small plates from the winery or grab some southwestern fare from the adjacent KI Cantina. Kids can enjoy the farm animals and the onsite playground.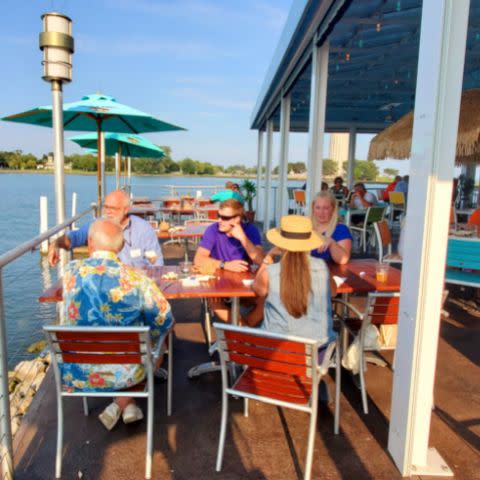 The Keys, Put-in-Bay – This waterfront favorite offers bright colors, fire pits, and signature frozen cocktails. The menu offers Caribbean and South Florida favorites including Conch Fritters, Peel & Eat Shrimp, additional seafood, sandwiches, and burgers. Plus, this patio prides itself in being pet-friendly!
West Bay Inn, Kelleys Island – Known as the place to be for the nightly sunset viewing and cannon salute, West Bay In offers a huge patio with amazing views, outdoor games, and live entertainment. The huge menu features entrees, salads, flatbreads, sandwiches, and kabobs. Transient boat docks are available for "dock & dine.
In the North Shores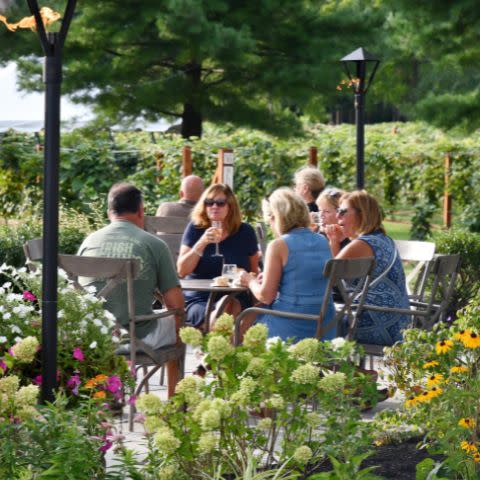 Ciao Bella Ristorante Italiano, Port Clinton – This restaurant's surprising location, in the Harbor Light shopping center off SR 53, is made even more surprising by its lovely atmosphere and inviting outdoor patio. Enjoy delectable Italian cuisine overlooking a man-made lake. The lunch and dinner menu include classic Italian pasta favorites as well as other specialties.
Gideon Owen Wine Company, Catawba – This 150-year-old winery has stood the test of time as a premier destination for both oenophiles and diners alike. Formerly Mon Ami, this winery offers a full-service eatery as well as a tasting room. The outdoor space includes a large, secluded backyard patio, along with comfortable fire pits and an outdoor deck bar.
Hidden Beach Bar, Marblehead – The Hidden Beach Bar is exactly as it sounds…hidden (definitely off the beaten path, located at Shrock's Marina), beach (located at a marina, but offers a sandy shore), bar (serves some of the region's yummiest boat drinks). Enjoy a delicious perch sandwich, or other specialty, when you visit by boat or car.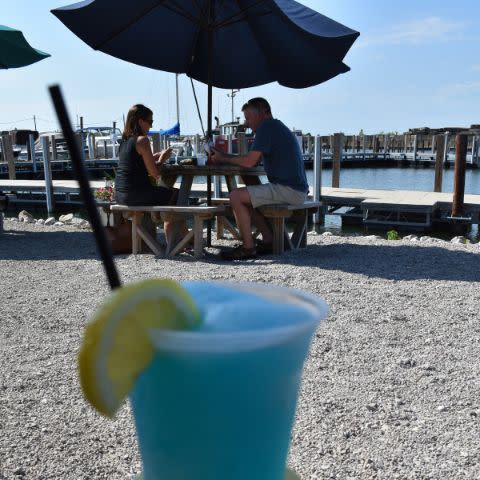 Orchard Bar & Table, Catawba – This farm-to-table eatery features fresh seasonal ingredients from its gardens and surrounding vineyards and orchards. The amazing food can be enjoyed on a beautiful patio that overlooks one of Catawba's oldest apple orchards. For more casual fare, don't miss out on the adjacent Orchard Farm Stand, which features wood-fired pizza and sandwiches as well as another lovely outdoor patio space.
In the Central Shores
Bait House Brewery, Sandusky – Sandusky's first hometown microbrewery located in a former bait shop, has expanded over the years to include a full kitchen and expansive outdoor, pet-friendly patio. Sip craft brews while enjoying a pub burger, lake walleye sandwich, or the "Spicy Sandusky" – their take on Nashville's hot chicken.
Bay Harbor Waterfront Dining, Sandusky – Sandusky's casually elegant eatery is a mainstay on the Cedar Point peninsula, located at the marina. Bay Harbor features fresh seafood, prime rib, and spectacular wine list. An outdoor patio allows you to enjoy your meal while watching boats come in and out of the marina or the sunset over Sandusky Bay.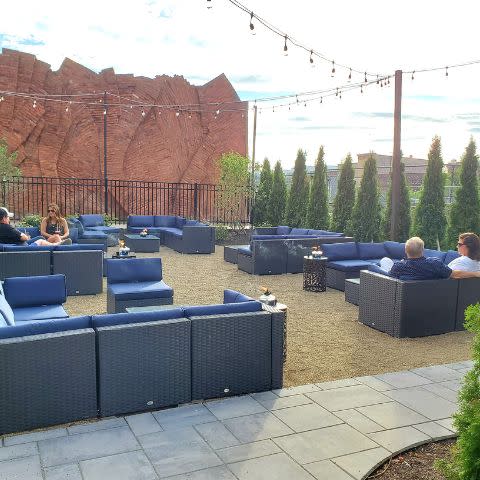 Crush Wine Bar, Sandusky – Another local favorite, Crush features small plates, pizzas, and pastas in a casual environment. There are seats for dining along the adjacent alley way and a wine garden filled with comfy outdoor sofa seating out back. A great place to spend an afternoon or evening!
Dockside Café, Sandusky – Dockside is an outdoor concession with a huge patio and plenty of lakeside seating located at the city-owned Paper District Marina. Enjoy uninterrupted sunset and bay views while enjoying a seasonal menu – popular items include their burgers and perch tacos.
J Bistro, Sandusky – This fine-dining restaurant features steak, seafood, and pasta along with a large wine selection and daily specials. The outdoor patio is popular, especially in the evenings under the twinkle lights while being entertained by live musicians.
OH Taco, Sandusky – Looking for authentic Mexican street tacos, served with signature margaritas, that you can enjoy while overlooking the beautiful Jackson Street Pier? OH Taco also offers the aerial views of Moseley's Rooftop Bar.
The Original Margaritaville, Sandusky – A definite local favorite, this relaxed, fun restaurant offers house-smoked barbecue, frozen drinks, and a 10,000 sq. ft. deck which overlooks a waterfall on Cold Creek.
In the East Shores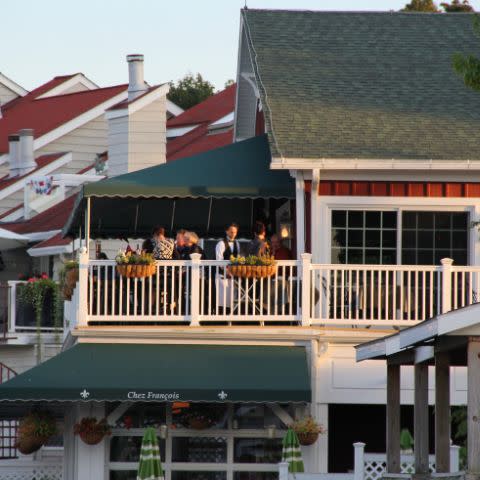 Chez Francois/Touché Wine & Martini Bar, Vermilion – This upscale, French restaurant features fine-dining along the Vermilion River. The outdoor Chez Riverfront Café features a new brick patio, glass sliding doors to enclose in the case of inclement weather, a more informal and relaxed dress code, and the same menu as the indoor dining room with a few added lighter options. Dock and dine is available with the adjacent Vermilion Public Boat Docks.
Old Fish House, Huron – Along the Huron River sits Lake Erie's tiniest bar, but the deck area has plenty of room for diners to enjoy Lake Erie Yellow Perch baskets and sandwiches, as well as burgers and appetizers. This patio offers dockside dining and is pet-friendly. Don't miss the Bloody Mary Bar on Sundays.
Pier Pub, Huron – Neighbor to the Old Fish House, the Pier Pub also sits alongside the Huron River, near the Huron Lighthouse. Enjoy watching the boats float in and out of the lake. The menu includes smashed burgers and lobster rolls, along with walleye tacos and fresh salads.
Where are you dining "OUT" this season??
Click here for ALL available restaurants in Shores & Islands Ohio that offer Outdoor Seating.