Calling all dog lovers- Mans' best friend is making its competitive debut this month on the turf of Sports Force Parks at Cedar Point Sports Center with the arrival of the Turf Dog Splash: a Dock Diving Competition for dogs! DockDogs will bring their mobile dock to Field One at Sports Force Parks for a weekend of fun closing out the Dog Days' of Summer.
DockDogs competitions consist of three events: Big Air, Extreme Vertical, and Speed Retrieve. Big Air is the long jump event of the weekend, while the Extreme Vertical is the canine high jump- Dogs will attempt to grab a bumper toy suspended eight feet from the end of the dock, with the height increasing by two inches for every successful attempt! Speed Retrieve will declare the title of Shores & Islands Ohio's Fastest Dog, and the DockDogs team will compile the best results from each discipline to crown its Iron Dog winner!
Field One at Sports Force Parks will be the center of the action, with spectator seating areas available and concession stands open all weekend long, you won't want to miss a minute of the action. The first wave of Big Air competitors will start at 9 am on Saturday August 26, and the action will continue on Sunday August 27 once again at 9 am. The Big Air Finals start at 4:30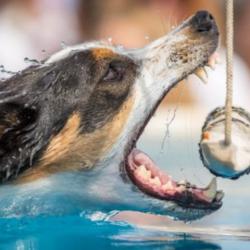 pm on Sunday for the Amateur, Contender, Semi-Pro, and Pro divisions, so make sure you have your calendars marked!
Got a trained dog and want to get in on the action? Sign in or create an account at DockDogs Registration page to get involved, then head to Shores & Islands Ohio to see what else America's Sports & Family Fun Capital has in store!