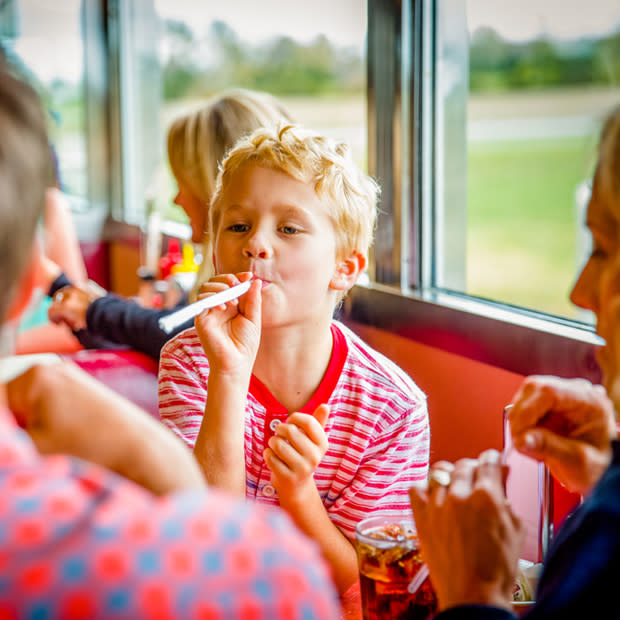 When you're visiting Ohio's Lake Erie Shores & Islands, one of the best things about your getaway is the opportunity to dine out – to let someone else do the prep-work, cooking, and clean-up involved in feeding your family. But how do you know where to go? The adults want to enjoy local fare and the kids just want a cheeseburger or pizza (again!). Well worry no more. We've traveled all around the Lake Erie Shores & Islands to find you the best family dining. Here are eight of the most kid-friendly restaurants in the region.
EAT NOW – These family-friendly favorites are open year-round.
Big Ed's Soda Grill, Vermilion - Vintage restaurant featuring great, old-fashioned soda fountain treats, fresh burgers, homemade soup, pulled pork sandwiches, pizza, fried bologna, and hand-dipped ice cream.
Fun fact: Big Ed's Soda Grill was named "Best Shake Shop in Ohio" by Ohio Magazine.
Chet & Matt's Pizza, Sandusky – Chet & Matt's features homemade pizza dough and sauce, a secret blend of cheeses, and creative combinations of toppings. The sports café atmosphere is great for families and includes lots of TV's (often showing kids' channels) and a few games.
Fun fact: Indulge in their daily lunch pizza and Sunday brunch buffets. Or, order their 29-inch King Kong Pizza which feeds 8-10 adults or up to 16 children!
Crosswinds Restaurant and Bar, Port Clinton – Crosswinds provides a casual, family-friendly atmosphere, featuring fresh Lake Erie perch and walleye, choice cut steaks, baked pasta, specialty salads, 1/2 lb. burgers, Cameo pizza, and more.
Fun fact: Island Adventures Family Fun Center is located on property, so after dinner your family can enjoy go-carting or mini-golf.
Quaker Steak and Lube, Sandusky and Vermilion – This popular Midwest chain features award-winning casual dining and is known best for its wings with more than 25 sauces. The speedway atmosphere creates a fun environment and kids' meals are served in cardboard race cars you can take home.
Fun fact: Both Shores & Islands locations feature waterfront, outdoor dining and after dinner your check comes with Twizzlers for everyone at the table.
Tin Goose Diner, Port Clinton – The Tin Goose Diner allows you to listen to air traffic communications as aircraft arrive and depart at the Erie-Ottawa County International Airport in the historically-restored 1950s stainless steel diner located at the Liberty Aviation Museum.
Fun fact: This diner is authentic, built by the Jerry O'Mahony Diner Company of Elizabeth, NJ, in the 1950's. It was originally operated as the Sunrise Diner in Jim Thorpe, PA.

PLAN A VISIT – These kid-friendly places on the islands are seasonal.
Caddy Shack, Kelleys Island – Located in the heart of downtown Kelleys Island, Caddy Shack offers a family-friendly environment with pizza, subs, and salads made fresh daily using local produce.
Fun fact: Eat outside! The outdoor Buckeye Bar overlooks Caddy Shack Square where families can play miniature golf at the old-fashioned 18-hole putt-putt course, mine for gemstones, or play air hockey at the nearby Game Shack Arcade. There are souvenir shops and bike and golf cart rentals available as well.
Frosty Bar, Put-in-Bay – Tasty pizza baked fresh to order, peanut shells crunching underfoot, and classic rock tunes from the jukebox are all part of what makes Frosty's a family favorite.
Fun fact: In addition to delicious pizza, Frosty's breakfast is legendary on the island. Favorites include the Country Benedict, Blueberry Pancakes, and Eggs Benedict.
Pasquale's Café, Put-in-Bay – Pasquale's Cafe is a family-friendly, casual restaurant serving breakfast, lunch, and dinner with fantastic views of the Put-in-Bay harbor and historic downtown.
Fun fact: Pasquale's is directly across the street from DeRivera Park which offers excellent playground equipment for kiddos. Allow some time before or after your meal for a romp in the park.