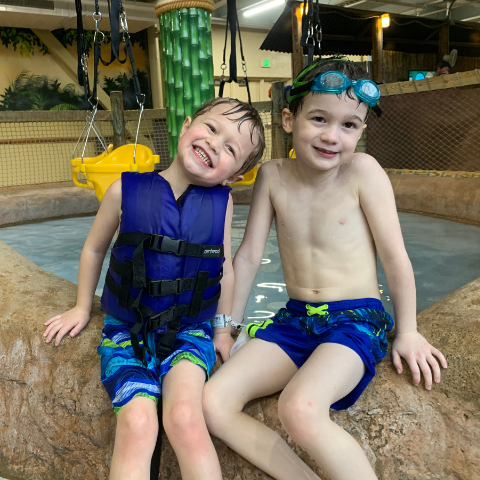 Published April 2019
Lake Erie Shores & Islands recently had the privilege of hosting three bloggers to review each of our indoor water park resorts this past winter. Kelsey Bunker Robertson from Kelsey and Co, Rachel Cunningham Ravis of Third Stop on the Right, and Mike Mixon of 6 Kids 1 Tank each visited with their families for a weekend of water park fun and exploring the region. Check out our previous blog posts to see what each of their experiences were at Cedar Point's Castaway Bay, Kalahari Resorts & Conventions, and Great Wolf Lodge. We followed up with each of them regarding their impressions of the area.
What was most surprising about your visit to LESI?
KELSEY: I was most surprised by the number of things to do and that I could visit year-round. In the winter there are water park resort hotels, shopping, family fun, places to eat, etc. In the summer there's beautiful beaches and Cedar Point and hotels with outdoor pools! 
RACHEL: We were surprised at how much there was to do in the area. Often, people think only of Cedar Point but there are so many other things to see and do that you really could use a few extra days!
MIKE: It would have to be two things. First, the community spirit and just overall welcoming feeling everywhere we went. The second would be the number of things to do in the winter! We typically wouldn't expect to do anything other than indoor water parks this time of year, but we were pleasantly surprised!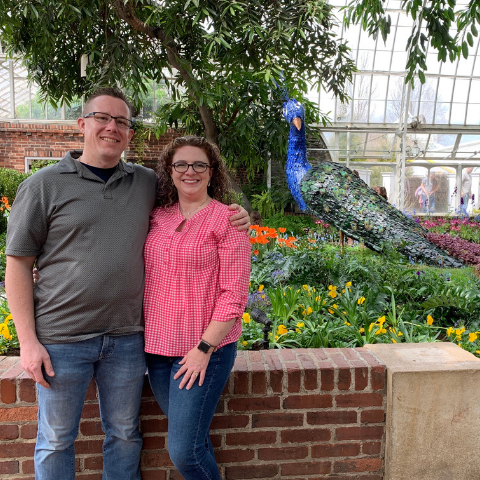 What experience did you have a pre-conceived impression of that totally delivered?
KELSEY: I was impressed by how much Ghostly Manor had to offer! I was pleasantly surprised by the amount of activities they had and super happy that all my kids, despite their different ages, had plenty to do. 
RACHEL: I knew that the boys were going to love the whole Kalahari experience. From staying in the hotel to going to the water park to playing in the arcade I knew that they would enjoy it all. Of course, Kalahari didn't disappoint and we had a blast and everything went so smoothly.
MIKE: The notion that we would be able to create new memories here, plain and simple. To say we accomplished that is a severe understatement. I've been visiting the region since the mid-1980s and can remember each trip fondly as a great moment with my family. As a parent I now look to the region to build the same memories with my children.
What was your favorite part of the water park you visited and why?
KELSEY: We stayed at Castaway Bay and I'm answering on behalf of my kids right now: the wave pool! Not all water parks have one, and this was such a highlight for them. They spent hours in and out of it. My favorite part was the indoor-outdoor hot tub!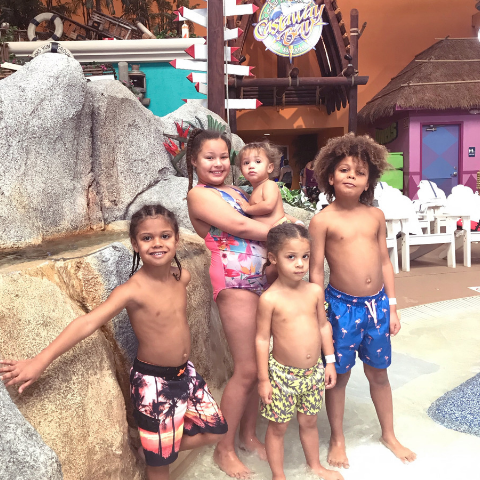 RACHEL: We visited Kalahari and my boys weren't quite ready for the water slides this year, but we had a great time playing water basketball and floating in the lazy river. Another highlight of the water park area was the indoor/outdoor hot tub. The boys loved the fact that it could be so cold out and we were in the water!
MIKE: At Great Wolf Lodge, I enjoyed the fact that the water park had something for every child in our family, so no one was bored. Some water parks are geared towards a certain age demographic but Great Wolf Lodge touched on all of them.  To see the kids' smiles made this trip more than just a weekend getaway, it made it memorable and that's what we as parents work hard to accomplish.
What was your favorite non-water park feature of the resort you stayed in?
KELSEY: My favorite feature at Castaway Bay, that didn't have to do with the water, was the room set ups. The ability to have adjoining rooms and/or large rooms that fit big families is why I'd pick to visit again. It made it possible to stay together and be connected and not separated in multiple rooms. If my kids were answering this question, they'd tell you all about the arcade. They were there quite often in between water park trips. 
RACHEL: The float experience at Spa Kalahari would definitely be my favorite non-water park feature. It was so relaxing and something I had never experienced before. It is absolutely something that I would like to try again.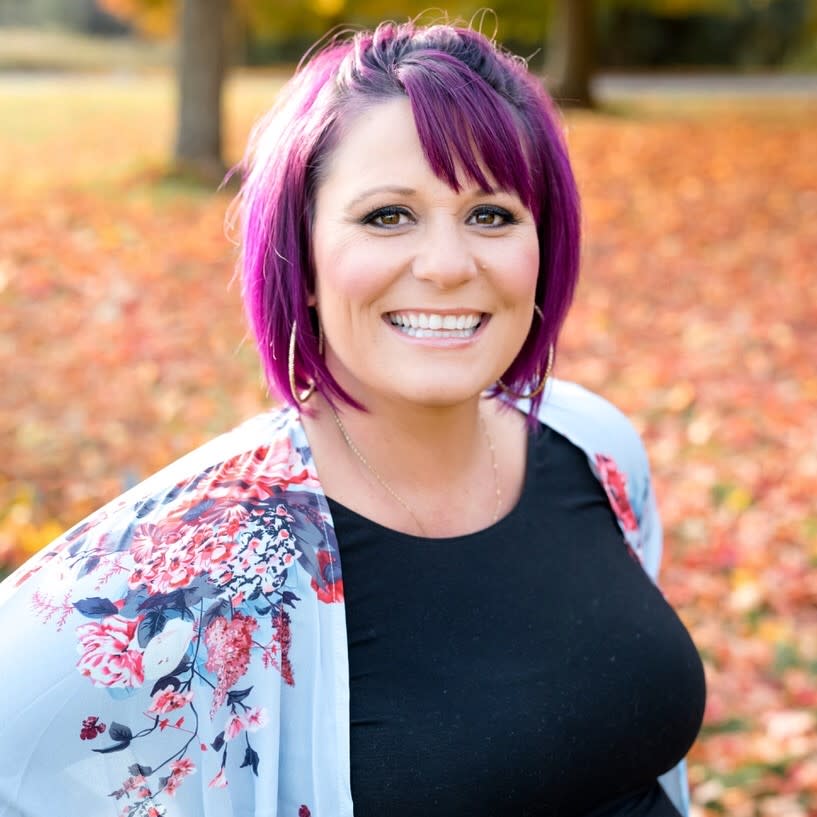 MIKE: All of the free events for kids at Great Wolf Lodge. Thankfully events were offered all day and evening so the kids could swim and still take part afterword. To build upon that, the 24-hour arcade was a super surprise! We have been to many water parks and Great Wolf was the first with an all-night arcade.  There's nothing like seeing the joy in your kid's face when you wake them up at 1 am and say "Let's go win some tickets!" Makes you instant hero status!
What was your favorite off-site activity and why?
KELSEY: I loved The Original Margaritaville. The food was delicious. The service was awesome. Our food came fast and it was very affordable! 
RACHEL: We did the African Safari Wildlife Park and it was a blast. The boys were a little intimidated by the animals at first, but by the end they couldn't stop laughing. There aren't many places where you can actually feed the animals so this was a unique experience.
MIKE: Our favorite off-site activity would actually need to be worded as "off-site activities" as there were two. We enjoyed Ghostly Manor and all of the different activities under one roof. With 6 kids aged 2-15, there aren't a lot of places we can go that appeal to everyone, but Ghostly Manor did just that! Whether it be the climbing gym and bounce houses that the little ones loved, or the 4D theater and Wizards Journey glow golf that the older kids enjoyed, everyone was happy. It was also a big bonus that all the kids could skate, whether using traditional roller skates and roller blades, or two- and three-wheeled scooters that allowed the youngsters to join in as well. Ghostly Manor has it all!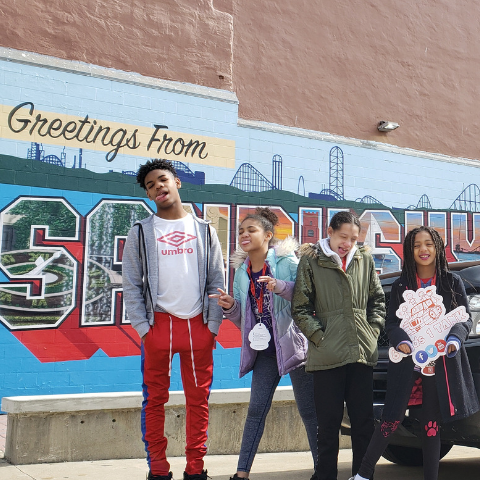 The second activity we had a blast with was what we called the "sign search," where we drove around the area in search of the famous Sandusky and Lake Erie Love signs.  It was almost like a scavenger hunt as we had vague directions of where they were located, but not exact, and it was pretty cool as we drove through downtown Sandusky and the kids yelled, "There it goes, behind us," as we passed right by it.  This was a fun adventure that allowed us to spend time together and use our sleuth skills!
What would you want to return to Lake Erie Shores & Islands to do again, or what did you miss out on that you'd like to come back for?
KELSEY: We HAVE to come back in the summer. I would love to spend a few days at one of the beaches and experience life outside. The majority of our visits have been in the winter months and the one time I visited when it was warm it was only for a day and I was so bummed we had to leave so soon! I definitely want to go back for a few days during summer!
RACHEL: We absolutely want to bring the boys back to experience Cedar Point. I am a roller coaster history enthusiast and member of ACE as well as a lover of all things historic so I would love to see Hotel Breakers.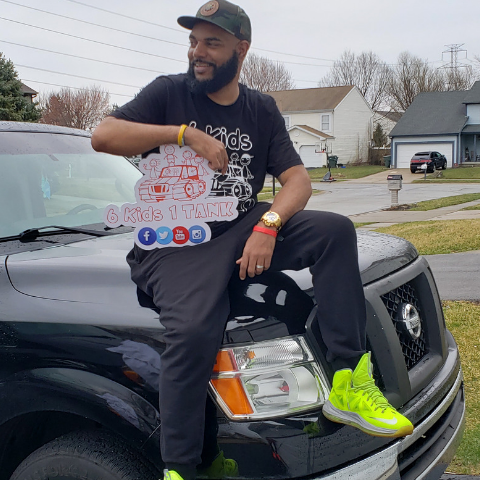 MIKE: With so many great things to experience, there's no way to narrow it down, so I won't! I absolutely have to come back and try out the Sandusky Segwave tour & Hotel Kilbourne! With such a beautiful downtown area in Sandusky we have to experience it first-hand and what better way to do so than "staying and playing" in the heart of it. Oh yes, and the Liberty Aviation Museum...and Maritime Museum of Sandusky...and Merry-go-Round Museum...because we are history buffs! But all of these experiences will work up an appetite so a stop at OH Taco for lunch and Bay Harbor Inn for a beautiful dinner at sunset, the perfect vacation!